Spiffy Speak
Curtain Styles & Types: The Ultimate Guide
As you shop for a new window treatment, you might be surprised to discover how many different curtain styles and types there actually are! It can be quite overwhelming, especially if you've never been introduced to the variety of options that are out there. For assistance, use this ultimate guide to curtain styles. We're here to help you make the perfect selection for your home!
Order your custom curtains from Spiffy Spools online in any size. We have over 1,000 fabrics and patterns to pick from, so you can match them to your home perfectly.
Curtain Types
As you're browsing for window treatments, these are the most common curtain types you're likely to encounter:
Standard Curtains
If you'd like, you can purchase standard curtains for your home. Typically, there are three standard curtain sizes:
84 inches
96 inches
108 inches
We suggest straying away from the 84-inch option. These are usually quite short, unless you have low ceilings.
Keep in mind that your curtains will always look better when you measure your window and design them to meet your exact specifications. This way, you can increase the fullness of your curtains to create beautiful folds and lengthen them to fall just how you like.
Blackout Curtains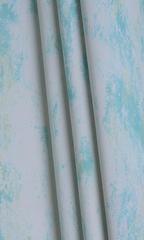 Blackout curtains are a fabulous option for a bedroom, media room, office, and more. What makes this type of curtain so unique is that they block 100% of the sun's rays, ensuring no light passes through. They also offer a variety of other benefits, as well:
Block sound. Blackout curtains reduce external sound, so you won't be bothered by outside noises throughout the day or while you're trying to sleep.
Regulate temperature. Blackout curtains will keep rooms cool in the summer and warm in the winter. Not only will your space always be at the optimal temperature, but your utility bills may also decrease!
Eliminate glare. If you want to eliminate glare in your home theater, media room, or office, blackout curtains promise to deliver.
Improve quality of sleep. By muffling external noises and preventing harsh sunlight from entering your space, blackout curtains ensure you'll get a better night's sleep.
Roman Shades
Do you love the functionality of blinds but wish they were more aesthetically appealing? Then roman shades may be the perfect type of curtain for you. When closed, they cover the window with one smooth piece of fabric. When open, they stack evenly from the bottom in neat folds, which rest at the top of the window frame.
There are three different styles of roman shades to choose from at Spiffy Spools: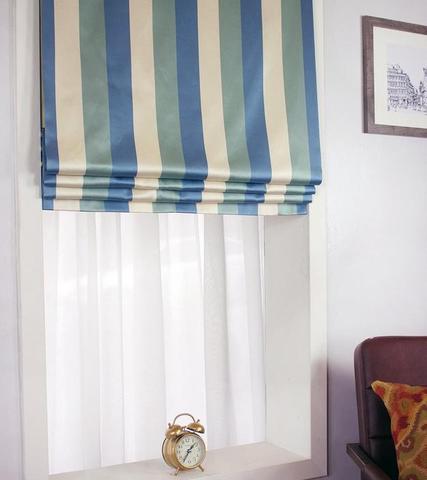 With this style, no seams are visible in the fabric when closed, because the horizontal slats are stitched into the back lining. If you're aiming for a sleek, minimalistic look, this is the roman shade style for you. Also, since they're extremely easy to open and close, this style is a great option for frequently used windows.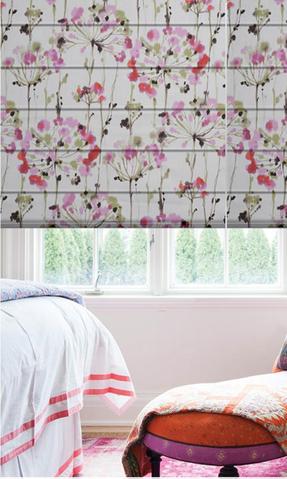 When closed, the fabric of these shades is broken into even, horizontal panels. This is another great selection for windows that you open and close often, because they also stack smoothly from the bottom in crisp folds when open.

Relaxed roman shades are primarily decorative, because they're stationary. However, they're beautifully designed with a smooth front fabric that falls into a gentle curve at the bottom. For less frequently used windows, this is a great option that adds plenty of character and charm to the space.
Café Curtains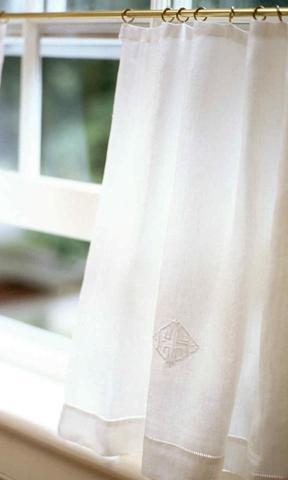 Café curtains are a cute and cozy option that match wonderfully with rustic and country décor. They're traditionally quite short—specifically, café curtains are about half the length of a window and are hung across the center of the pane. However, they can also be hung at the top of the frame as a stylish accent piece.
The short length of café curtains offers many benefits and makes them versatile enough to work in a variety of spaces. For instance, in a kitchen or bathroom, they're ideal for maintaining privacy while still allowing in plenty of natural light. They're also short enough to avoid being a fire hazard while cooking, and they remain out of reach from any potential splashes from the sink, shower, or tub. In addition, café curtains won't overcrowd your smaller windows or spaces.
There are two ways you can style café curtains. Either choose to use a single panel, or go with double panels that rest on both sides of the window when opened. To help decide which option is right for you, consider what you want from your curtains. If you're going for style, you might consider a single panel design that better showcases the fabric without distortion. If your main concern is light control, double panels are much easier to open and close, so they may be the better choice.
Ripplefold Drapes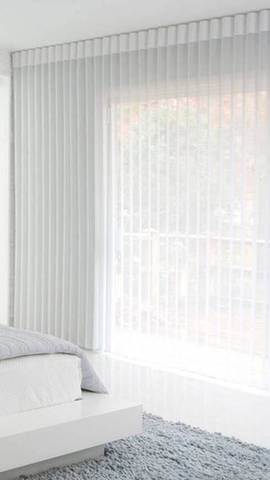 Ripplefold drapes are one of the most modern window treatments you can find. Their evenly-spaced eyelets create uniform, tailored folds for a sleek, no-fuss look. The symmetrical design holds patterns beautifully with minimal distortion, and they stack neatly when open to maintain the uncluttered aesthetic. If you're searching for a window treatment that matches your contemporary home, you have to purchase ripplefold drapes!
Valances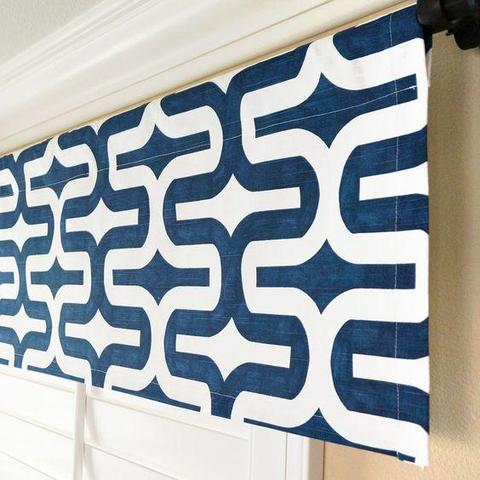 Valances are gorgeous decorative pieces placed at the top of the window frame. They often cover about a fourth of the pane, and they wonderfully soften incoming light. If you want to add a nice punch of color to your window, valances can provide subtle charm.
Valances are great as a standalone look, but you can also layer them over curtains, blinds, or shades for additional light control and style. Plus, they'll conceal your curtain hardware if you prefer it not to be visible.
Curtain Fabric
It's important that you select your curtain fabric carefully. Certain fabrics are much more casual, while others are very formal. That said, you need to pick a fabric that matches the formality level and décor of your space. Below are some of the most common fabrics for curtains:
Cotton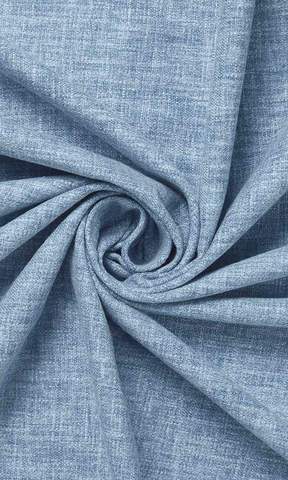 Cotton is a great choice for casual to semi-formal spaces. This medium-weight fabric is soft, clean, and crisp, which is perfect for dressing up or down. Plus, it amplifies colors and comes in a variety of textures for an even more dynamic look. One of the most versatile curtain fabric options available, you can rarely go wrong with cotton curtains.
Linen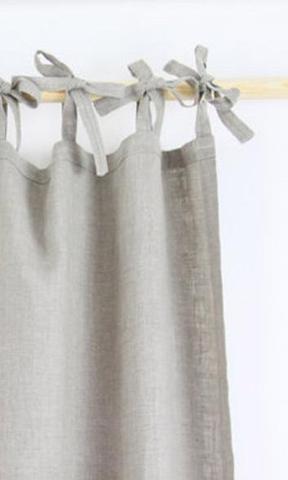 This lightweight fabric should also be reserved for casual to semi-formal spaces. Ideal for rustic décor, the rough, natural weave is often the focal point of the fabric, offering a unique textural component. Linen is also great for filtering sunlight, providing you with a soft glow. Light, neutral colors will create an elegant look, while bolder colors and patterns are often more playful.
Sheer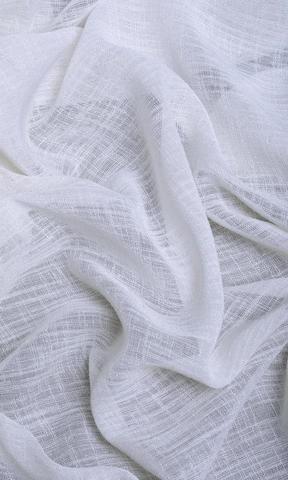 Another option for casual to semi-formal spaces, you'll absolutely love the look of sheer curtains. This is the lightest fabric option you can find, and its relaxed airiness is one of its greatest appeals. Sheers also filter natural light beautifully, creating a breathtaking, warm glow that brightens up any space. For an ethereal feel, sheer fabric is the way to go.
Silk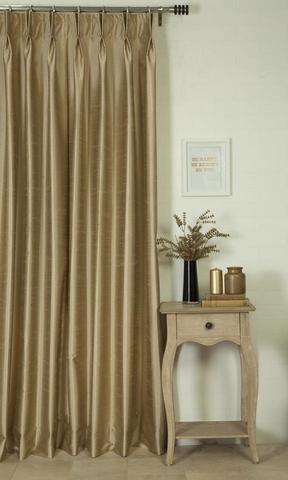 Silk curtain should be reserved for formal spaces. This luxurious, heavyweight fabric has a shimmery appearance that's meant to draw your eye to its smooth, glamorous presence. Silk truly falls like a dream, displaying a plethora of elegant waves. A truly tasteful fabric, silk is a superb option for your curtains.
Velvet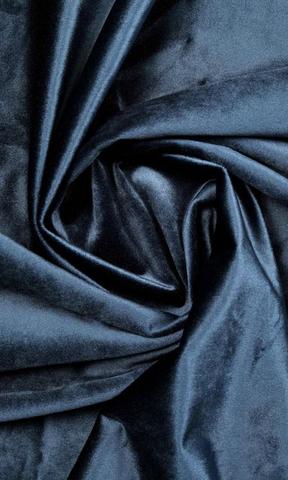 Perhaps just a step more formal than silk, velvet works best in formal living spaces. This type of fabric is all about drama, opulence, and romance. It's sure to be the focal point of any room. Heavy and bold, this plush option simply exudes luxury and class. You won't be disappointed by this high-end fabric!
Curtain Patterns
The options are seemingly infinite when it comes to curtains patterns! Whether you'd like to keep it simple with a solid or try something a little more daring, you're sure to find a selection that fits your design needs at Spiffy Spools.
Solid Curtains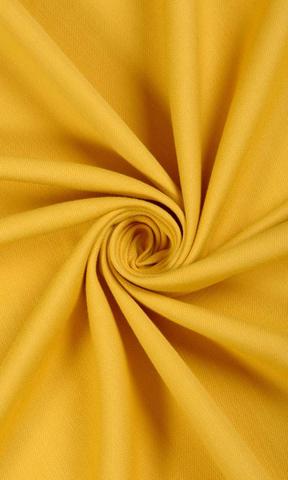 Simple yet refined, you really can't go wrong with solid curtains. Due to their minimalistic nature, they blend seamlessly with any décor—as long as you ensure they match your color scheme. As a general rule, curtains in neutrals such as whites, grey, beiges, and brown will make a subtle statement, while more pigmented options are bolder. Whatever you choose, solid curtains are an extremely versatile option that will provide your space with plenty of class.
Patterns & Prints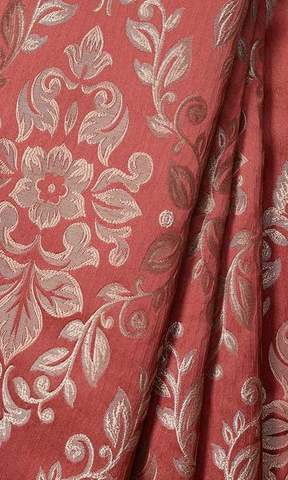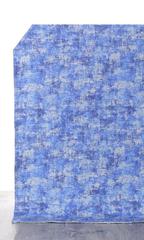 If you really want your personality to shine through in the space, consider dressing your curtains in a pattern or print! Keep in mind that these don't have to be over-the-top. Delicate, small-scale prints and patterns can be quite subtle. However, large-scale patterns are sure to grab the attention of anyone who walks into the room.
When selecting pattern or print curtains, keep in mind that modern décor requires patterns that are symmetrical, geometric, and feature crisp lines. Traditional décor, however, matches best with larger patterns featuring plenty of curvature.
When selecting a print or pattern for your curtains, you should first check to see what other patterns—if any—are present in the space. You need to ensure they don't clash. If there are no other patterns in the room, you'll have a lot more flexibility in what you can choose.
Colorblock Curtains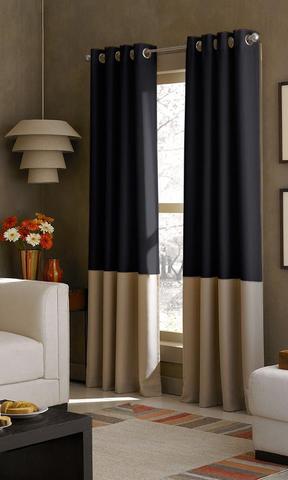 Colorblock curtains
continue to rise in popularity. This type of curtain is characterized by fabric that clearly transitions from one "block" of color to another "block" of a contrasting color. The juxtaposition of different hues creates a dynamic look that can be either playful, casual, or elegant, depending on the colors you select.
Curtain Heading Styles
A curtain isn't complete without its heading, which is the top area of the curtain where it will be hung. Here are some popular types of curtain heading styles that you should become familiar with:
Heading Styles with Metal Rings & Hooks
The following styles are hung using metal rings and hooks. These are the only options that work for curtain tracks, but they can also be used with a curtain rod. They perfectly match more contemporary décor:
Pinch pleats
Flat-panel tops
Inverted box pleats
Pencil pleats
Heading Styles Sewn Into the Fabric
These heading styles feature eyelets or fabric loops that are sewn into the top of the fabric. No additional hardware is necessary to hang curtains with these heading styles—simply slip the heading through the curtain rod, hang the rod, and evenly distribute the fabric to complete the look:
Grommet tops
Back tab tops
Rod pockets
Tab tops
Tie tops
If you'd like to learn more about curtain heading styles, explore our Headings Style Guide!
Order Custom Curtains From Spiffy Spools
We hope this ultimate guide on curtain styles and types assists you as you shop for your new window treatments! If you're ready to shop, order custom curtains from Spiffy Spools today. With over 1,000 fabrics to choose from, we make it easy to design curtains that fit your exact specifications. Explore our site to find the perfect options for your home! Or, if you have any questions about what curtain style or type is right for your needs, don't hesitate to contact us for an expert recommendation.