Spiffy Speak
Custom Curtains Cost Guide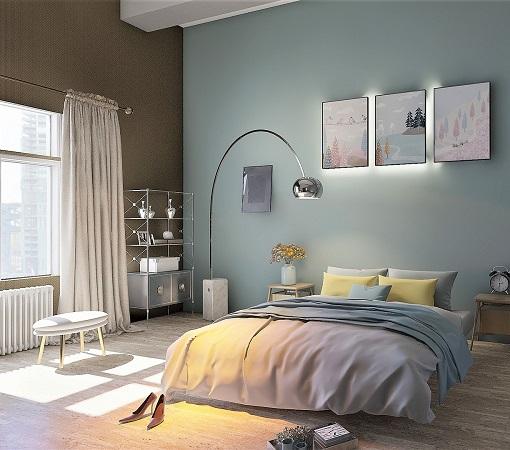 Are you wondering how much it might cost to design your own curtains? Explore our custom curtains cost guide for an overview of how to make the most of your money. Creating custom curtains can be more affordable than you might think!
Order custom curtains from Spiffy Spools online in any size. We have over 1,000 fabrics and patterns to pick from, so you can design them exactly to your liking. We have custom curtain options starting from as low as $51.00 USD!
Window Size
As you might imagine, the larger the window, the more fabric you'll need, which will drive up the price of your curtains. Be sure to precisely measure your window to ensure not a cent goes to waste.
When taking your measurements, you have to consider how far outside and above the window frame you want your curtains to hang. We recommend hanging curtains at least three inches above the window frame and three inches outside of either side of the frame. This means you'll need to order additional fabric to accommodate the extra length and height.
The bottom line here is that the more fabric you need, the more your custom curtains will likely cost.
If you need assistance with your measurements, be sure to consult our Measurement Guide.
Curtain Style
The style of curtain you're planning to design can also affect the price. For instance, café curtains are only half the length of the window pane and hence require minimal fabric. However, puddled curtains pool onto the floor, so the fabric length should be increased by at least 1 to 18 inches beyond the floor. Of course, curtain styles that feature more fabric will be more costly.
Fabric Type
Another area that can affect custom curtain cost is the type of fabric you select. Typically, silk tends to be the priciest fabric you can purchase. Velvet is also slightly higher in price due to its heavyweight design. Light- to midweight fabrics such as cotton, linen, and sheers are more affordable options.
Not sure what fabric is right for your custom curtains? Spiffy Spools offers fabric samples for just $1.00 to help you make the perfect selection! Shop Now.
Fabric Lining
Some custom curtains manufacturers charge fees for fabric lining. At Spiffy Spools, however, all of our fabric options (with the exception of sheers) come with a standard privacy lining to block glare, protect the fabric from sun damage, and reduce color fading. The cost is already included with every fabric purchase.
If you'd like, you can replace the standard lining with blackout lining, which only costs an additional $10.00 per fabric panel. Our blackout lining offers a 95% light block factor to keep your room dark, quiet, and insulated.
Hardware
Another custom curtain cost you have to consider is the price of the hardware needed to hang your curtains. Some hardware options include:
Tension rod. Approximately $3.00 – $60.00.
Single curtain rod. Approximately $5.00 – $100.00
Double curtain rod. Approximately $25.00 – $200.00
Curtain track. Approximately $25.00 – $200.00
The price of hardware varies by designer, material, and hardware type. With a plethora of options, you shouldn't have any trouble finding a selection that fits within your budget.
Note that if you're considering roman shades for your custom curtains, when you order from Spiffy Spools, they come with all the required hardware and are ready to install out of the package.
Add-Ons
The last point that will affect your custom curtain price is any additional features you'd like to dress them with. For instance, you might consider including the following add-ons:
Order Custom Curtains from Spiffy Spools
We hope this custom curtains cost guide assists you! If you're ready to dress your windows in a gorgeous new look, Spiffy Spools makes it easy to create custom curtains to your exact specifications. Explore our site to find the perfect options for your space in any length, fabric, and pattern—and don't hesitate to contact us with any questions!