Spiffy Speak
Curtain Draping Techniques & Ideas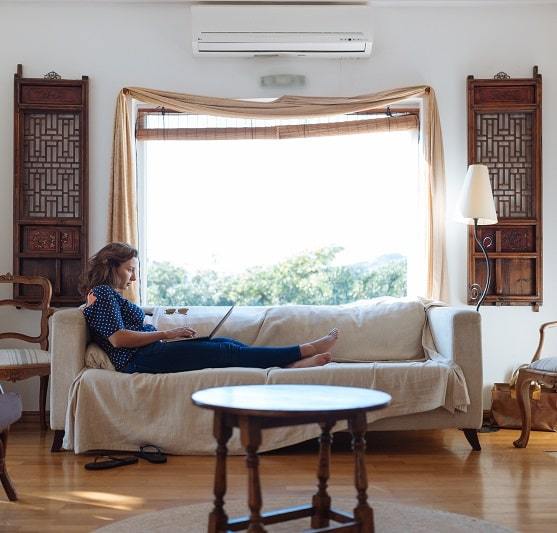 Are you looking for a unique and interesting window treatment? Draping your curtains is a gorgeous way to add plenty of character to your windows. Draping is easy to do, and there are several styles for you to choose from. If you don't know where to start, view these curtain draping techniques and ideas for inspiration!
Order custom curtains from Spiffy Spools online in any size. We have over 1,000 fabrics and patterns to pick from, so you can match them to your home perfectly.
Basics of Curtain Draping
Draped curtains look and act much differently than curtain panels that simply hang from a rod. While traditionally hung curtains can be opened and closed, draped curtains are stationary. This is because a single fabric panel is decoratively wrapped around the curtain rod to create a flowy, refined look. The fabric falls along both sides of the window and beneath the curtain rod.
Selecting Your Fabric
The fabric you choose for your draped curtains should match the design of your space:
For formal designs, heavier fabrics such as velvet or silk in darker tones will match the opulence of the room.
For casual designs, mid-to-light-weight fabrics like sheers, linens, and cottons will keep the space feeling airy and relaxed.
For modern designs, textured neutrals such as linen or cotton will pair nicely with the sleek look of the space.
For traditional designs, cotton fabric in floral patterns or neutral tones has a conservative feel.
For rustic designs, curtains in fabric options such as linen, cotton, or burlap in a gingham or plaid print will match the homey feel of your room.
Don't Skimp on Fabric
Curtain draping is all about creating a loose, flowy look with the fabric. To do this, you need extra fabric that can hang with some slack beneath the curtain rod. Extend the length of your curtain panel to ensure there's plenty of fabric to frame both sides of the window while wrapped around the rod. The fabric should never look taut.
Curtain Draping Techniques
These are some of the most stylish curtain draping techniques to use for your new window treatment:
Single "U"
The single "u" style is perhaps the simplest curtain draping technique. The curtain panel rests on both sides of an outside-mounted curtain rod so that the fabric falls in a loose "u" under the rod. The remaining fabric will frame each side of the window for a minimalistic, refined look. Note that the gap between the rod and the lowest point of the u-shaped fabric should be about six inches.
Double "U"
The double "u" style is a variation of the single "u." As the name suggests, two "u's" will fall below the outside-mounted rod rather than one. To achieve the look, the curtain panel should rest on the left side of the rod, be wrapped around the center of the rod, and rest on the right side of the rod to create the two "u's."
Repeating Loops
If you have a long, outside-mounted curtain rod over your window, draped curtains in several repeating loops will look gorgeous. You should only choose this technique if your rod is long enough to wrap the curtain panel around it at least five times. Each loop should only hang about three inches lower than the rod. So, if your rod is long enough, wrap your curtain panel around it as many times as you'd like without making the fabric too taut. This curtain draping technique can make for a truly eye-catching statement!
Add a Roman Shade for Privacy
One downfall of curtain draping is that it doesn't provide you with much privacy. So, if you love the look of draped curtains but want to shield the interior of your home from prying eyes, consider layering them over a roman shade.
Roman shades consist of a singular piece of fabric that matches the exact dimensions of your window. When open, they rest neatly at the top of the window frame, so they'll mostly be concealed by your draped curtains. When closed, they cover the entirety of the window to ensure maximum privacy. To enjoy the aesthetic appeal of curtain draping while protecting your home, roman shades are a great option.
Order Custom Curtains from Spiffy Spools
Now that you know these curtain draping techniques and ideas, if you're ready to start shopping, order custom curtains or roman shades from Spiffy Spools today. With over 1,000 fabrics, we make it easy to design window treatments that fit your exact specifications and style. Explore our site to find the perfect options for your home, and don't hesitate to contact us with any questions.