Spiffy Speak
How to Hang Curtains in a Dorm Room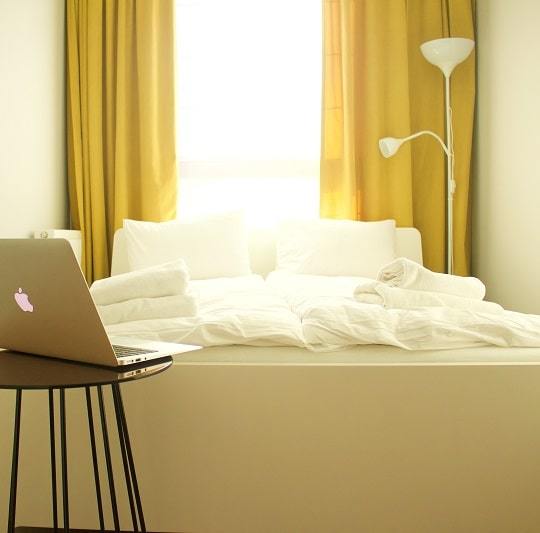 Dorm rooms present a unique challenge when it comes to hanging curtains. Since the space belongs to the university, you have to maintain the windows and walls of the property as you can incur fines for drilling into the wall to place brackets or to hang curtains to cover your closet space. That's why you have to get creative with your hanging techniques and adjust your curtain selection accordingly. Read on to learn how to hang curtains in a dorm room to avoid fines and add flair to your space!
Order custom curtains from Spiffy Spools online in any size. We have over 1,000 fabrics and patterns to pick from, so you can design them exactly to your liking!
No-Drill Hanging Methods
The first step to hanging your dorm room curtains is choosing a hanging method that doesn't require drilling. We recommend selecting one of these three options:
Command Hooks
Command Hooks are a great substitute for brackets, with no drilling required. To hang your curtains with Command Hooks, take the following steps:
Purchase two Command Hooks that are large enough to rest your curtain rod on.
Peel the backing off the Command Hooks and place them at least three inches above the window frame and three inches on either side of the frame. Note that the higher and wider you place the hook, the more sun you can prevent from peeking in through the top and sides of your curtains.
Slide your curtains onto your curtain rod and evenly distribute the fabric. If you've increased the height and width of your Command Hook placement, remember that you'll need to increase the length and width of your curtain fabric.
Place the curtain rod across the Command Hooks and adjust your curtains to your liking!
While this method will hold your curtains up in a more traditional fashion, the primary downside of this technique is that the Command Hooks may take away from the aesthetic appeal of your curtains.
Ceiling Hooks
Ceiling hooks are a great option if your windows reach the ceiling—but, even if your windows don't, hanging floor-to-ceiling curtains can create a stunning focal point in your dorm that makes a bold statement. To hang your curtains with ceiling hooks, take the following steps:
Purchase two ceiling hooks that are large enough to rest your curtain rod on.
Peel the backing of the ceiling hooks and place them on the ceiling as close to the wall as possible in front of the window. They should also be placed three inches outside of either side of the window frame.
Slide your curtains onto your curtain rod and evenly distribute the fabric.
Place the curtain rod across the ceiling hooks and adjust your curtains to your liking!
While ceiling hooks can work perfectly well in many situations, keep in mind that they can be more difficult to hang. If your dorm room is small, hanging large curtains can also make the space feel overcrowded and cramped.
Tension Rod
A tension rod is a style of curtain rod that's designed to be inside-mounted within the window frame. It uses tension to hold itself up between the trim, so no brackets are required. To hang your curtains, simply slip them onto the tension rod and set the rod in place within the window frame.
While this method will provide you with a clean finish, the downside is that tension rods can't support very much weight, which can limit your curtain selection. Tension rods may also lose their tension over time, causing the rod to fall from the window. In addition, you're limited to hanging the rod within the trim rather than above and outside of it, meaning you may not be able to block as much light as with hanging methods that allow you to extend your curtains beyond the frame.
ALSO READ: HOW TO HANG CURTAINS WITHOUT A ROD: 6 CREATIVE IDEAS
Tips for Selecting Curtain Fabric
No matter which curtain hanging method you choose, there are a few design tips you should keep in mind when selecting curtains for your dorm room:
Select a light fabric. Each of the above hanging methods cannot support heavyweight fabrics. Be sure to stick with light- to midweight fabric options such as cottons and linens.
Consider blackout fabric. If you're hoping to really block out sunlight, blackout curtains are a great option. In addition to preventing total light from entering your room, they come in a variety of designs and patterns, so you can style them beautifully. Plus, they also provide plenty of privacy to protect you from peering eyes.
Choose a simple solid or subtle pattern. You'll likely have plenty of other design elements in your room, and you don't want your curtains to clash or overtake them. By sticking with a curtain in a solid color or a more subtle pattern, they'll easily match the rest of your décor. This is especially helpful if you're sharing your dorm room with a roommate who will be bringing their own belongings into the room.
Consider Your Curtain Length
The final point to consider when hanging curtains in your dorm room is how long you'd like your curtains to be. Here are a few quick tips:
If you've selected the ceiling hook hanging method, we recommend designing your curtains to reach the floor. If they don't touch the floor, it will take away from their dramatic effect and make the room feel boxy.
If you're hanging your curtains with Command Hooks or a tension rod, design them to either reach the floor, hang a few inches above the floor, or stop at the windowsill.
Note that while longer curtains create a dramatic look, they're more likely to get dirty on the ends and can be slightly more difficult to maneuver. If you're looking for ease of use, curtains that stop at the windowsill are the best choice.
Order Custom Curtains from Spiffy Spools
Knowing how to hang curtains in a dorm room will help you avoid fines and enhance your space! At Spiffy Spools, we make it easy to create custom curtains that fit your unique style and measurements, with over 1,000 fabrics and patterns. Explore our site to find gorgeous options that will add plenty of character and flair to your new room. And whether you have queries on pricing or measuring, or simply want some curtain draping tips & ideas, don't hesitate to contact us with any questions you have along the way!