Spiffy Speak
How to Hang Heavy Curtains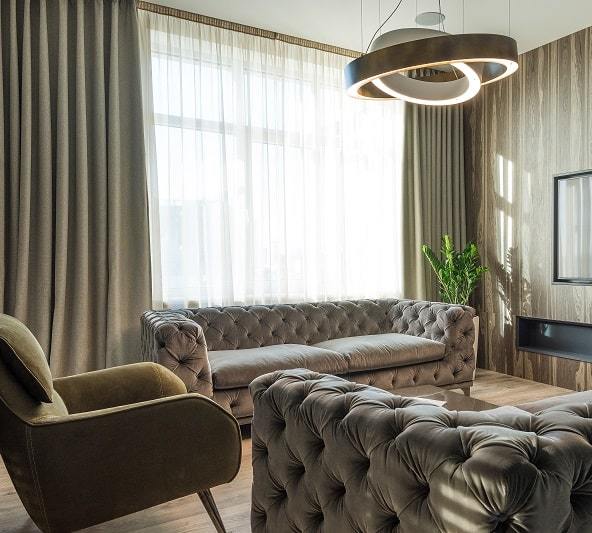 If you have heavy curtains, you've likely hung them up only to have them fall just a few days later. It can feel like an uphill battle getting your curtains to stay in place, but with a few simple tips, you can eliminate this problem once and for all. Learn how to hang heavy curtains the right way, below.
Order custom curtains from Spiffy Spools online in any size. We have over 1,000 fabrics and patterns to choose from, so you can match them to your home perfectly.
Common Types of Heavy Curtains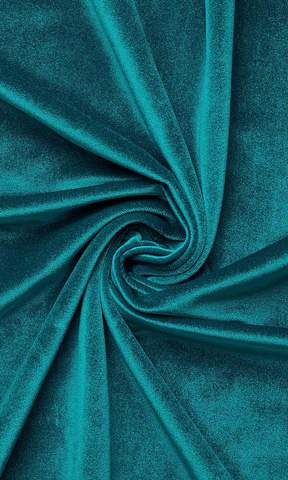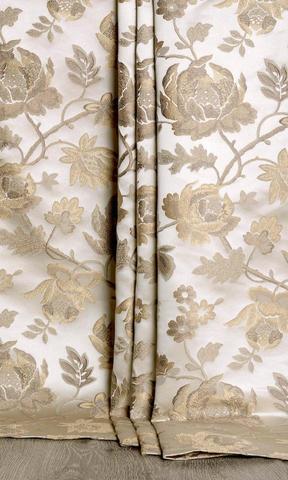 Conga Extra-Wide Curtains
Common types of heavy curtains that usually require extra hanging support include:
If you own any of the above types of curtains, be sure to take the following steps to hang them:
Select the Correct Curtain Rod
Selecting the right curtain rod is key to ensuring your curtains remain securely in place. Here are a few tips for choosing your rod:
A tension rod will not be the right option for heavy curtains. Tension rods are not designed to support excessive weight. They also lose their traction quickly and can fall easily, even without additional strain.
Opt for a traditional curtain rod that can be drilled directly into the wall or supported by brackets that are drilled into the wall. Drilling your curtain rod or brackets is the best way to ensure your rod will never fall. For even more security, drill directly into the studs of your wall.
Make sure that the curtain rod is strong enough to support your curtains. To do this, divide the weight of your curtains by the length of the rod you need. This number will tell you how many pounds the rod must hold per foot.
Increase Curtain Rod Width
When you increase the width of your curtain rod, you can better disperse the weight of your heavy curtains so that the rod doesn't sag. Plus, with heavier or thicker curtains, having this extra width will help you move your curtains to the open and closed position with more ease.
How to Fix a Sagging Curtain Rod
If you hang heavy curtains and find that your rod is still sagging in the center, there are two methods to fix it:
Install a center bracket. Drill a third bracket underneath the center of your curtain rod to provide more support.
Buy a stronger curtain rod. Another solution is to search for a stronger and thicker curtain rod that's designed to hold more weight than your current rod.
Choose a Sturdy Heading Style
Another point to take into consideration is the heading style of your heavy curtains. Some heading styles are more durable than others, particularly those that use rings or clips. Some stronger heading styles include:
Inverted box pleats
Pencil pleats
Other heading styles that hang by the fabric itself, such as rod pocket styles, tab tops, and tie tops, can put a strain on the fabric, making it sag rather than remaining taut.
For more information, our Heading Styles Guide can help you choose the best header for your curtains.
A Two Person Job
When it's time to hang heavy curtains, you may find that it's quite difficult to do so on your own. Your curtains may be too heavy for you to hold up to the rod. Even if you can hold them up, your arms may begin to tire quicker than you think, and only having a few rings hung can compromise the integrity of your curtain rod.
That said, we strongly recommend seeking assistance from at least one other person when hanging your heavy curtains. This will save you a lot of time, effort, and energy! To hang your curtains with a partner, take the following steps:
Pull up two chairs underneath your window, one for each of you to stand on, if you need them.
Have your partner start hanging one end of the curtains while you hang the other end.
Continue hanging until you meet in the middle.
Enjoy your heavy curtains that should remain securely in place!
Order Custom Curtains from Spiffy Spools
Now that you know how to hang heavy curtains, consider upgrading your window treatment with custom curtains from Spiffy Spools! We make it easy to create personalized window treatments that flawlessly match your style and specifications. Explore our site to find the perfect option for your space, and don't hesitate to contact us with any questions!
ALSO READ: HOW TO HANG CURTAINS WITH A VALANCE