Spiffy Speak
Dorm Décor Ideas for Guys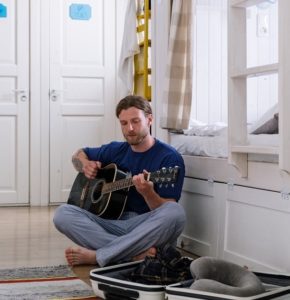 Looking for a way to liven up your dorm room? There are plenty of items you can add to your space to help you show off your sense of style and taste. View these dorm décor ideas for guys to get started sprucing up your new room!
Order custom décor from Spiffy Spools online in any style. We have over 1,000 fabrics and patterns to choose from, so you can match your selections to your dorm perfectly.
Custom Curtains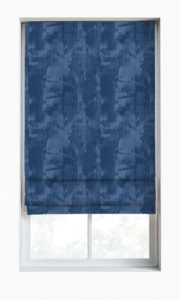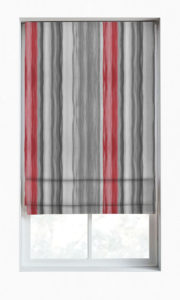 Hanging curtains in your dorm is the ultimate way to transform your room. They add an instant pop of color and can be as simple or vibrant as you'd like—whatever best matches your current décor. Here are some tips for helping you select the best curtains for a guy's dorm room:
If your current décor features patterns, choose curtains in a solid option. Clashing patterns will make the space feel cluttered and disorganized.
If your current décor features solid colors, choose curtains in a pattern to add more character to the space.
If you want to block sunlight, purchase blackout curtains. In addition to coming in a variety of fabrics and designs, they also block 100% of the sun's rays, ensuring your room stays dark to help you sleep or to watch movies/play video games. They also offer total privacy because not even a shadow can be seen through the fabric. Shop Now.
Another point to keep in mind when it comes to dorm room curtains is how you can hang them. Many dorms prohibit tenants from drilling into the walls, and if you do, you may incur a fine. To avoid this, try a no-drill hanging method, such as those that use the following:
Command Hooks
Tension rod
Kwik-Hang Brackets
These promise to keep your wall free of destructive holes! Check out our blog on How to Hang Curtains in a Dorm Room for more tips.
Curtain Tie Backs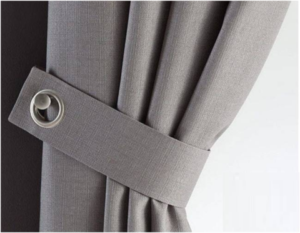 To enjoy an unobstructed view out of your window, consider adding curtain tie backs to your dorm room curtains. These handy accessories will hold your curtains away from the window to allow in plenty of natural sunlight. When you want to close your curtains, simply unhook the curtain tie backs from their hook and pull your curtains shut. These are extremely useful for allowing you to control the level of light and privacy in your dorm room.
Roman Shades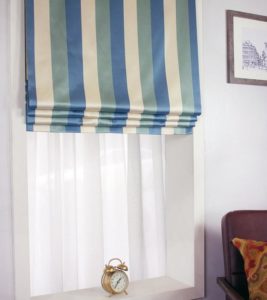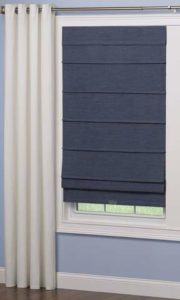 If you're not interested in the look of curtains, roman shades may be right for you! These offer similar functionality to blinds, but the mechanism for opening and closing is slightly different. They are also much more visually appealing! This is because they feature a single panel of fabric that matches the exact dimensions of your window when closed. When you're ready to open them, they stack from the bottom in even folds and rest crisply at the top of the window frame.
The two best kinds of roman shades for a guy's dorm room include:
Flat fold roman shades with back slats. These provide the most minimalistic look. The horizontal slats are stitched into the back lining so there are no visible seams in the fabric when the shades are closed.
Flat fold roman shades with front slats. These feature visible, horizontal panels that evenly break up the fabric when the shade is closed.
Cushion Covers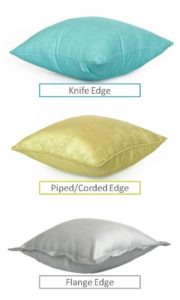 Transform your boring, bland pillows with vibrant cushion covers in any color, fabric, or pattern! Consider matching your cushion covers to your new curtains or roman shades, or select an option that complements them. Adding a few stylish covers that work with your dorm room's color palette is a great way to tie the space together.
Bed Runners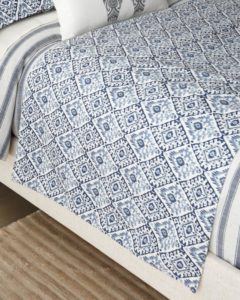 As a finishing touch, purchase a sleek bed runner to complete your dorm room. A bed runner is a thin, rectangular piece of fabric that's placed across the foot of the bed as a decorative element. Similar to the curtains, we suggest selecting a bed runner in a solid if your bedspread features a pattern, and vice versa. Alternatively, you could pair a solid bedspread with a solid bed runner in a complementary color. This small décor item is sure to make your dorm room stand out among the rest!
Purchase a Gift Card!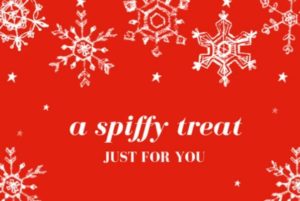 Are you looking to help furnish someone's dorm room? Consider giving them a gift card to Spiffy Spools! On our site, they'll find all of the custom décor they need to transform their space.
Order Custom Curtains from Spiffy Spools
These dorm décor ideas for guys are sure to enhance your space! At Spiffy Spools, we make it easy to create custom curtains and décor that fit your unique style and measurements, with over 1,000 fabrics and patterns. Explore our site to find gorgeous options that will add plenty of character to your new room—and don't hesitate to contact us with any questions you have along the way!
ALSO READ: HOW TO HANG CURTAINS IN A DORM ROOM