Spiffy Speak
Curtain Closet Door Ideas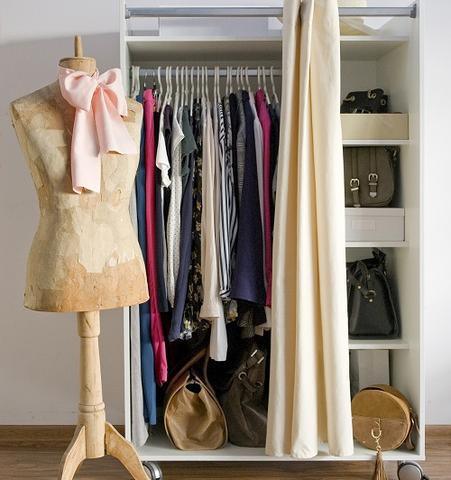 Using curtains as a closet door is an easy, affordable, and stylish way to conceal your belongings. Explore these curtain closet door ideas to ensure your curtains perfectly fit your closet opening, are simple to use, and match your space.
Order custom curtains from Spiffy Spools online in any size. We have over 1,000 fabrics and patterns to pick from, so you can design them exactly to your liking!
Hardware Selection
You'll likely open and close your curtain closet door frequently, so you should choose hardware that's durable and easy to maneuver. A tension rod would not be a great selection for this project, as constant use can make the rod's tension dissipate quickly. Plus, tugging too hard can cause it to fall.
Instead, opt for a curtain track or a single curtain rod. These are more durable options for frequently-used curtains, because they're drilled into the wall. Their sturdiness will also allow you to easily glide the curtains to the opened and closed position.
Choosing the Heading Style
Your heading style also affects how easily you can maneuver your curtains. Whether you decide to use a curtain track or a single curtain rod, we recommend the following heading styles for closet door curtains:
Pinch pleats
Flat-panel tops
Inverted box pleats
Pencil pleats
These are the only heading styles that work for curtain tracks. They make the best options for single curtain rods as well, because they're hung by metal rings or hooks that are less likely to get stuck as you pull them across the rod.
If you'd like to learn more about curtain heading styles, explore our Headings Style Guide!
Get the Right Length
In terms of length, your curtain closet door should hang slightly above the floor or barely touch the floor. If your curtains are too long, they will no longer have the appearance of a door—and they'll be more difficult to slide across the rod or track. If your curtains are too short, they'll expose the contents of your closet. Be sure that you measure carefully to ensure you get the length just right. This is imperative so that your curtain door will look great and function properly!
Curtain Design
Designing your curtains is one of the most exciting steps of this project! Select curtains that match or complement the current design of your room. Consider the following tips when selecting your curtains for your closet:
For casual designs, curtains in mid- to light-weight fabrics like, linens, and cottons will keep the space feeling light, airy, and relaxed.
For formal designs, curtains in dark colors and heavy fabrics such as velvet or silk will match the feeling of opulence that exists in the room.
For traditional designs, curtains that feature bold floral patterns in neutral tones will work well. Also keep in mind that pinch pleat headings are best paired with traditional curtain designs.
For modern designs, curtains in geometric prints, textured neutrals, or color blocking will match your space flawlessly.
For rustic designs, curtains in fabric options such as burlap, gingham, or a plaid print in cotton or linen are a great selection.
Single or Double Panels?
Another design element you'll want to consider is whether you'd like to hang single panel or double panel curtains. Single-panel curtains will cover the closet opening with one, sweeping piece of fabric. Double-panel curtains consist of two separate pieces of fabric that will rest on either side of the closet when open.
The primary point you'll want to consider when making this decision is the width of your closet:
If your closet is narrow, there will likely not be enough space for double panels. If you do try to hang double panels over a small opening, the curtains will appear cluttered and out of place.
If your closet is wide, you should have the capacity to hang either single or double panels curtains. In this case, the choice ultimately comes down to a matter of preference.
Order Custom Curtains from Spiffy Spools
These curtain closet door ideas are sure to function flawlessly in your space. At Spiffy Spools, we make it easy to create custom curtains that fit your unique style and measurements, with over 1,000 fabrics and patterns. Explore our site to find options that will work perfectly as a closet door—and don't hesitate to contact us with any questions you have along the way!