Spiffy Speak
Curtains vs Drapes: What's the Difference?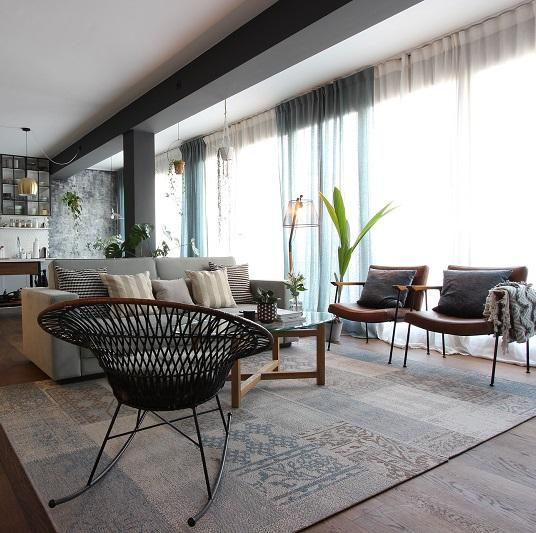 What's the difference between curtains and drapes? While the two terms are often used interchangeably, there are a few key distinctions that set them apart. Read on to learn which of these window treatments is right for you!
Order custom curtains or drapes from Spiffy Spools online in any size. We have over 1,000 fabrics and patterns to pick from, so you can design them exactly to your liking!
What are Curtains?
Curtains are comprised of either a single fabric panel or a pair of fabric panels. Typically, curtains are created with mid to lightweight fabrics, which makes them highly functional for frequently-used windows. Since the weight of the fabric is on the lighter side, they can be paired with blackout lining for additional darkness and privacy. Curtains also come in a variety of lengths. For instance, café curtains are half the length of the window—but curtains can also reach the windowsill and even touch the floor.
What are Drapes?
Drapes typically consist of two fabric panels and feature heavier, more "luxury" fabric options. Due to their weight and thickness, they tend to block out light slightly more effectively than curtains. Drapes also touch or "puddle" on the floor. They're often used as a decorative option—especially puddled drapes that feature carefully styled fabric pools. Given this length, they may not be ideal for windows that are frequently opened and closed.
The Primary Distinction
The primary distinction between curtains and drapes ultimately comes down to formality. Drapery is the most formal window treatment you can select. While curtains can also be formal, they are significantly more casual when compared to drapes. Curtains are a versatile option that can be dressed up or down, whereas you can always expect drapes to bring a regal feel to the space.
Which is Right for You?
To help you decide whether curtains or drapes are the right option for your window, consider the following questions:
How formal is the overall space?
How often do you open and close the window?
Does long drapery make sense in the space? For example, a lengthy window treatment may work in a dining room, but not in a bathroom, kitchen, or kids' room.
Your answers to these questions will guide you in determining the window treatment that will best meet your unique needs!
Design Tips for Curtains & Drapes
Are you ready to start customizing your choice of curtains or drapes? If so, we have some great design tips that can guide you in the process. In order to nail whichever look you're going for, it's important to keep a few key suggestions in mind:
Designing Curtains
Consider the following design tips when creating your curtains:
When selecting your curtain fabric, options such as linen, cotton, and sheers are the best choices because they are mid to lightweight fabrics.
When choosing the length of your curtains, consider both the location of the window and the overall feel of the room. Shorter curtains tend to be more casual, while longer curtains provide a touch of formality. For further assistance, check out our Curtain Size Guide.
When choosing the color or pattern of your curtains, first identify the overall color scheme of the room. You can match your curtains to the color that stands out most in the room or to the complimentary room colors. Note that you should not hang a patterned curtain in a space where another bold pattern is present.
Designing Drapes
Consider the following design tips when creating your drapes:
When selecting your drape fabric, options such as silk and velvet are a great pick because they are heavy, "luxury" fabrics.
When choosing the length of your drapes, consider how frequently you will need to use the window. For instance, puddled drapes are typically meant to stay untouched. However, drapes that simply touch the floor will allow you to more easily open and close the window as needed.
When choosing the color or pattern of your drapes, darker hues will further add to their formality. Patterns like florals are also great for more traditional designs. Stay away from geometric prints, however, as they are very modern and may not match the formal feel of your drapery.
Order Custom Curtains and Drapes Today
As you can see, there's a distinct difference between curtains and drapes. If you're ready to purchase new window treatments, browse Spiffy Spools today. We make it easy to create custom curtains and drapes that fit your exact specifications, with over 1,000 fabrics and patterns. Explore our site to find the options that best meet your needs—and don't hesitate to contact us with any questions you have along the way!