Spiffy Speak
Farmhouse Laundry Room Curtain Ideas
Your laundry room should feel as clean and crisp as the linens you wash. This is especially true if your home features a farmhouse design style, which emphasizes light, airy, and cozy spaces. To nail this look, view our top farmhouse laundry room curtain ideas!
Order custom curtains and drapes from Spiffy Spools online in any size. Pick from over 3,000 fabrics and patterns!
What is Farmhouse Style Décor?
To select the perfect curtains for your farmhouse laundry room, it helps to understand the basics of farmhouse design. Farmhouse décor flawlessly combines the sleek, sophisticated lines of modern styles with the cozy feel of a country home. The look is both simple and warm, creating an elegant yet inviting feel.
Farmhouse designs are achieved by incorporating natural materials, such as:
Wood
Steel
Stone
Brick
Marble
Textiles
Farmhouse designs are characterized by neutral colors, such as:
White
Cream
Beige
Tan
Brown
Gray
It's important to keep these principles in mind as you design your farmhouse curtains!
READ MORE: FARMHOUSE WINDOW TREATMENTS: TOP TIPS & IDEAS

Where Will You Hang Your Curtains?
There are several places where you could hang curtains in your laundry room. Each can affect the style and hanging method you choose:
Laundry Room Window
If you're looking for laundry room window curtains, café curtains are a fabulous choice. These are typically half the length of the pane and mounted across the center of the window. Café curtains pair wonderfully with a laundry room window for so many reasons:
Don't overcrowd the space. Laundry rooms are typically small, so large window treatments can feel overwhelming. Café curtains best match the size of the room!
Allow in natural light. Since café curtains only cover half of the window, they allow in plenty of natural sunlight while offering partial privacy.
Perfectly match the farmhouse aesthetic. When designed correctly, café curtains capture the essence of farmhouse design with their cozy, airy feel!
Laundry Room Door
Do you have a laundry room door that features a glass pane? Keep your cluttered laundry away from view by installing a single curtain panel over the glass:
Install a curtain rod just above the top of the pane and just below the bottom of the pane.
Design your curtains so that they match the dimensions of the pane and have an opening for a rod on either end.
Slide one end of your curtains through the top rod and the other end through the bottom rod.
Enjoy the sleek look and privacy provided by your single curtain panel!
Laundry Room Entryway
Perhaps you have an open entryway into your farmhouse laundry room. If you want to hang curtains over this space, we suggest selecting double curtain panels for this project. The double curtain panels provide the illusion of a door, and they open and close with ease. Hang them with a galvanized steel curtain rod to better match the farmhouse aesthetic, and enjoy!
Choose a Matching Fabric
As we've mentioned, farmhouse designs emphasize the use of natural materials and neutral colors. This is key to keep in mind when creating your curtains! Raw material such as linen or cotton will best match this style. However, sheers can also bring a natural brightness into the space. Color your curtain selection in a solid, neutral tone, and they'll fit flawlessly in your farmhouse laundry room.
Spotlight On: Tabiiy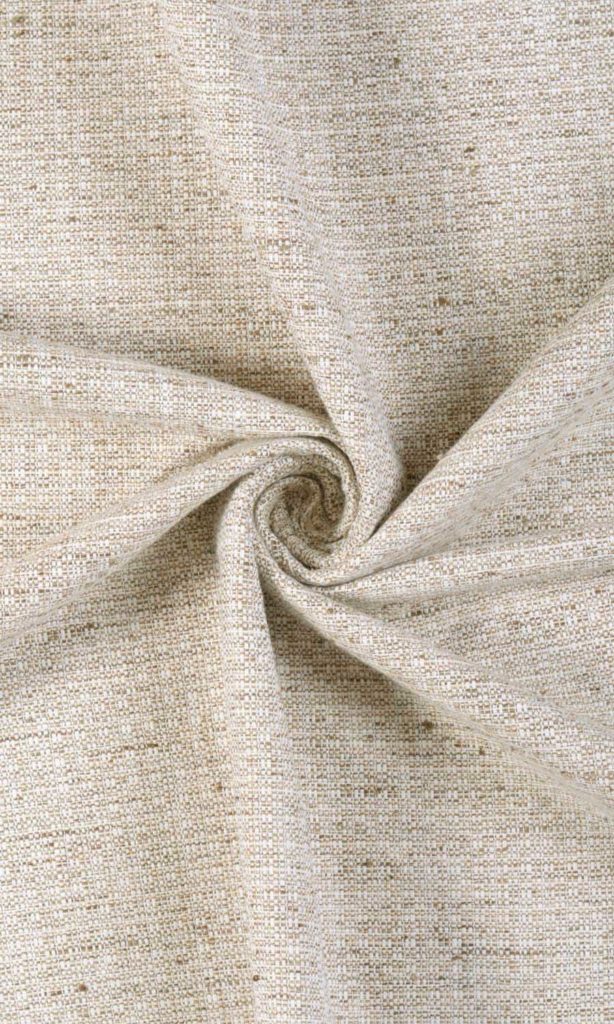 Tabiiy is a harmonious blend of thickly woven beige and cream. This cotton curtain fabric is relaxed and natural yet chic, effortlessly meshing with farmhouse décor. To achieve luxurious simplicity, Tabiiy is the perfect selection for your laundry room!
Spotlight On: Marble

For interiors with a light and airy feel, Marble Linen Curtains are the perfect option. The classic white fabric featured here will gracefully frame your windows and help to brighten your farmhouse laundry room. This is the epitome of minimalistic décor.
Nature-Themed Curtains
Another way to embody farmhouse design in your curtains is through nature-themed prints. Curtains of this theme create a tranquil, earthy feel that captures the modern-country essence you're aiming for.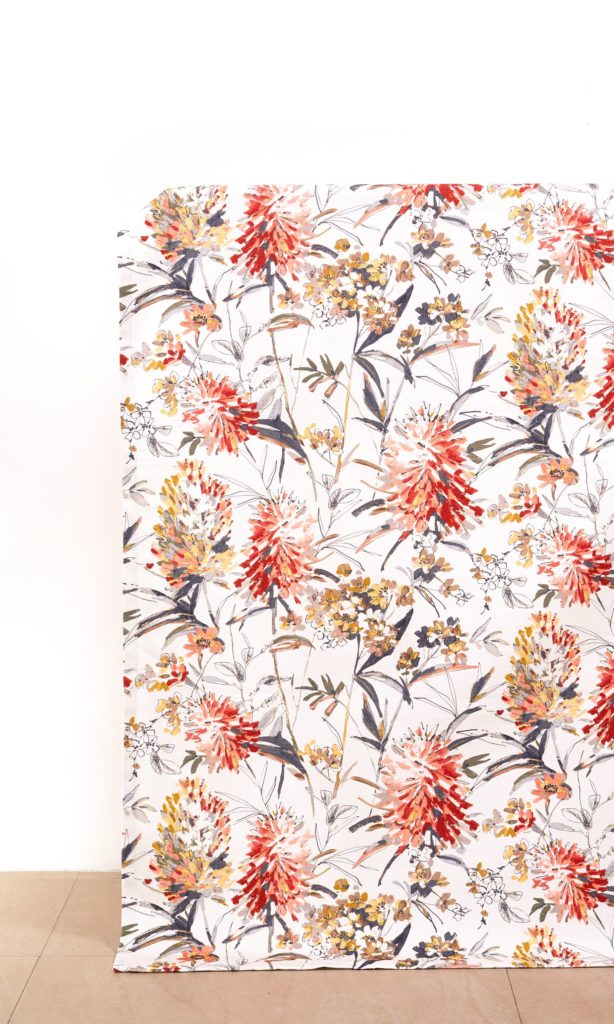 Our Confetti Red curtains will look gorgeous in your farmhouse laundry room. The brilliant coral and crimson flowers featured in this lush floral print contrast beautifully with the white backdrop, making them stand out alongside accents of gray, beige, and pale yellow.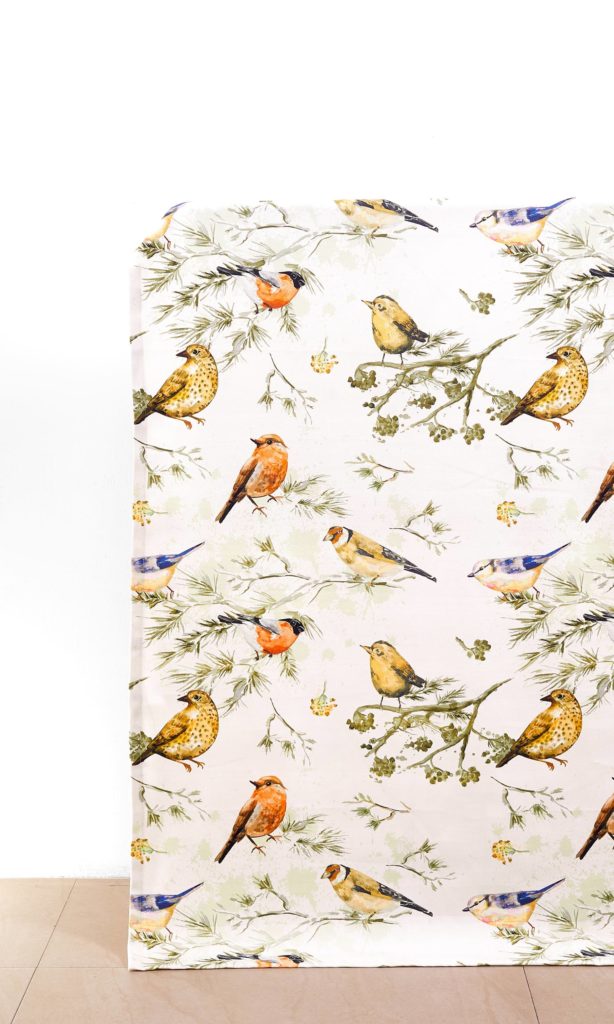 Featuring bright oranges, yellows, and beiges, Summer Lark will bring a lively natural feel to your laundry room. These printed curtains feature a quaint pattern with lark birds, serene foliage, and flowers, offering a delicate, airy look that's perfect for farmhouse-style rooms.
READ MORE: COZY YET CONTEMPORARY IDEAS FOR FARMHOUSE BEDROOM CURTAINS
Order Custom Curtains from Spiffy Spools
We hope these farmhouse laundry room curtains ideas have helped you find the perfect inspiration for your home. If you're ready to shop for gorgeous drapery, order custom curtains from Spiffy Spools today. We make it easy to create custom curtains that fit your exact specifications and design style. Explore our site to find the perfect options for your laundry room, and don't hesitate to contact us with any questions!
READ MORE: FARMHOUSE CURTAINS: TIMELESS, CASUAL & NATURE-KISSED