Spiffy Speak
Puddled Curtains & Drapes Styling Ideas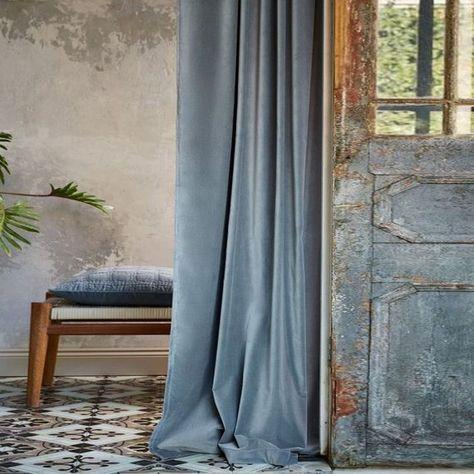 If you're looking to bring drama and opulence to your drapery, we recommend considering a puddled look for your curtain panels. Puddling refers to the amount of extra drapery length that is spilled or pooled onto the floor.
Stylist tip: We do not recommend puddling curtains that are drawn open and shut frequently and/or may be in high-traffic areas as the bottom ends may dirty quickly. To style your primarily decorative drapery, here are some great puddled curtains styling ideas.
Order custom curtains and drapes from Spiffy Spools online in any size. Pick from over 1,000 fabrics and patterns! Shop Now
What Are Puddled Curtains?
In contrast to most curtains that graze or hang just above the floor, puddled curtains "pool" or gather on the floor. To achieve a puddled look, you need an excess of fabric in terms of length.
Depending on the puddling style you wish to achieve—as we'll soon discuss— consider ordering drapes with length increased by 1 to 18 inches beyond floor length.
Choose a Curtain Puddling Style
There are three primary curtain puddling styles. For further customization, each style has its own unique variations as well. Let's take a look:
Break Puddle
Also known as "break length," drapery is pooled one inch on the floor in this style. An exercise in elegant restraint, one-inch puddle breaks work best with laid back fabrics such as linens and cottons.
A break puddle can be dressed in a couple of styles:
Casual break. For this style, simply hang your curtains and allow your pleats to lie naturally. This is the simplest puddling style in the lineup, as they require no arrangement.
Tailored break. Select pleated drapes that fall uniformly or heavyweight drapes that contain multiple linings. Once hung, arrange the fabric so that it bends at the hem of each pleat, creating a neat stack of folds along the floor.
Medium Puddle
If you'd like a little more character than what you get from the relatively minimalist puddle break but are shying away from a full, dramatic puddle, the medium puddle is a great option to consider. Medium puddle curtain styles require curtain length to be increased by two to five inches. Depending on your preference, you can arrange the fabric to fan out on the floor, or you can simply allow the fabric to bundle together and fall underneath itself. Both techniques offer an understated yet eye-catching look.
True Puddle
Finally, a true puddle will provide you with the most dramatic effect. This puddled curtain style can be achieved by extending the curtain length between 6-16 inches. Keep in mind, the longer the length, the more striking your drapery will be. Here are the different ways you can arrange a true puddle:
Flowing puddle. This puddle style is reminiscent of the train of a wedding gown. It's elegant, bold, and luxurious. To create flowing puddles, you must train your drapes to fold uniformly. Then, allow the fabric to lie naturally and flow out from the panels to create the perfect pool.
Fold-under puddle. Just as the name sounds, with this style, you'll fold the excess curtain fabric underneath itself. After fluffing the fabric to increase its volume, the result is a soft, cloud-like shape that provides a dreamy effect. Note that this kind of puddle requires at least 12-16 inches of extra length.
Stacked puddle. Instead of allowing the fabric to flow outwards, it will be piled vertically. To do so, lift the curtain into a fold, drop it down, and repeat, stacking the folds on top of each other. It will likely take time for your curtains to maintain this type of puddle. Just give it some time and readjust as needed. Over time, the curtains will be "trained" to retain the puddle.
Match Drapes to Your Décor
When considering puddled drapes to your home's décor, the type of fabric you select plays a role. Consider the following tips to help you choose the fabric that's right for your desired aesthetic:
For a formal décor setting, consider dressy fabrics such as silks or velvets. The grandeur and resplendence of these fabrics marries perfectly with the opulence associated with a puddled look. The true exaggerated puddled look works best with these fabrics.
For a casual décor setting, consider laidback and lightweight fabrics such as linens, cottons, or These fabrics offer a look that's airy and relaxed. One-inch break puddle works best with this set of fabrics.
Puddled look is most popular in formal décor settings paired with pinch pleat heading styles. Pinch pleat drapery is not only a better coordinate aesthetically but also folds easily along pleat lines, making it easier to arrange and dress the puddled fabric.
For more advice on choosing the right fabric, read our blog post on The Best Fabrics for Curtains.
Order Custom Curtains from Spiffy Spools
We hope you enjoyed these styling ideas for puddled curtains and drapes! If you're ready to dress your windows in one of these gorgeous looks, Spiffy Spools makes it easy to create custom curtains to your exact specifications. Explore our site to find the perfect options for your space in any length—and don't hesitate to contact us with any questions!
ALSO READ: THE ULTIMATE CURTAIN SIZE GUIDE