Spiffy Speak
Curtain Tie Back Ideas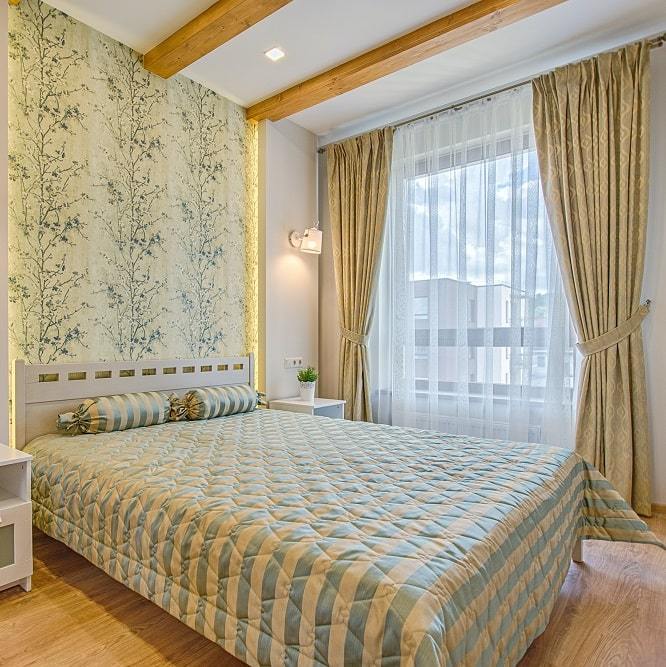 Curtain tie backs are an extremely useful addition to your curtains. They beautifully sweep the fabric back from the window to allow in plenty of natural sunlight. Plus, you can select from a variety of designs to best match your décor. Explore these curtain tie back ideas to get started!
Include custom tie backs with your curtain order from Spiffy Spools. You can pick from over 1,000 fabrics and patterns! Shop Now
Why Use Tie Backs?
You should consider adding tie backs to your curtains if:
You have frequently-used windows. Tie backs make it extremely easy to open and close your windows as needed.
Your room needs additional light. You can pull the entirety of your curtains away from the window with tie backs. This means plenty of light can enter to brighten up the room.
You want to protect your curtains from activity. Are your curtains in a highly-trafficked space, such as where people enter the house or your children play? Tie backs can better protect your drapery by keeping it out of the way.
Select Your Style
Spiffy Spools offers three gorgeous tie back styles. Explore our options to find the style that will look best with your custom curtains:
Snazz. Our Snazz tie backs offer a modern look. They feature a silver, cylinder hook and a large silver eyelet. The eyelet is attached to a minimalistic, rectangular piece of fabric of your choosing.
Pizzazz. Our Pizzazz style is a more relaxed, casual option. A small eyelet attaches to a thin, metal hook. The fabric features a rectangular cut with rounded edges.
Razzmatazz. Our Razzmatazz tie backs are all about subtlety and refinement. With this option, a sweeping piece of fabric with a thinly woven loop connects to a small cleat attached to the wall. If you want your tie back hardware to blend in seamlessly with your drapery, this is the perfect selection.
Mix & Match the Fabric
When you order curtain tie backs from Spiffy Spools, you can mix and match your fabric options! Whether you'd like to purchase tie-backs in the same material as your curtain selection or experiment with something completely different, the choice is yours. If your room is more modern, you can color-block your curtains by including a solid tie back in a different hue. Or, for a relaxed space, pair your solid curtains with a tie back in a fun print! When it comes to design, the options at Spiffy Spools are virtually endless.
DIY Curtain Tie Backs
If you have the proper skills, you might consider creating curtain tie backs of your own! Here are a few simple steps to help you assemble DIY curtain tie backs:
Purchase the material you want to use for your tie back. We'll go into more detail on tie back options below!
Purchase your hooks. If you are pulling back double-panel curtains, purchase two cup hooks that are ¾ inch. If you are pulling back a single-panel curtain, purchase one cup hook that is approximately one inch.
Place the hooks. Hooks should be placed about three inches to the side of the window frame and approximately 2/3 of the way down the curtains. For double-panel curtains, place hooks on both sides of the frame. For single-panel curtains, consider placing the single hook on the side opposite of your dominant hand for easy use.
Wrap your tieback around the curtain panel and secure it on the hook!
Curtain Tie Back Design Tips
Many different materials can be used as curtain tie backs! Here are some wonderful options that will help you make a stunning statement:
For an airy look, tie your curtains back with a gorgeous linen or sheer. Layering your curtains with additional, lightweight fabrics will create a dreamy effect.
For a rustic look, select natural materials such as rope or twine for your curtain tie backs. Thicker rope will be more striking, while thin twine offers a lighter, more delicate design.
For an industrial look, a sleek chain can be used as a tie back, providing drama to the space.
For an eclectic look, beaded tiebacks are very popular. Use beads that match the color of your curtains, or select them in a new color that matches your décor.
For an opulent look, consider holding back heavier drapery with bold, metallic hardware. Or, for lightweight curtains, a string of pearls is another classy option.
For a casual look, you can't go wrong with tassels! Tasseled tie backs will provide your curtains with a little fun and flair. Plus, at Spiffy Spools, you can even include tasseled trim on your custom drapery to match! Shop Now
Order Custom Curtains Today
We hope these curtain tie back ideas have inspired you. At Spiffy Spools, our tie backs are only sold as part of a drapery order, so be sure to browse our outstanding curtain selections as well! We have over 1,000 fabrics and patterns for you to choose from, making it easy to create beautiful, custom curtains and tiebacks that fit your exact specifications and style. Don't hesitate to contact us with any questions!