Spiffy Speak
Charming & Rustic Curtain Ideas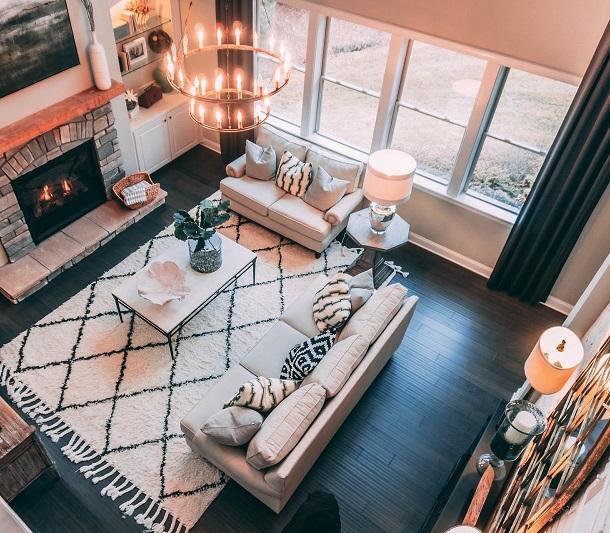 Adding the perfect window treatment can go a long way toward bringing your space together. If you're looking for the finishing touch to your cozy home design, consider these charming and rustic curtain ideas!
Order custom curtains from Spiffy Spools online in any size. We have over 1,000 fabrics and patterns to pick from, so you can design them exactly to your liking!
Charming & Rustic Curtain Fabrics
Certain types of fabric exude a charming and rustic feel, such as burlap, cotton, and linen. The vintage look and raw, textured materials help to provide a cozy, welcoming, and warm visual appeal. Pair these fabrics with traditional patterns like gingham or plaid to enjoy a slightly more retro twist!
Rustic Curtain Rods
There are a few ways to add rustic flair to your curtain rod:
Select a farmhouse-style curtain rod. Generally, farmhouse-style rods are comprised of raw or distressed wood. They often feature an ornate end piece that provides wonderful character. Their naturalistic design will beautifully match your rustic décor.
Select an industrial pipe curtain rod. Using an industrial pipe as a rod can add to the rustic feel of your space. Mixing and matching natural elements with the sleek, dark metal will provide a nice contrast that will elevate your space.
Choose a Matching Heading Style
When considering rustic curtain ideas, it's important to ensure that your heading style matches the warm, relaxed feel of your décor. The following options should work nicely:
Rod pocket style
Tab tops
Tie tops
These headings offer a slightly more traditional look that will blend flawlessly with your rustic aesthetic. If you have additional questions about heading styles, be sure to check out our Headings Style Guide.
Charming & Rustic Curtains from Spiffy Spools
Spiffy Spools offers a vast selection of stylish window treatments! Explore these featured charming and rustic curtain options below for inspiration:
Farmhouse curtains are a popular style of window treatment. Their simplicity, sleek lines, and cream tones make them the epitome of rustic charm. Designed with medium-weight fabrics such as cotton for a more substantial look, these flowy, chic curtains provide a fresh and modern take on country-inspired designs.
Featured Looks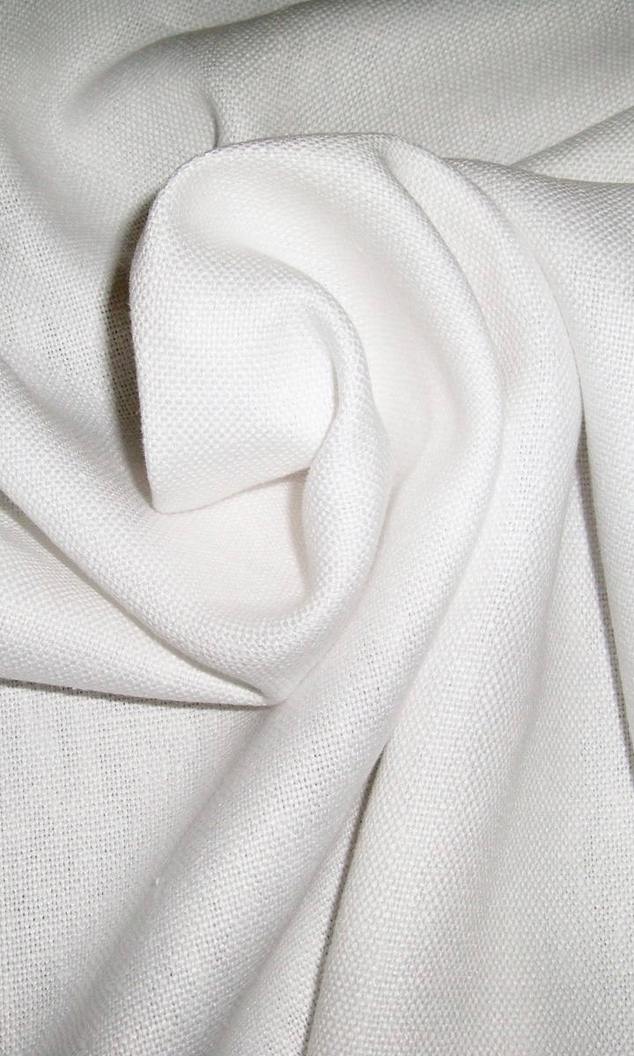 These timeless, white, cotton curtains are as peaceful as a soothing spring morning. Simple, minimalistic, and touched with gentle texture, our April Morning fabric will help you flawlessly capture the farmhouse-style aesthetic.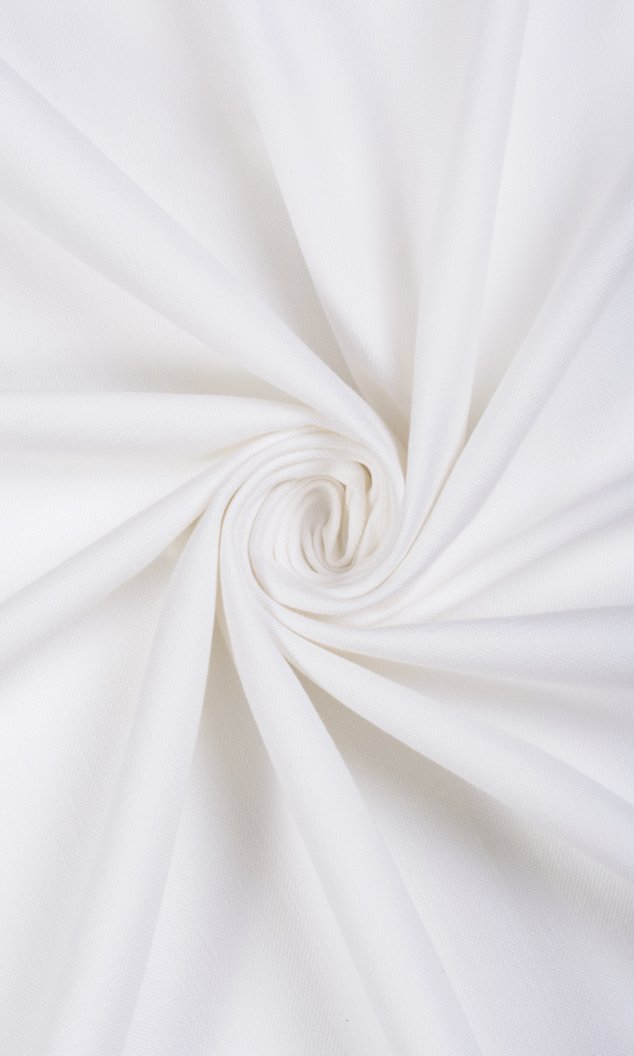 Just as the name sounds, our Sueno curtains will make a dreamy addition to your home. They feature a cotton-linen blend, combining two of the most popular rustic fabrics, and the white color offers plenty of brightness. These are the perfect option for farmhouse curtains!
Floral curtains are a classic option that can add plenty of charm to your space. To create a more rustic feel, we suggest selecting medium- to large-scale patterns in neutral tones. This will help you to maintain a sophisticated but laidback aesthetic.
The ocean blue floral pattern featured in our Tiszta curtains will make a lasting impression as your window treatment. Ornate vines, leaves, and fan-like flowers sprawl against the beige backdrop for a delicate yet glamourous feel. Elegant but not over-the-top, these curtains are sure to help you create a charming, tasteful interior.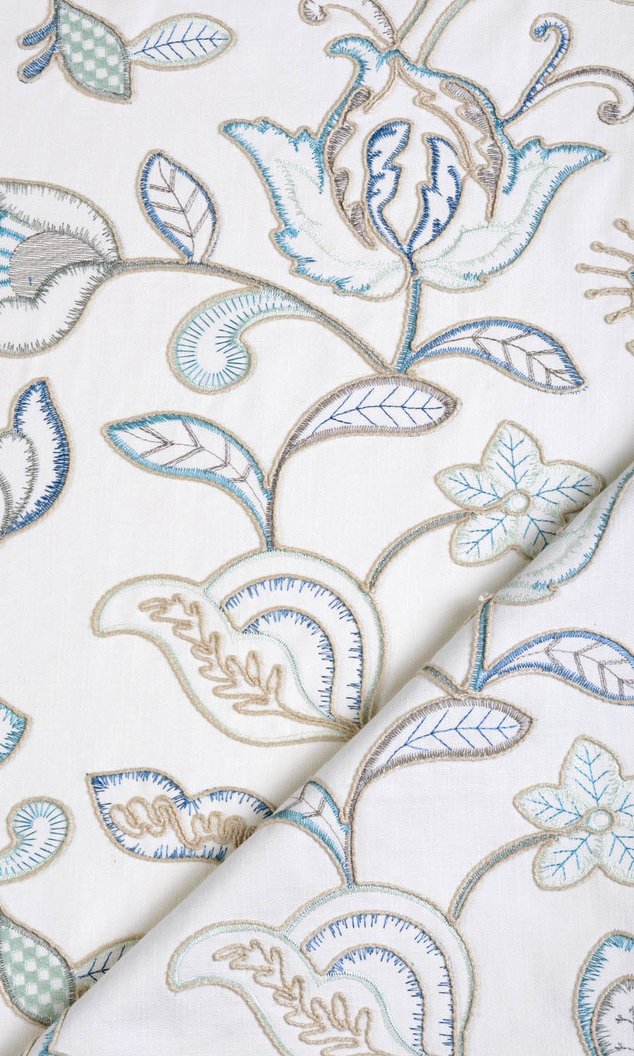 Gedrukt curtains boast an elegant floral pattern. Intricate hazelwood beige and indigo blue vines, tendrils, flowers, and leaves gently work their way across the dreamy white backdrop. The design is soft and understated enough to blend flawlessly with your charming, rustic décor.
Patterned Curtains
As mentioned previously, patterns such as plaid and gingham provide plenty of character and vintage charm. If you'd like to make your curtains a focal point in your space, dressing them in one of these gorgeous patterns is a great choice: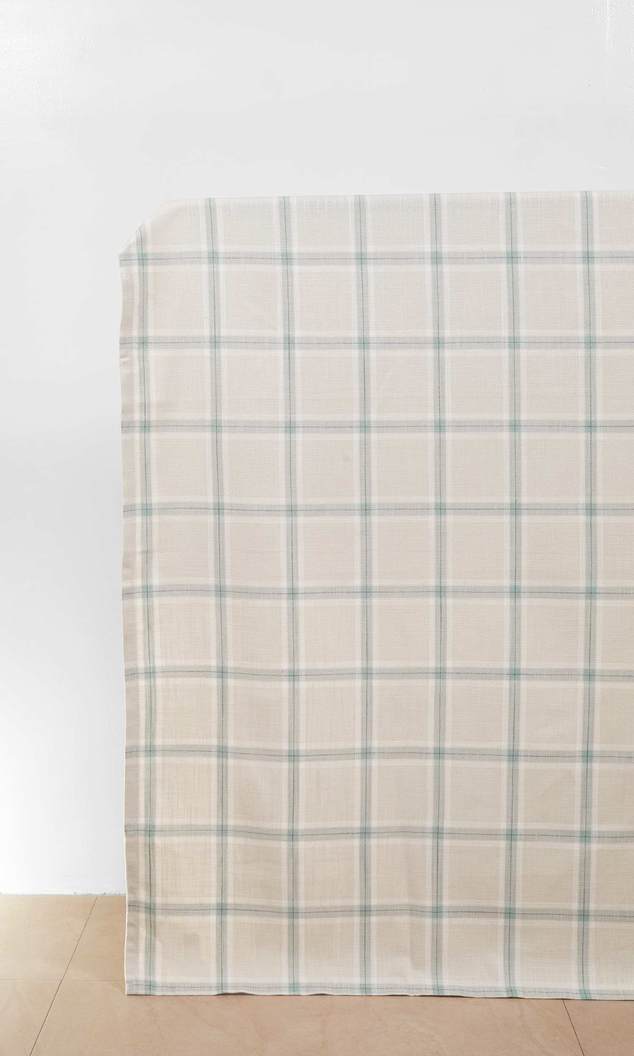 Our Zonda curtains feature a backdrop with pale beige and pink undertones that have been squared out with a two-tone gray grid. The eye-catching checks combined with soothing colors are sure to catch the eye and make a lovely statement.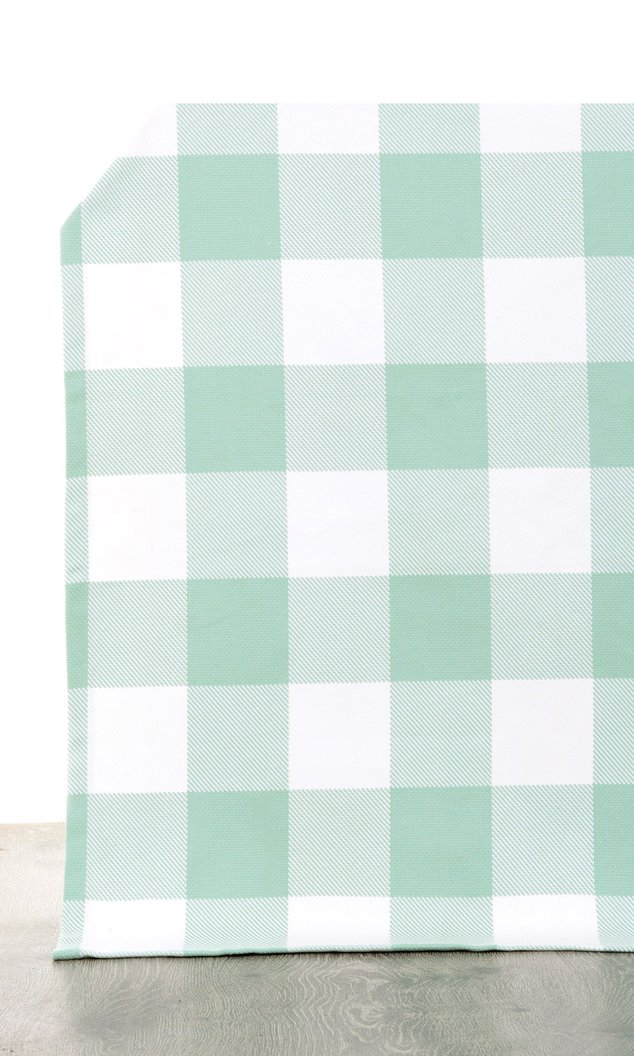 Our Aburi curtains feature a buffalo check pattern in a tranquil aqua blue. Aburi beautifully elevates a classic pattern to produce a fun yet serene feel. Geometric but gentle, this is a fabulous selection for any rustic space.
Valances
Valances are decorative window treatments that cover the top fourth of the window pane. In addition to providing a nice pop of color, they also beautifully soften incoming light to create a warm glow. They're available in a variety of fabrics, patterns, and heading styles, so you can design them to match your charming, rustic space.
Valances work wonderfully as a standalone look. However, you can also pair them with blinds, roman shades, or curtains for additional light control and style. What's more, valances will conceal your curtain hardware if you prefer that it not show.
Order Custom Curtains from Spiffy Spools
We hope these charming and rustic curtain ideas have helped you find the perfect inspiration for your home. If you're ready to shop for a gorgeous new window treatment, order custom curtains from Spiffy Spools today. We make it easy to create custom curtains that fit your exact specifications and design style. Explore our site to find stunning options, and don't hesitate to contact us with any questions!
ALSO READ: BUFFALO CHECK CURTAINS: FINE FINISH THE COUNTRY VIBE