Spiffy Speak
Bay Window Curtain Ideas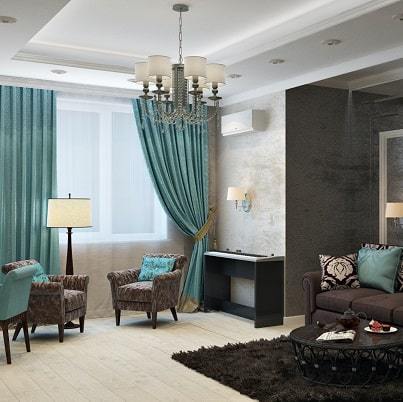 Bay windows are a gorgeous focal point in any room. If you're trying to dress this lovely feature with a new window treatment, don't be intimidated by the large panes and unique angles. Explore our bay window curtain ideas for inspiration and style tips!
Order custom curtains and drapes from Spiffy Spools online in any size. Pick from over 1,000 fabrics and patterns!
Select Your Rod
The first challenge when dressing your bay window is selecting the proper rod to hang your curtains. There are three rod options to choose from that work well with bay windows:
Bay window curtain rod. Specifically designed for bay windows, this selection features three rods that are connected by flexible elbows. This allows you to mount the joined rods at the proper angles above each window pane. This type of rod is easy to install and can make your windows appear larger for a more dramatic look.
Straight rods. Another option is to mount individual straight rods over each section of your bay window. If you would like to layer multiple window treatments over your bay window, you can use double rods to get the job done easily.
Tension rods. Purchase tension rods to inside-mount within the frame of each window. These rods provide a more minimalistic look.
Choose a Heading Style
The next selection you'll need to make is the heading style for your curtains. Be sure to choose the heading style that best matches your current décor:
For traditional designs, pinch pleats are the perfection option. The uniformity of the fixed, hand-sewn pleats provides a tailored look that works wonderfully in more formal spaces. In addition, pinch pleat headings are fitted with hooks for easy opening and closing.
For contemporary designs, select grommet tops or flat panel tops. Grommet tops consist of evenly spaced eyelets across the width of the fabric, which allow your curtains to hang in wide, loose folds. When open, they stack neatly in a uniform fashion. Flat panel tops are hemmed on all four sides with a heading tape sewed across the back. Your curtains can then be hung on a curtain rod with your choice of drapery pins, drapery rings, curtain clips, or curtain hooks.
If you'd like more assistance making your heading selection, be sure to reference our Heading Style Guide!
FURTHER READING: ATTIC WINDOW CURTAIN IDEAS
Design your Curtains
With your rod and heading style chosen, the next step is to design your curtains! Explore our top tips, recommendations, and featured products to help you find perfect bay window curtains:
Sheer Curtains
Bay windows bring in plenty of gorgeous, natural light. Take full advantage of that sunlight with sheer curtains. Sheers beautifully filter sunlight to create a light, airy, and dreamy effect. If you'd like, you can layer sheers with a thicker fabric to increase your level of privacy.
FEATURED LOOK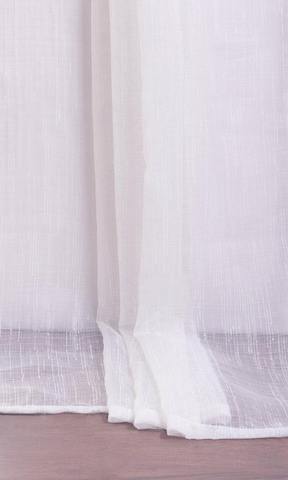 You're sure to brighten up your home with the addition of our Snow Light curtains. The pure white fabric is woven to create subtle stripes that vary in thickness. Simple and delicate, these curtains will bring refinement to any room.
Formal Curtains
Neutral color palettes work wonderfully in formal designs. If you'd like to stray away from solids, a floral print in neutral tones can make a striking statement. Or, stick with simple silk curtains to add a feeling of opulence to the room.
FEATURED LOOK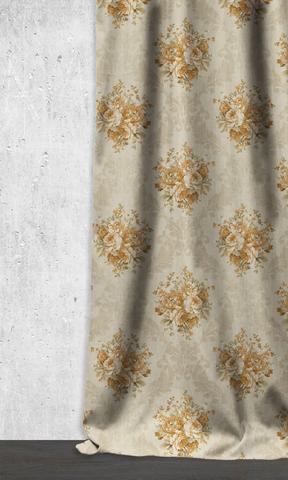 Our Amager curtains are inspired by the English countryside, featuring a lovely pattern of yellow honey flowers and blooms. With a sophisticated color palette in beige, cream, and light yellow, this fabric will make a wonderful addition to any formal space.
Rustic Curtains
Is your room filled with plenty of rustic charm? If so, curtains in gingham or plaid should pair nicely with the space. Be sure to select traditional, mid-weight fabrics such as cotton or linen to truly capture the warm, cozy feel you're going for.
FEATURED LOOK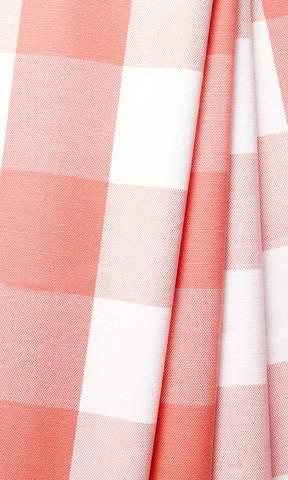 If you're looking for a cozy, homey window treatment, you'll love our Madison print curtains. The cotton curtain is covered in a red and orange check print that provides a feeling of warmth and comfort.
Modern Curtains
To pull off a modern look, consider options that are minimalistic and feature sharp lines. Solid cottons are always a great choice for a modern look, along with textured neutrals. Or, opt for a geometric print with plenty of crisp edges to make a bold statement.
FEATURED LOOK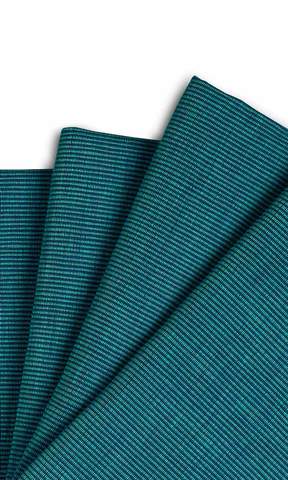 Our Yamini Nakuru curtains sport a two-tone, narrow weave in turquoise and navy, which work together to produce a stunning teal hue. The medium-weight fabric falls beautifully to create a flowy effect that works wonderfully with the rich, vibrant, yet simplistic color.
Add a Valance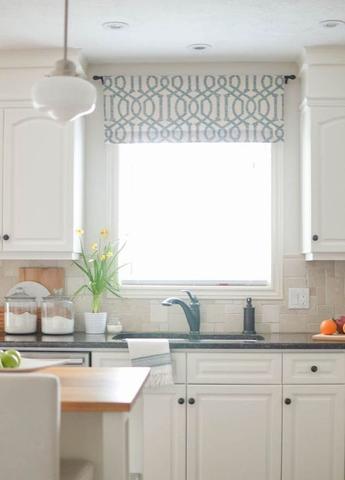 Valances are a great decorative option for your bay windows. If you love the open look that your windows provide, you may consider simply adding a standalone valance to the top of each frame for added character. Or, you can layer a valance with your favorite curtain selection. Plus, if you chose to use tension rods to hang your curtains, a valance can hide the inside-mounted pole for a cleaner finish.
Order Custom Curtains from Spiffy Spools
We hope you enjoyed these bay window curtain ideas! If you're ready to dress your windows in one of these gorgeous looks, Spiffy Spools makes it easy to create custom curtains to your exact specifications. Explore our site to find the perfect options for your space in any length—and don't hesitate to contact us with any questions!