Spiffy Speak
Curtain Rod Size & Length Guide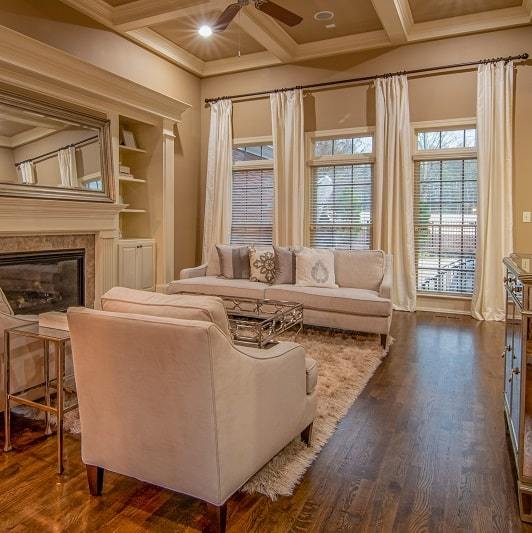 There are a few different components that make up a fabulous window treatment. While the curtains are the star of the show, they can be decorated with various accessories and are often supported by a curtain rod. It's important to design each feature just right to ensure your window treatment comes together flawlessly. Use this curtain rod size and length guide to help you select a rod that perfectly complements your curtains.
Order your custom curtains from Spiffy Spools online in any size. We have over 1,000 fabrics and patterns to pick from, so you can match them to your home perfectly.
Mounting Style Affects Rod Length
The way you mount your curtain rod will determine how to measure for its length:
Inside-mounted. Inside-mounted curtain rods are hung within the frame. So, to determine how long your inside-mounted curtain rod should be, measure from the inside of the left side of the frame to the inside of the right side of the frame.
Outside-mounted. Outside-mounted curtain rods are hung outside of the top of the window frame. To determine the minimum length your outside-mounted curtain rod should be, measure from the outside of the left side of the frame to the outside of the right side of the frame.
Increase the Length of Outside-Mounted Rods
If you're outside-mounting your curtain rod, you should always consider increasing the length of it by at least six inches. Doing so will provide the rod with a more dramatic look, and the extra length will allow your curtains to create additional gorgeous folds. The extra length can also make it easier to push your curtains back further from the window to allow in as much light as possible.
One or Two Rods?
Another point you need to take into consideration is whether you plan to use a single curtain rod that spans the entire window frame or two rods that rest on either side of the window. This choice will affect the size of the rod:
If you're hanging one rod, use the above tips to measure how long it needs to be. Note that if you use a long, single rod that spans across multiple windows, you may need a center supportive bracket to ensure it doesn't sag.
If you're hanging two rods, ensure that they are of equal length. They should still span a few extra inches outside of the window frame and be centered over each corner of the window frame.
Match with Your Drapery
To create a cohesive look, your curtain rod needs to match the drapery you plan to hang:
For sheer and linen curtains, you should select a thinner rod (about 5/8″ in diameter). A thin rod will better match the airy, delicate feel of these lightweight curtains.
For silk and velvet curtains, you should select a thicker rod (about 1" in diameter). Not only is a thicker rod necessary for ensuring it can support these heavyweight fabrics, but it will also better align with their gaudy look.
For cotton curtains, a rod between 5/8″ and 1" in diameter can work. Cotton is a versatile, midweight fabric that can be dressed up or down. Select the width of your curtain rod depending on the look you're aiming for.
Standard Curtain Rod Sizes
There are a few standard curtain rod size ranges you can choose from:
28-48 inches in length
48-84 inches in length
66-120 inches in length
120-170 inches in length
These options are available in most stores and will fit most standard-size windows. However, you shouldn't settle for a standard rod size and "try to make it work" if it doesn't quite match the dimensions of your window. Usually when people do this, the window treatment looks out of place and cheaply made.
Instead, we highly recommend taking custom measurements for your curtain rod and designing the rod accordingly. This way, you can ensure that the rod fits perfectly within or above the window frame to create the ideal design with your window treatment.
Order Custom Curtains From Spiffy Spools
We hope this curtain rod size and length guide assists you! Now that you know how to measure for the curtain rod you need, order a custom window treatment from Spiffy Spools today. With over 1,000 fabrics to choose from, we make it easy to design curtains that fit your exact specifications. Explore our site to find the perfect options for your home! Or, if you have any questions about what drapery style or type is right for your needs, don't hesitate to contact us for an expert recommendation.
ALSO READ: 7 CREATIVE CURTAIN ROD IDEAS