Spiffy Speak
How to Keep Your Curtain Rod from Sliding
There's nothing more frustrating than having your curtain rod slide as you open and close your window treatment. Luckily, there are a few easy fixes for this issue! Explore this guide on how to keep your curtain rod from sliding to find the right solution for your needs.
Order custom curtains from Spiffy Spools online in any size. We have over 1,000 fabrics and patterns to choose from, so you can match them to your home perfectly.
What Kind of Curtain Rod do you Own?
There are different ways to prevent different types of curtain rods from sliding. Here are some tips for the two main types of rods that slide:
Tension Rod
Consider making the following adjustments to prevent your tension rod from sliding down:
Examine the window frame. The condition of your window frame may be contributing to your tension rod not having a solid grip, causing it to slide. Any debris, moisture, or cracks can affect the rod's hold. Make sure to clean or fix any issues with your window frame.
Adjust your curtain heading. Some curtain headings don't glide across curtain rods as easily as others. Any additional strain on a tension rod can easily cause it to slide or fall. When using curtains that you will open and close often, avoid heading options such as tie tops, tab tops, and rod pockets. Instead, opt for grommet tops and headings that can be hung by rings for gentle opening and closing.
Upgrade the rod. The reality is, tension rods are generally prone to sliding and falling. They can lose their tension after just a few months of use, making them less than ideal for frequently-used windows. If it works for your window, it may be better to upgrade to a rod that requires brackets.
Rod Supported by Brackets
Consider making the following adjustments to prevent your rod supported by brackets from sliding down:
Increase the length. Purchase a new rod that extends approximately three-inches outside of both brackets. Hang your final curtain ring or tab outside of each bracket on the additional portion of the rod. When you pull your curtains, they will "catch" on the bracket to prevent the rod from sliding.
Use a center bracket. Rods that are not properly supported or have their weight improperly dispersed can also cause sliding. If you notice that your curtain rod sags in the center, install a center bracket to hold it up. This will evenly distribute the weight of curtains on the rod, helping it to remain in place when opening and closing your curtains.
Change or tighten your brackets. Some brackets come with screws that are designed to hold your curtain rod in place. This feature is often overlooked during their initial installation! Look to see if your current brackets have this screw, and if they do, tighten it to secure your rod. If they don't have the screws, consider purchasing new brackets that do.
More Tips to Prevent Curtain Rod Sliding
The following tips can be applied to both styles of rods noted above to stop them from sliding:
Assess the Weight of the Curtain Rod
When your curtain rod is significantly lighter than your curtain fabric, it's a recipe for sliding. Heavy curtains can more easily pull a light curtain rod when you open and close them. Make sure that your curtain rod is durable and properly weighted compared to your curtains. If you make this switch, also ensure that your brackets can support the weight of your new rod.
Adjust Your Fabric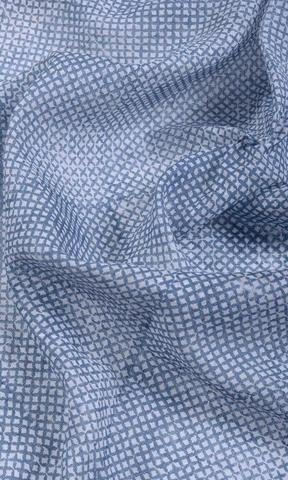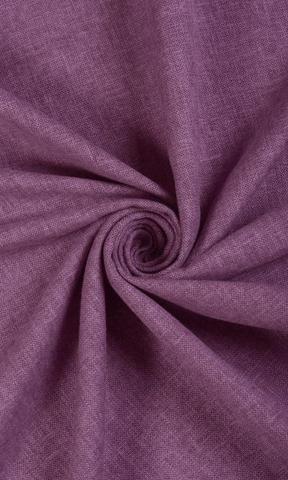 Texted Viola Linen Curtains
Alternatively, you can change your curtain fabric to a lighter option instead of opting for a heavier rod. Explore the various weights of different fabrics:
The lightest fabrics are sheer and linen.
The best mid-weight fabric is cotton.
The heaviest fabrics are velvet and silk.
Try This DIY Hack
This DIY hack is another great way to secure your curtain rod.
If you have a tension rod, take the following steps:
Purchase two double-sided command strips to get started.
Place the command strips on either side of the window frame where your tension rod will hang.
Hang the tension rod, ensuring that each end is flush with the command strip.
Enjoy your tension rod that will no longer slide or fall!
If you have a rod supported by brackets, take the following steps:
Purchase two double-sided command strips to get started.
Place the command strips within the curve of each bracket.
Hang your curtain rod, ensuring that it is centered correctly across the brackets.
Enjoy your curtain that will no longer slide!
Order Custom Curtains from Spiffy Spools
Now that you know how to keep your curtain rod from sliding, consider upgrading your window treatment with custom curtains from Spiffy Spools! We make it easy to create personalized window treatments that flawlessly match your style and specifications. Explore our site to find the perfect option for your space, and don't hesitate to contact us with any questions!
ALSO READ: HOW TO HANG CURTAINS WITHOUT A ROD: 6 CREATIVE IDEAS