Spiffy Speak
Roman Shades for a Sunroom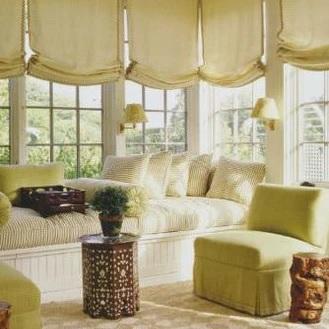 Roman shades are a wonderful choice for your sunroom. Offering both function and style, there's plenty to love. Explore some of our featured roman shades for a sunroom and discover some great style tips to help you design the perfect shades for your space.
Order custom roman shades from Spiffy Spools online in any size. We have over 1,000 fabrics and patterns to choose from, so you can match them perfectly to your home.
Three Roman Shade Styles
When considering roman shades for your sunroom, there are three main styles to choose from:
Flat fold roman shades with back slats. If you're going for a minimalistic look, flat fold roman shades with back slats are the perfect selection. Since the horizontal slats are stitched into the back lining, no seams are visible in the fabric when the shades are closed. They also stack neatly from the bottom and rest at the top of the window frame when open. This style is a great choice for windows that are frequently in use. Shop Now.
Flat fold roman shades with front slats. When these shades are closed, they evenly break up the fabric in horizontal panels. When open, they stack from the bottom in neat folds to provide a crisp, clean look. This option also works wonderfully for frequently used windows. Shop Now.
Relaxed roman shades. Relaxed roman shades are a more decorative style. The design features a smooth front fabric that's tailored to fall into a gentle curve at the bottom. If your sunroom windows are not opened and closed frequently, relaxed roman shades are a great option that will provide an elegant look. Shop Now.
Top Roman Shades for Sunrooms
After selecting your preferred roman shade style, it's time to think about fabric, patterns, and colors. Explore some of our featured roman shades to get inspiration for your sunroom:
Printed Shades
Printed shades are a fun way to add character to your sunroom. You can go as bold or as conservative as you'd like. It's all about showcasing your personal flair. Spiffy Spools has a wide selection of exciting prints that are sure to capture your unique style.
FEATURED LOOKS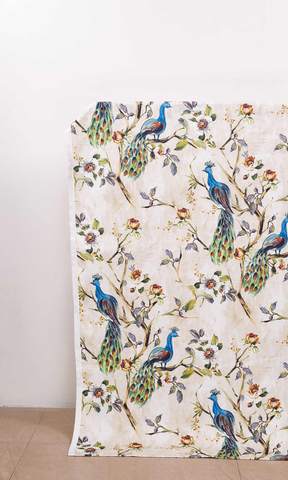 Our Amalfi fabric features a motif of wild roses and peacocks scattered across a beige backdrop in tones of lapis blue, peridot green, and carnelian orange. This fabric beautifully combines countryside charm with exotic appeal for a rustic-chic look.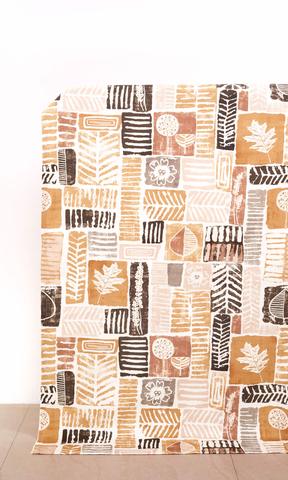 Coffee and Maple
Bring an earthy feel to your sunroom with shades dressed in our Coffee and Maple fabric. Maple leaves and floral elements are geometrically inset across the white backdrop. The charming reverse-print is created in a natural color palette of fawn, sepia, cinnamon, and burnt umber for a relaxing, grounded look.
Whether your sunroom is contemporary or traditional, floral shades will make a gorgeous statement. To match floral shades with modern décor, look for simple, uncluttered medium-scale patterns. For more traditional spaces, bold floral patterns will help to pull your look together.
FEATURED LOOKS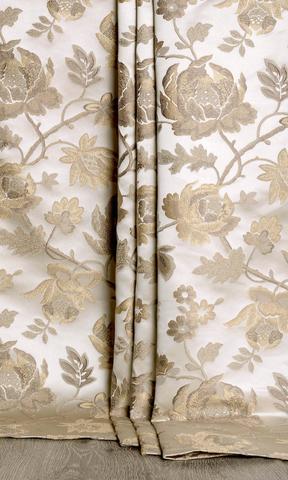 Our Conga fabric offers a modern take on a vintage print. The monochrome beige and brown color palette will blend nicely with your existing décor. The golden shine found in the large blooms adds an elegant and striking element that's sure to catch the eye.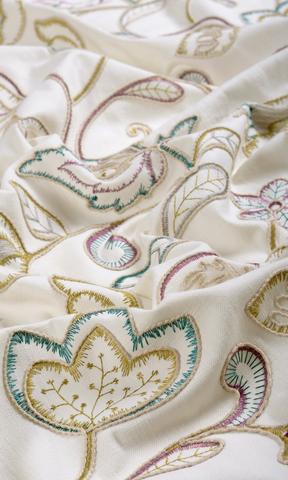 This sophisticated fabric features intricate vines in pastel blues, purples, and greens that weave their way across a serene white backdrop. With a thoughtfully stitched, delicate pattern and high-quality materials, this is a wonderful option for any sunroom.
Sheer Shades
Sheers play beautifully with the natural light coming into your sunroom. While they don't provide as much privacy as other fabric options, you won't be disappointed with the way they gorgeously filter sunlight in your space.
FEATURED LOOKS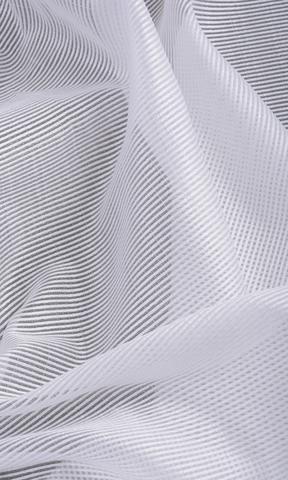 Dress your shades in our White Breeze fabric to evoke a feeling of freshness and relaxation in your sunroom. Bright and airy, the sheer, striped material features a white-on-white weave that is the epitome of minimalism. This fabric pairs fabulously with pastel color schemes for a breezy, serene feel.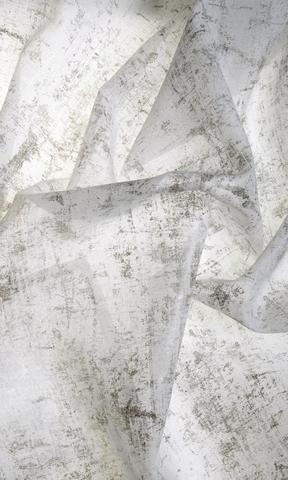 Aklamak is no ordinary sheer. Its white backdrop is dashed with a shimmery silver metallic to create a unique, sophisticated look. Aklamak
sheer shades
make a wonderful option for any space that needs a touch of refinement.
Casual Shades
Most sunrooms are a casual lounging space, and you can add to that feel with the right roman shades. To create a more laidback feel, consider lightweight fabrics such as linen or cotton. These materials will help you maintain the easygoing atmosphere your sunroom calls for.
FEATURED LOOKS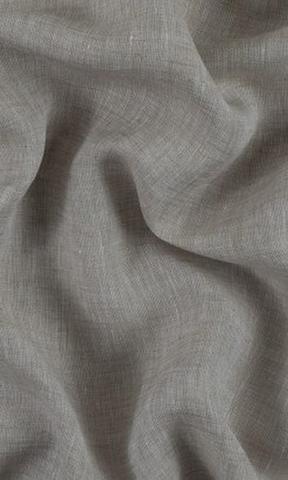 Our Leh Asmi fabric is a classic, taupe-grey linen. Versatile enough to match with a variety of color palettes, its warm hues with just the right undertones of brown will create an inviting, relaxing feel in your sunroom.
Modern Shades
Modern designs feature clean lines, neutral tones, and minimalistic elements. If this sounds like your sunroom, consider selecting roman shades with geometric prints, textured neutrals, or solid cottons. These options will work flawlessly in modern spaces.
FEATURED LOOKS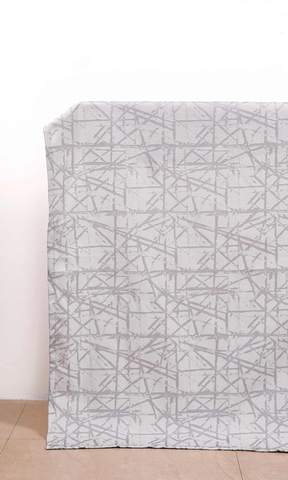 Messy Grey
Our Messy Grey fabric is the perfect geometric print for your modern sunroom. An abstract overlay of shapes is strewn across a white backdrop in an edgy display. Industrial and sleek, the neutral greys and whites in this fabric exude a contemporary feel.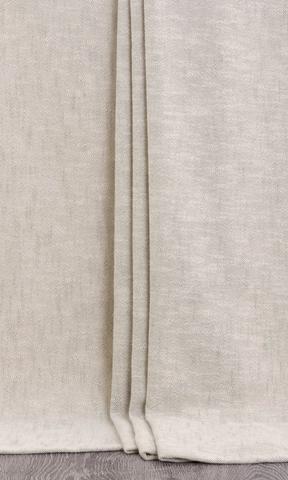 The simplicity and neutrality of our Granito fabric will work flawlessly for contemporary sunroom shades. The understated smoky grey and oyster beige weave come together to create a steely, no-nonsense look. This pure
cotton roman shade
is sure to enhance any space it's placed in.
Order Custom Roman Shades from Spiffy Spools
We hope you've found the best roman shades for your sunroom! If you're ready to shop, order your custom shades from Spiffy Spools today. We make it easy to create custom roman shades that fit your exact specifications and style. Explore our site to find the perfect options for your sunroom room, and don't hesitate to contact us with any questions!