Spiffy Speak
Top Roman Shades Ideas for Your Home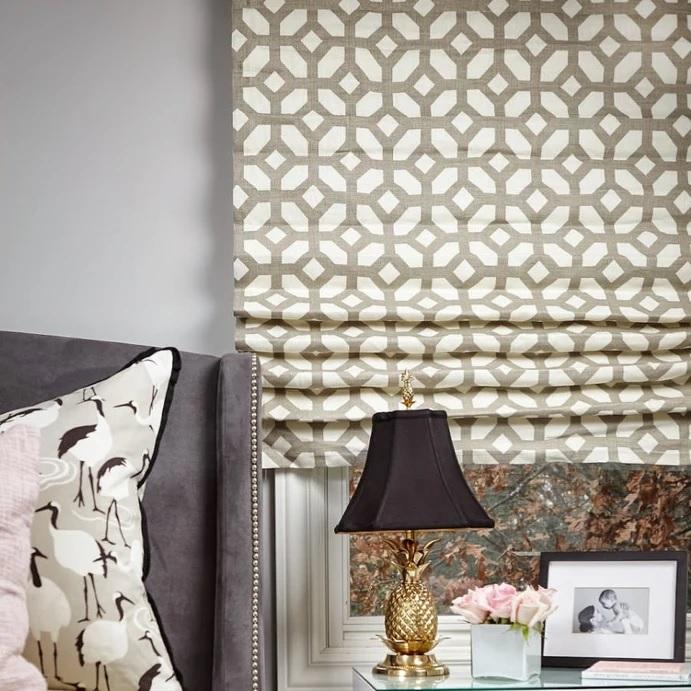 Roman shades are a wonderful window treatment with many benefits. Not only do they offer effective light control, but they provide your space with extra style and flair. For inspiration, explore these top roman shades ideas for your home!
Order custom roman shades from Spiffy Spools online in any size. We have over 1,000 fabrics and patterns to choose from, so you can match them perfectly to your home.
Benefits of Roman Shades vs Blinds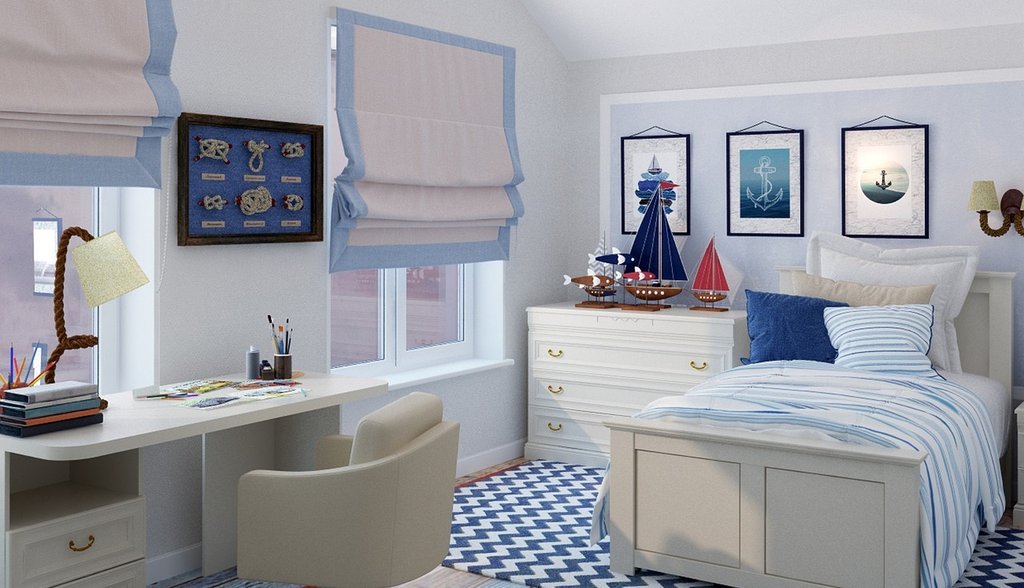 While you may be familiar with traditional blinds featuring slats that open and close, roman shades are created with a continuous piece of fabric that can be moved up and down to control light. This simple design offers some serious advantages over blinds:
Less light leakage. Even when blinds are completely shut, the nature of the slats can allow light to seep into the room. Roman shades, however, completely cover the window when closed—blocking out significantly more light.
More design choices. Design options are much more limited when it comes to blinds. With roman shades, however, you can select from an incredibly wide range of colors, fabrics, and patterns. The choices are seemingly endless!
Great for large windows. Blinds can pose a logistical challenge when trying to cover large windows—the bigger they are, the heavier they become. Two sets of smaller blinds may need to be used to avoid hanging too much weight, which may not match the look you're going for. Alternatively, because roman shades are made with light fabric, you won't have to worry about them becoming too heavy, making them a perfect option for large windows.
Three Roman Shade Styles
When considering roman shades for your home, there are three main styles that you can choose from: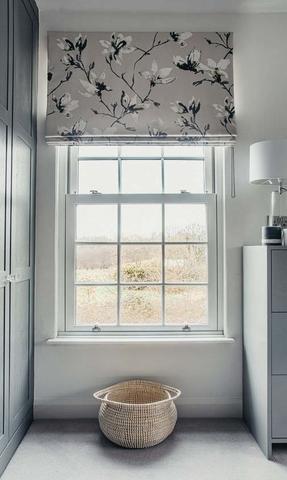 Flat fold roman shades with back slats provide the most minimalistic look. The horizontal slats are stitched into the back lining, ensuring there are no visible seams in the fabric when the shades are closed. When open, the fabric stacks neatly at the bottom in even folds, providing you with a clean,
modern look
. If you have a window that is frequently in use, the simple utility of these shades makes them the perfect choice.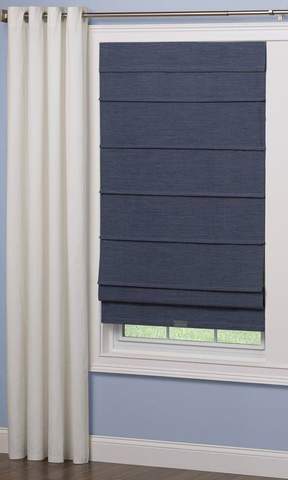 Flat fold roman shades with front slats feature visible, horizontal panels that evenly break up the fabric when the shade is closed. Just like the flat fold style with back slats, the folds stack crisply at the bottom for a clean look when open. This style works well in casual to semi-formal spaces, and they are highly functional for frequently used windows.

Add a softer touch to your space with relaxed roman shades. The smooth front fabric is tailored to fall into a gentle curve at the bottom, offering an elegant look. Although we don't recommend this style for shades that will need to be opened and closed frequently, it will add a lovely decorative touch to more formal spaces. If you love this style but still want to benefit from greater functionality, consider combining these shades with the
custom drapery
of your choice.
Accessorize with Trimmings
You can further customize your roman shades with a variety of trimming options! Explore the trimming ideas below, and browse the trimming collection we have available at Spiffy Spools to find the perfect accessories:
Pom Pom Trims
Add a bit of playfulness and cheer to your shades with pom pom trims! These cute little orbs can be stitched to the bottom hem of your roman shades for a delightful effect. At Spiffy Spools, we offer three unique pom pom collections for you to choose from:
Our classic collection features the biggest bobbles in our lineup—our jumbo pom poms! If you want a trim that will stand out, these will help you make a statement. They're available in 21 colors and are approximately 34mm wide.
You're sure to love our lush and plush velvet pom pom collection. Choose from a lineup of 23 colors with a trim width of 30mm.
Select from eight trims in our most popular color palettes. These luxurious, fluffy orbs nicely contrast with a delicately embroidered band.
Ribbon Trims
Ribbons trims are another fantastic way to dress up your roman shades. These playful bands come in two different textures and a variety of colors, so you can make a selection that perfectly complements the primary fabric and color palette of your roman shades.
Ribbon Trim. This 38mm trim is handstitched 2-4 inches inside the bottom, left, and right hems of the shades for a unique look. Shop Now
Ribbon Trim Borders. Our 38mm ribbon trim borders can beautifully outline your shades in the color and fabric of your choice. Shop Now
Tassels
Create a dazzling effect when you add tassels to your roman shades. These lavish embellishments come in a variety of unique styles such as beaded, crisscrossed, and more for a unique flair. When it comes to tassels, keep in mind that the bigger they are, the more dramatic their effect!
FEATURED LOOK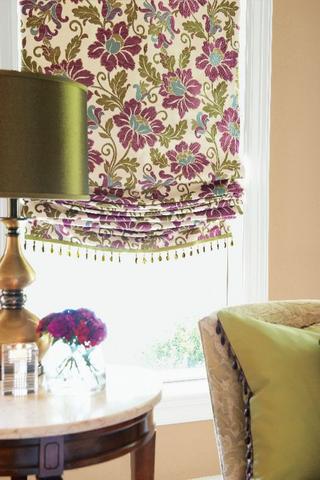 Our lovely Rhapsody tassel trim features an intricate twin bobble that's hand-tied by expert artisans, making each one unique. Available in four different color palettes, these 64mm (2.5 inch) bobbles will add a beautiful addition to the bottom hem of your roman shades.
Order Custom Roman Shades Today
We hope these roman shades ideas for your home help you select the perfect window treatment. If you're ready to dress your windows in a new look, Spiffy Spools offers over 1,000 fabrics and patterns, making it easy to create custom roman shades that fit your exact specifications and style. Don't hesitate to contact us with any questions!