Spiffy Speak
Blinds vs. Shades: What's Right for Your Space?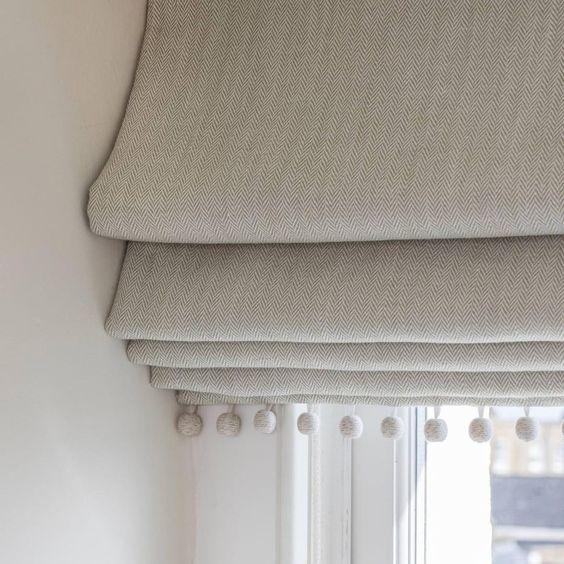 Shopping for window treatments can be overwhelming. There are countless options available, each with its own unique pros and cons, trade vocabulary and price points. In this post, we'd like to quickly discuss two of the most popular options: blinds and shades. Learn everything you need to know about blinds vs shades to decide which is right for your space.
If you'd like to dive right in with beautiful new roman shades, Spiffy Spools is here to serve you! Shop Now
What's the Difference Between Blinds and Shades?
Aren't they the same thing? Nope! While the terms are often used interchangeably, blinds and shades are different types of window treatments. Specifically, blinds are made up of a collection of slats that can be opened and closed as desired. On the other hand, a shade is a continuous piece of material that can be moved up and down to let light into a room but does not have slats that can be opened and closed.
While blinds and shades are similar in many ways, they are not the same thing. Understanding the differences and the benefits they offer for your space will help decide which is right for you. Let's take a closer look at some of the key factors to consider when deciding between blinds and shades:
Light Control
If your main priority is to control the amount of light entering the room, blinds will be the right selection for you. The key feature of blinds is that they allow you to manipulate the position of the slats even when the blinds are down. By opening them partially or completely, you can dial in the right amount of light for your space.
While shades also allow you to control light, you will have less flexibility. With shades, you can only move the shade up or down the window, either blocking out the light completely, letting the light fall in with the shades all the way open, or closing partially to perhaps block out a glare. You can also pick a fabric that will filter or block light—but you won't have the precision control that the slats in blinds provide.
That said, if you're keen to achieve high level of room darkening for a media room or a nursery, roman shades with a blackout lining might present a better option. While blinds offer higher flexibility to control the amount of light flowing into a room, light leakage is inevitable through slats. Roman shades, with their continuous fabric construction, are better suited for spaces where you desire total room darkening.
Aesthetic Choices
One of the key advantages of roman shades is the sheer number of aesthetic choices and variations they can offer. To meet your decor needs, shades can be found, or custom made in an endless variety of fabrics, colors and patterns.
Blinds do offer a wide set of material and style choices as well, but these are nowhere close to the virtually infinite selection of colors, textures and patterns that custom-made roman shades do. Roman shades also bring warmth and personality to a space, where blinds tend to look a little cold and mechanical.
ALSO READ: WINDOW TREATMENT GUIDE: TIPS AND ADVICE FROM THE EXPERTS
Privacy
In addition to managing the light in the room, another purpose for blind and shades is to provide privacy. Both blinds and shades can offer the privacy you desire, although you'll need to pick the material of your shades carefully. Shades that feature a sheer fabric won't provide much privacy, so make sure to choose a heavier fabric if privacy is a concern. Virtually all blinds will offer privacy, as well, though you will need to make sure they are in a closed position. Of course, without the slats, and with the ability to select blackout material, shades may offer the most privacy of the two.
Window Size
In some cases, covering large windows with blinds can create a logistical challenge. Because of the many slats used to create a set of blinds, the product as a whole can become rather heavy. For large windows, the overall weight of the blinds can become too much to span the opening, so two sets of smaller blinds may need to be used. While that is a viable solution, it also might not be the look you are going for, and you'll have to do twice the work when managing the position of your blinds.
There are no such issues with shades. Made from various kinds of fabrics, shades can be cut to size and tend to weigh much less than blinds—so you should have no trouble covering up large windows. If covering one of the larger windows in your space is giving you headaches, consider turning to shades as a simple and elegant solution.
Décor
Generally speaking, blinds aren't going to do much to add to the décor of your room. You can pick the right color for the space, of course, and you might even add a stylish valance, but the blinds themselves may be pretty plain. By opting for shades, you can create a more visually engaging window covering, with texture and pattern to suit the surrounding space. It would be a shame to carefully design a space only to take away from it with a boring window covering, so consider shades as a way to add even more appeal to every room in your home.
Cost
You likely have a budget in mind for this purchase. The good news is that both blinds and shades can be found at multiple price points, with both cheap and more expensive options. When comparing them against each other, however, pricing is generally the same. You can find low-cost options in either style, or you can break the bank on top-of-the-line products. Make your choice independent of your budget and then find a blind or shade that falls in your price range.
Shop Custom Roman Shades at Spiffy Spools
If you have decided that shades would be the right option for your space, consider Spiffy Spools. We offer custom roman shades at affordable prices with over 1,000 unique color and pattern selections.
ALSO READ: TOP ROMAN SHADE IDEAS FOR YOUR HOME