Spiffy Speak
Best Roman Shades for Kitchen: Ideas, Tips & Tricks
If there's one room in the house which everyone loves to frequent – for reason and for no reason – it's the kitchen. With so many beautiful memories being created here, it is important to make this space – otherwise ridden with utilitarian items – aesthetically pleasing. If you're looking to bring a splash of personality here, while enhancing privacy and light control , consider our roman shades for your kitchen.
Order custom roman shades from Spiffy Spools online in any size. We have over 3,000 fabrics and patterns to choose from, so you can match them perfectly to your home.
Why Choose Roman Shades for Your Kitchen?
Window treatments can give a whole new definition to a space and the way it experiences light and shadow. An attractive roman shade at the window can help immensely to bring softness where we otherwise encounter only hard surfaces. Its sophistication, color, and soft light diffusion can engage the eyes while the mess waiting for a clean-up may go comfortably unobserved at least for a few moments.
With the efficiency of blinds and softness of drapery, roman shades are just the right addition to the windows in any kitchen. Where blinds fail to proffer the homestyle feel and curtains heighten the danger of potential fire hazards, roman shades get tucked away at the window, silent and elegant. Their sleek construct and minimum fullness make them right-fit for small windows, especially in kitchens where every inch matters.
So, if you wish to spice up your kitchen with some really lovely roman shades, stay with us as we take you through some great styling tips below. But first, let us quickly outlines the  roman some distinct advantages for kitchens, including:
Avoid splash zones. Roman shades stop at the bottom of the windowpane when closed and stack neatly at the top of the frame when open. So, as you're stirring up a saucy dish or cleaning your cutlery in the sink, they are far less susceptible to splashes and spills.
Increased safety. Safety is always a concern in the kitchen. While long curtains could present a fire hazard when placed near a stove, toaster, or microwave, the size and stackability of roman shades keeps them out of harm's way.
Don't overcrowd small windows. If you have a small, singular window in your kitchen—such as a window over your sink—billowy drapery may look out of place. The compact and minimalistic design of roman shades will provide you with a much sleeker look.
Functionality of blinds with added style. Roman shades offer a similar amount of light control as blinds, but they come in so many more patterns, fabrics, and designs for improved aesthetic appeal.
READ MORE: TOP FIVE KITCHEN WINDOW TREATMENTS IDEAS
Roman Shades for Kitchens: Tips & Tricks
Now that you know the benefits of roman shades for kitchens, if you wish to spice up your kitchen with some really lovely roman shades, stay with us as we take you through some great styling tips.
CONSIDER MATERIAL
Everything that's added to a kitchen is exposed to a great deal of hardship. Grease and grime are hosts, not guests, and they necessitate the use of hardy materials that can withstand frequent cleaning sessions without losing the charm. So when considering fabrics for roman shades, ensure that you choose fabrics that don't give in easily to wear and tear.
Certainly, the biggest enemy for soft treatments in kitchens is not grease, it is water and moisture itself. Especially if your window is just above the sink or close to the hob, expect the shade to catch the splashes and spill-offs. So, fabrics with the least porosity that don't hold water for too long are ideal for kitchens.
Yet another quality you need to look for in kitchen shades is their ability to filter air. With not-so-great smells lingering, window treatments must not trap them indoors but must be able to let them out and allow fresh air in even when closed.
Loosely woven pure cotton and linen, and their blends are the ultimate choice for kitchen roman shades as they are hardy, breathing, and easy to clean. They are also great sound-absorbers and you'll thank them for reducing the impact of the roaring kitchen gadgets on the rest of the home.
Unless your kitchen is quite large and windows are set away from spills and splashes, it's best to stay away from fabrics like silks and velvets. Silks often retain water stains, while thick velvets collect dust and mildew if not aired. Similarly, polyesters should be avoided as they retain smells for much longer than natural fabrics.
AVOID SWAGS
If the kitchen is the place where you spend most of the time and really want to elevate its beauty by introducing some swagging roman shades, we'd ask you to rethink. Just like billowing curtains near the hob are not the safest for kitchens, swags and hanging tassels should not be part of this picture if your window sits close to the sink or hob.
Loosely hanging ends and multi-layered textile items can be notorious mildew centers and attract flames in the event of a fire. Therefore, fine garnishments that can be neatly tucked away should ideally get the vote.
Opt for one of the flat fold roman shades whose flat bottoms stay out of all the messy business on your countertops. Avoid dangling elements like pom poms, tassels, and fringes, and go for ribbon trims instead. Express your aesthetic sensibilities through playful and elegant patterned fabrics and zesty colors so that your biggest hangout is not deprived of your most personal touch and in case you have an all-white space, adding colorful roman shades with playful patterns is a great way to add a pop of color to the white kitchen. After all, ensuring safety and cleanliness doesn't mean you shouldn't have fun.
MOUNTING POSITION
Roman shades can be either mounted within the recess of the window or on the wall or ceiling outside the frame such that the window trims are covered. 
The advantage of mounting your roman shade inside the recess is that you enhance its ability to stay as far as it can from accidental splashes. With a decent level of regular maintenance, this shade will call for lesser rounds of deep-cleaning than the one which overhangs the window trim. Besides, if the kitchen is small or the window is situated at the kitchen passage, this treatment that can save you some precious space would be ideal.
Outside mounted roman shades are recommended if you want the roman shade to completely clear the window when folded up, to maximize light and air inflow. This is often a priority for clients who only have one window in the kitchen, which may be the only source of natural light in the room.
Outside mounted roman shades can be affixed a few inches above the window frame so the folds stack up on the wall instead of taking space in the window itself, like an inside mount shade would do. If your window recess is anyway too shallow to mount hardware, outside mounted shades become the defacto choice for many homeowners.  
LIGHT DIFFUSION
While multi-layered artificial lighting may have been a key consideration in your well-designed kitchen, we're sure you would appreciate the availability of abundant natural light during the day. In the aspiration to dress up your kitchen window elegantly, never lose sight of the other important aspect of light diffusion. Especially, if you have only one window as a source of natural light, it is better to cover them with sheer, or relatively thin fabrics that let in plenty of light.
FAUX ROMAN SHADES
If your kitchen window is not so much in need of a light control treatment as a decorative addition, you can opt for faux roman shades. These are valances that look like a fully functional roman shade that has been drawn open. But they can neither be opened nor closed, so the portion they cover stands permanently covered. Faux roman shade valances are not just great solutions for kitchen windows that need minimum light control, they are also very easy to maintain and are extremely light on the pocket as compared to a fully operational shade. However, if you might need to open and close the shade often, then it is better to order full-fledged shades. 
HOME PLAN
How you dress up your kitchen windows largely depends on the floor plan of your house. If the kitchen, dining, and living area are connected in one open plan, you might need a bit of forethought when choosing roman shades for the kitchen. It is important to bring coherence and uniformity in all the window treatments in these mildly segregated zones, if not in the type of treatment, then in its color and pattern. 
But if the kitchen is a distinct room, you have an enormous scope for experimenting with new colors and patterns. You can give your kitchen a truly custom look by choosing culinary theme printed fabrics that are truly proper to the place. Check out Amabel or Ambrette for inspiration.
PATTERNS
Sharp-edged shapes and patterns dominate the kitchen design in the tiled floors, subway backsplashes, and squarish appliances like the refrigerator, oven, and hob.  Often, the possibility of introducing patterns is limited to towels and napkins. So, use your roman shades to bring that much-needed softness through curvy patterns that can break the monotony of the straight lines and sharp edges. This high contrast of shapes can add an element of visual interest to your kitchen. In fact, roman shades provide a great way to introduce any pattern of your liking and are sure to elevate the elegance of your kitchen to the next level.
INSPIRATION CORNER
Country/Traditional Kitchen Roman Shades
Does your kitchen feature a traditional country decor style? If so, patterns such as gingham or plaids in a mid to lightweight fabric like linen or cotton will make a wonderful choice for your shades. These rustic prints will help you bring a homey and cozy feel to your space!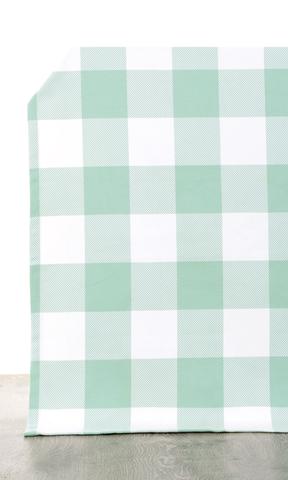 Our Aburi curtains feature a buffalo check pattern in a tranquil aqua blue. Aburi beautifully elevates a classic pattern to produce a fun yet serene feel. Geometric but gentle, this is a fabulous selection for country kitchen roman shades.
Create an elegant feel in your kitchen with shades dressed in Auster fabric. The ash gray backdrop is lightly embroidered with a white floral vine pattern, offering a polished, serene look. Full of class and refinement, your kitchen is sure to be enhanced by Auster shades.
Evoke cool sophistication in your kitchen with this traditionally styled damask fabric. Its navy blue backdrop is highlighted with a vintage foliage motif in slate gray. The combination of a sophisticated color scheme and a classic motif beautifully complements a tastefully done, classic kitchen.
With its brilliant patterning and colors, this high-quality flatweave fabric will lend ornate elegance to the windows of your kitchen. Timelessly stylish, this ikat patterned fabric features a rich color palette that promises to pair beautifully with many hues and patterns. Our stylists especially recommend Fresno for roman shades in back slatted style in classic or transitional decors.
Welcome home a marvel from traditional Indian art with this classic fabric featuring ancient Mughal motifs in a modern palette of gray and lemon yellow. Large cordate leaves interspersed with tiny scattered blooms offer an intriguing contrast of proportions while the narcissus shrub enclosed within the leaf delivers intricacy with sophistication. Window treatments in this paisley-inspired fabric are self-assured statement pieces for any kitchen.
Modern/ Contemporary Kitchen Roman Shades
Modern kitchen designs are all about minimalism and sleek sophistication. Roman shades are the perfect window treatment for a contemporary look, because the single piece of fabric covers the pane completely and features crisp, clean lines. Plus, they stack neatly from the bottom in even folds, providing a balanced look. For a modern kitchen, consider flat fold roman shades with back slats. This style offers the sleekest look, as it has no visible seams when closed.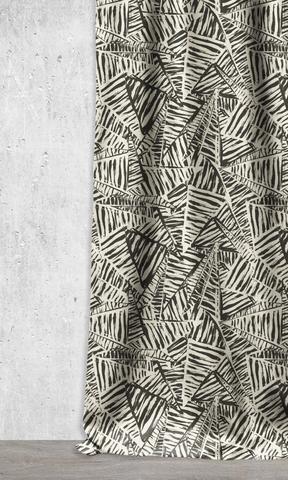 Our Abstract Mood fabric features the perfect geometric print for modern kitchen shades. The color scheme is a simple black and milky white, which will match well with a variety of décor. But these curtains are anything but ordinary. The unique abstract pattern boasts a chic, modern feel. You're sure to make a sophisticated statement with roman shades featuring this gorgeous fabric.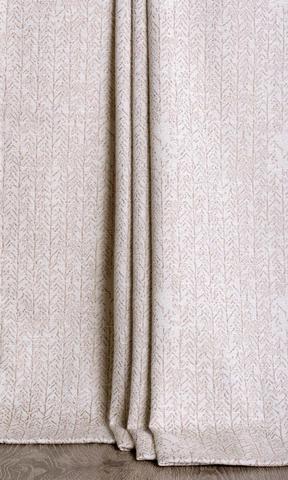 Enjoy the unique simplicity of textured neutrals when you select our Sehnat fabric for your kitchen shades. The off-white, woven fabric displays a subtle chevron print in coffee brown. The pattern will catch your eye, but is also understated enough to blend flawlessly into any modern kitchen.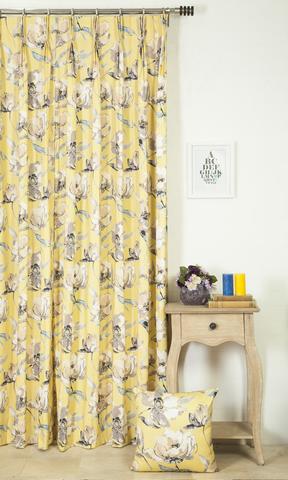 The soft yellow background of these curtains contrasts with the sweeping, steely gray flowers, offering a modern take on a traditional floral pattern. Even though the print is on the bolder side, the overall gentleness ensures this unique print will work in a variety of kitchen styles.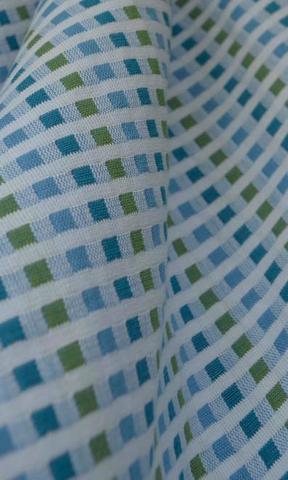 Bring a pop of color to your kitchen with roman shades in Sea Song fabric. The white cotton material is strewn with hues of green, blue, and yellow to create a light and bright feel. This beautifully woven, charming fabric is the perfect option for your casual kitchen!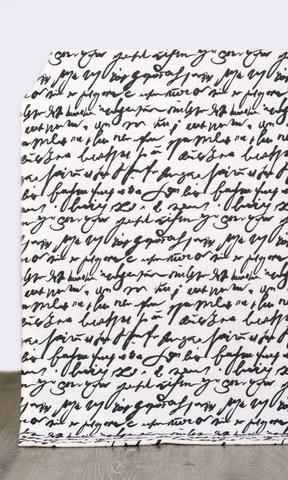 Our Ambroise fabric is strewn with beautiful cursive script in a classic black and white color palette. Simplistic yet bold, this print is sure to hold the attention of anyone who passes through your kitchen.
Order Custom Roman Shades from Spiffy Spools
"Happiness is a small house with a big kitchen," they say. If the love and thoughtfulness that goes into its design are big, indeed, you'll find it to be the heart of the home. And if Spiffy Spools' kitchen roman shades can be a part of that great event, there's nothing that can make us more proud.
So if you're ready to shop, order your custom roman shades from Spiffy Spools today. We make it easy to create custom roman shades that fit your exact specifications and aesthetic vision. Explore our site to find the perfect options for your kitchen and instructions on how to mount them, and of course – don't hesitate to contact us with any questions!
READ MORE: KITCHEN WINDOW VALANCE IDEAS