Spiffy Speak
Best Roman Shades for Kitchen
Are you looking to add a little flair to your kitchen? If so, upgrading your window treatment is a simple way to provide your space with some extra character and charm. Explore the best roman shades for your kitchen that will help give your space a facelift!
Order custom roman shades from Spiffy Spools online in any size. We have over 1,000 fabrics and patterns to choose from, so you can match them perfectly to your home.
Why Choose Roman Shades for Your Kitchen?
The kitchen is the heart of your home. While you gather with friends and family to prep for a meal, you want your kitchen to look great. The right window treatment can do wonders to create the ideal space—and roman shades offer some distinct advantages over curtains for kitchens, including:
Avoid splash zones. Roman shades stop at the bottom of the windowpane when closed and stack neatly at the top of the frame when open. So, as you're stirring up a saucy dish or cleaning your cutlery in the sink, they are far less susceptible to splashes and spills.
Increased safety. Safety is always a concern in the kitchen. While long curtains could present a fire hazard when placed near a stove, toaster, or microwave, the size and stackability of roman shades keeps them out of harm's way.
Don't overcrowd small windows. If you have a small, singular window in your kitchen—such as a window over your sink—billowy drapery may look out of place. The compact and minimalistic design of roman shades will provide you with a much sleeker look.
Functionality of blinds with added style. Roman shades offer a similar amount of light control as blinds, but they come in so many more patterns, fabrics, and designs for improved aesthetic appeal.
Top Roman Shades for Kitchens
Now that you know the benefits of roman shades for kitchens, here are some styling tips and featured looks to help you get the perfect window treatment for your space:
Country Kitchen Shades
Does your kitchen feature a country design? If so, patterns such as gingham or burlap in a mid to lightweight fabric like linen or cotton will make a wonderful choice for your shades. These rustic prints will help you bring a homey and cozy feel to your space!
FEATURED LOOKS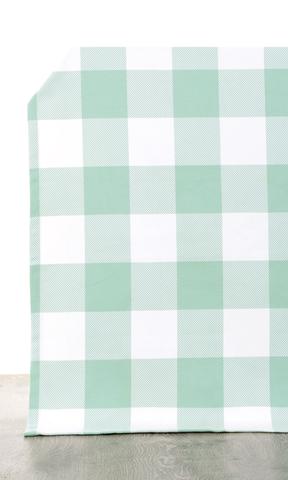 Our Aburi curtains feature a buffalo check pattern in a tranquil aqua blue. Aburi beautifully elevates a classic pattern to produce a fun yet serene feel. Geometric but gentle, this is a fabulous selection for country kitchen roman shades.
Modern Kitchen Shades
Modern kitchen designs are all about minimalism and sleek sophistication. Roman shades are the perfect window treatment for a contemporary look, because the single piece of fabric covers the pane completely and features crisp, clean lines. Plus, they stack neatly from the bottom in even folds, providing a balanced look.
For a modern kitchen, consider flat fold roman shades with back slats. This style offers the sleekest look, as it has no visible seams when closed. For patterns and fabrics, we recommend exploring geometric prints, textured neutrals, and solid cottons.
FEATURED LOOKS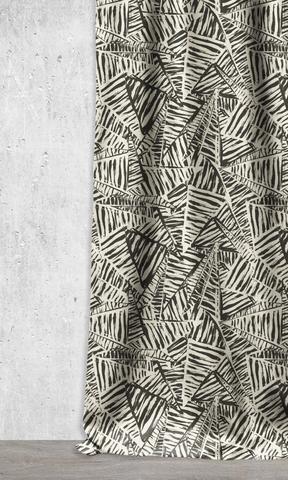 Our Abstract Mood fabric features the perfect geometric print for modern kitchen shades. The color scheme is a simple black and milky white, which will match well with a variety of décor. But these curtains are anything but ordinary. The unique abstract pattern boasts a chic, modern feel. You're sure to make a sophisticated statement with roman shades featuring this gorgeous fabric.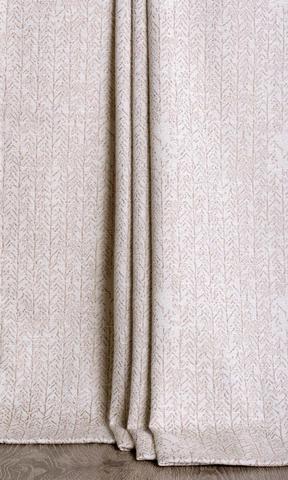 Enjoy the unique simplicity of textured neutrals when you select our Sehnat fabric for your kitchen shades. The off-white, woven fabric displays a subtle chevron print in coffee brown. The pattern will catch your eye, but is also understated enough to blend flawlessly into any modern kitchen.
If you're looking to bring elegance and refinement to your contemporary or traditional kitchen, floral patterns are a perfect option for your roman shades. For more contemporary kitchens, consider medium-scale patterns to avoid a look that's too cluttered or detailed. For more traditional kitchens, look for bolder floral patterns.
FEATURED LOOKS
Create an elegant feel in your kitchen with shades dressed in Auster fabric. The ash gray backdrop is lightly embroidered with a white floral vine pattern, offering a polished, serene look. Full of class and refinement, your kitchen is sure to be enhanced by Auster shades.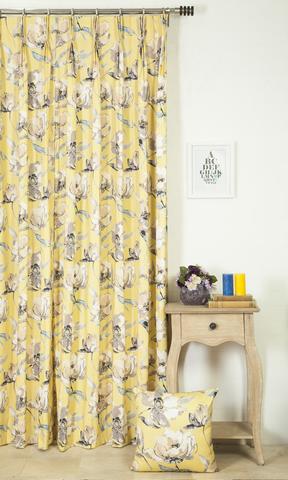 The soft yellow background of these curtains contrasts with the sweeping, steely gray flowers, offering a modern take on a traditional floral pattern. Even though the print is on the bolder side, the overall gentleness ensures this unique print will work in a variety of kitchen styles.
Plaid Kitchen Shades
Plaid roman shades are a great choice for casual, relaxed kitchens. This traditional pattern provides cheer to any space. When making your fabric selection, keep in mind that cottons hold plaid patterns best.
FEATURED LOOKS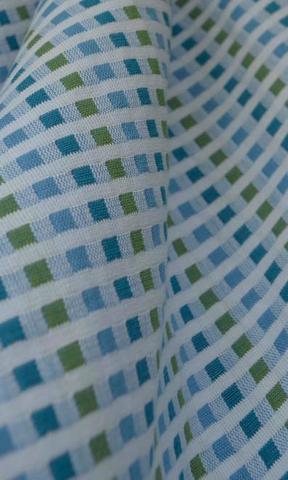 Bring a pop of color to your kitchen with roman shades in Sea Song fabric. The white cotton material is strewn with hues of green, blue, and yellow to create a light and bright feel. This beautifully woven, charming fabric is the perfect option for your casual kitchen!
Printed Kitchen Shades
Show a bit of personality in your kitchen with fun printed shades. We have a variety of unique, bold prints at Spiffy Spools that can help you add a bit of flair to your kitchen.
FEATURED LOOKS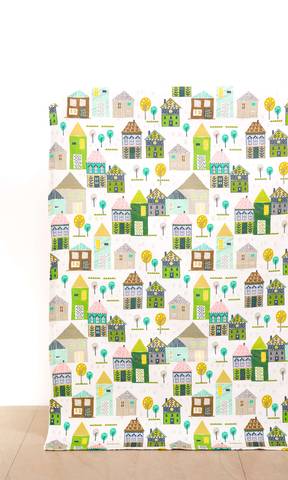 Our Rip Van Winkle fabric artfully captures the phrase, "there's no place like home." The bold print in cheery shades of green, pink, brown, and blue features an array of adorable houses and trees, offering a cozy, playful look. Bursting with character, these shades will make a fabulous addition to your kitchen.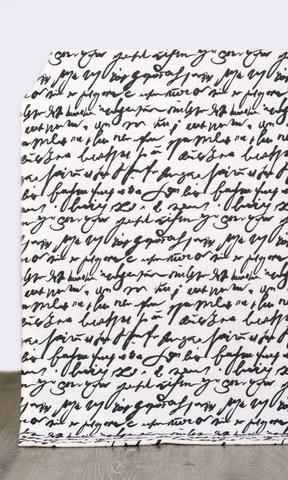 Our Ambroise fabric is strewn with beautiful cursive script in a classic black and white color palette. Simplistic yet bold, this print is sure to hold the attention of anyone who passes through your kitchen.
Order Custom Roman Shades from Spiffy Spools
We hope you've found the best roman shades for your kitchen! If you're ready to shop, order your custom shades from Spiffy Spools today. We make it easy to create custom roman shades that fit your exact specifications and design style. Explore our site to find the perfect options for your kitchen and instructions on how to mount them, and of course – don't hesitate to contact us with any questions!