Spiffy Speak
Top Five Kitchen Window Treatment Ideas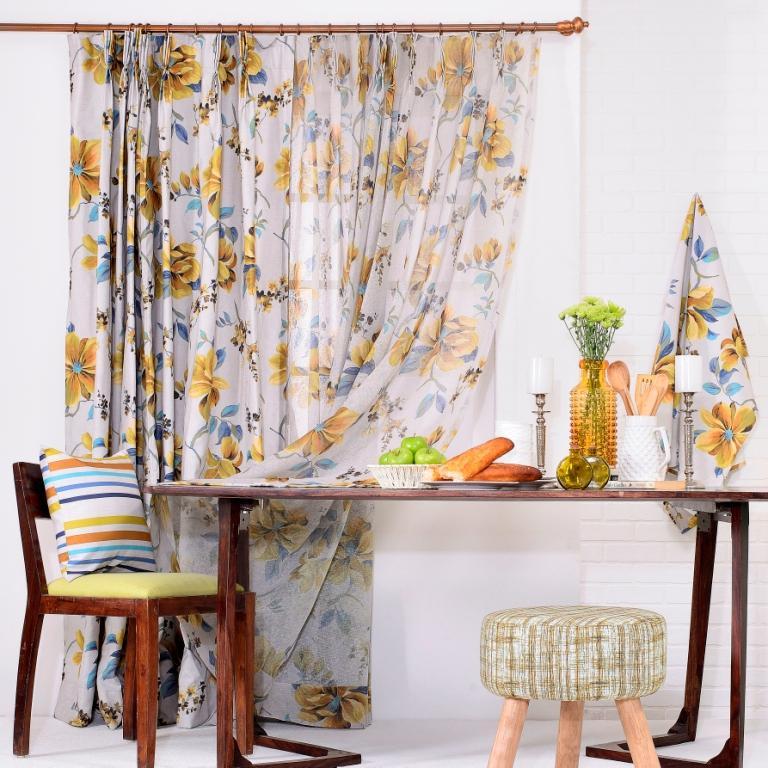 Dressing your windows is wonderful way to add character to your kitchen. With the right fabric and curtain style, you can make a statement in your home that's equally beautiful as it is functional. To get started on this exciting design project, explore our top five kitchen window treatment ideas for inspiration.
Dressing your windows is easy with Spiffy Spools. Order custom curtains and drapes online in any size, with over 1,000 fabrics and patterns! Shop Now
Roman shades offer the aesthetic appeal of drapes while working flawlessly as blinds. When closed, roman shades completely cover the window. This blocks light while showcasing the fabric to bring another design element to the room. When open, roman shades stack neatly at the top of the window, letting in natural light while resting in clean lines.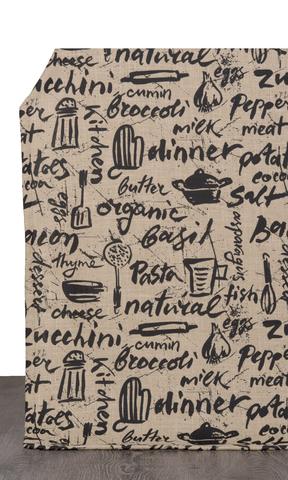 FEATURED LOOK
Our Amabel fabric is a fantastic option for rustic kitchen window treatments. Printed with kitchenware graphics in a warm beige, brown, and black color palette, this style offers a unique and chic design that will bring a dynamic element to the room.
---
If you don't need the functionality of traditional roman shades, faux roman shades are a good option. These look like roman shades, but they remain in a stationary position and are solely decorative. They're also quite affordable, providing you with a simple, cost-effective, and striking new piece for your kitchen. You can mount faux roman shades either within the window frame using a tension spring rod or outside of the window frame on a decorative pole.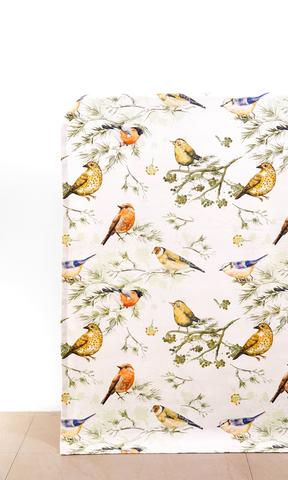 FEATURED LOOK
Featuring bright oranges, yellows, and beige, Summer Lark will bring a lively feel to your kitchen. This fabric features a pattern with quaint lark birds, serene foliage, and flowers, offering a delicate, airy look that's perfect for kitchens.
---
As the name might suggest, café curtains are a great choice for kitchens. They're also perfect for frequently used kitchen windows, as the minimal fabric allows them to be easily drawn back when needed. Or, they can be hung at the top of a larger window as a simple accent piece.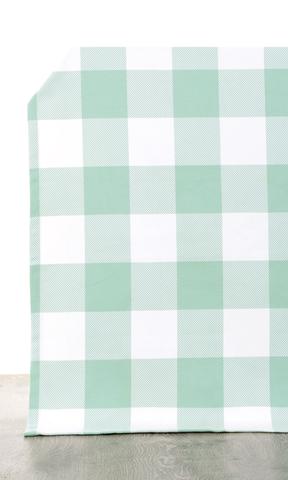 FEATURED LOOK
Our Aburi curtains feature a buffalo check pattern in a tranquil aqua blue. Aburi beautifully elevates a seemingly classic pattern to produce a more modern feel. Geometric yet gentle, it's a fabulous selection for your kitchen window treatments.
---
Similar to faux roman shades, valances are a form of drapery that are purely decorative. Valances cover the top of the window and are great for concealing drapery hardware and adding a unique accent to any room. You can pair them with blinds or curtains to enjoy the best of both worlds—the functionality of curtains and the stylish look of valances. Plus, they come in many different cuts, pleat styles, and mounting styles, providing you with complete customization options.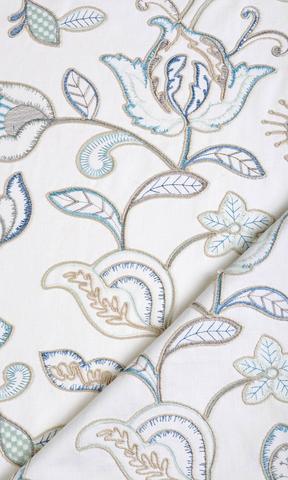 FEATURED LOOK
Gedrukt boasts an elegant floral pattern. Intricate hazelwood beige and indigo blue vines, tendrils, flowers, and leaves gently work their way across the dreamy white backdrop. The design is delicate and understated enough to naturally blend in with any kitchen—modern or classic.
---
Woven Wood Shades
For kitchens with an earthy, natural feel, woven wood shades will likely match your space flawlessly. These window treatments are created with natural materials that can introduce a welcome textural counterpoint to your space.
Woven wood shades are often made from sturdy woods such as bamboo, oak, or maple, for example. This means that they're equipped to handle the wear and tear of daily kitchen activity. Plus, they're also very customizable; in many cases, you can even select the level of sheerness you would like. Whether you want to enjoy filtered light or no light at all when the shades are closed, you can find a variety of selections with woven wood shades.
---
Order Custom Curtains from Spiffy Spools
We hope these top five kitchen window treatment ideas have helped you find the perfect inspiration for your home. If you're ready to shop for gorgeous drapery, order custom curtains from Spiffy Spools. We make it easy to create custom curtains that fit your exact specifications and design style. Explore our site to find the perfect options for your space, and don't hesitate to contact us with any questions!
ALSO READ: KITCHEN WINDOW VALANCE IDEAS