Spiffy Speak
Kitchen Curtains: From Modern to Classic…All the Ideas You Need
The kitchen is the 'heart of the home' because it's here that love becomes food! It's here that we gather sharing the stories of the day as we prep the meals over a glass of wine and get rejuvenated after a long, tiring day. So, of all the rooms of the home, it is this place that needs a special touch in its decor, and window treatments are a big part of that decision. If you're looking for ideas while shopping for kitchen curtains, and you've found Spiffy Spools, we're glad to take you through our collection as well as help you with some designing techniques for the same.
Order your custom curtains from Spiffy Spools online in any size. We have over 3,000 fabrics and patterns to pick from, so you can match them to your kitchen perfectly.
READ MORE: TOP FIVE KITCHEN WINDOW TREATMENT IDEAS
Kitchen Curtains: Tips 'n Ideas for Chic 'n Sweet
There's no window treatment that can make a space look as warm and welcoming as curtains. But billowing curtains above stoves and sinks can also cause fire hazards and be notorious mildew centers. Hence, hanging curtains in kitchens is not without its associated regimen – and yet – they are the best ever that can happen to a kitchen window. Let's take a look at some tips and ideas for kitchen curtains so that you can shop for the right set for your pretty cookhouse.
Material Composition
To begin with, be wise with the selection of material so that you can maintain the charm of the window dressing throughout its lifetime.
Avoid high-maintenance, delicate fabrics like silks and velvets. Instead, consider hardy fabrics like cotton, linen, and their blends that get better with each wash and also withstand frequent cleaning routines. They are also easy for spot cleaning for that is all that will be required after those accidental splashes. And if you're sensitive to kitchen smells, better avoid polyester curtains as they trap odors for a long time.
If you're not looking for tight control over light and heat, sheer curtains can do a great job, filtering in essential light and fresh air which is the primary need of the kitchen.
Sheer or non-sheer, care to select more flat and loose woven fabrics that dry faster and retain less moisture than the high-textured ones that do just the opposite.
To make the maintenance routine easy and to cut risk during fire hazards, avoid trimming the curtains with loosely hanging trinkets such as pompoms, fringes, and tassels. Ribbon trims work fine as they provide the opportunity of mixing color, texture, and pattern while staying tight fit to the curtain panel. If your window is far enough from the hob and the sink, these precautions may be better ignored.
Welcome Color and Pattern
For a space so jam-packed with utilitarian items in mostly metal and black tones, curtains that bring in some color and pattern are a respite. If your kitchen is dominated by white or black, adding a pop of color to the kitchen would be a welcome break and a classy touch. Kitchen curtains can bind the space into one whole by featuring all of the accent hues.
Employ light colors to keep the kitchen brighter as in this Breezy Blue poly-cotton drapery. But if you want more light control, go for darker shades such as the linen-blend Acik Khaver.
Similarly, the squarish shapes and hardy surfaces that generally dominate the kitchen can often use a breather with some soft, curvy patterns that curtains can easily feature.
Florals, damasks, abstracts, geometrics, polkas, and the like provide a contrast of shapes that is nothing but a visual treat. Check out Cordonazo with its lovely monochrome florals, Haboob in a nice geometric pattern, or sheer drapes Purga with abstract designs for some inspiration. Or, if your modern farmhouse kitchen calls, go for a good old country style with buffalo checks like Lavanta that captures the cozy cottage-core aesthetics and stripes like Yamini Kuhana that look so adorable and never go out of style. If you want a kitchen-specific typographic curtain, try Kralovna with its 'literally caffeinated' theme in a black and white palette.
READ MORE: FARMHOUSE KITCHEN CURTAINS: A RESTIVE MOMENT IN A HARD-WORKING SPACE
Pleating Style
The curtain header – the top portion that holds the header tape on panel's back – defines the way the curtain hangs and its overall appeal. So, for example, tab tops, rod pocket tops and flat panels look very casual and offer a welcoming aesthetic that kitchens need. On the other hand, French pleats with their ornate construct and seemingly formal appeal bring an altogether different kind of character in this family room.
Also, consider how often you may want to open and close them. Styles that employ rings or pins glide relatively easily. If the curtains are short and lightweight, this factor will be of little consequence. If on the other hand – you have decided to go with sheers or other drapes that won't be open and shut frequently – styles like rod pockets and back tab tops that glide on fabric pockets are also equally recommended.
Kitchen Cafe Curtains and Valances
What kitchens look for from curtains is a little bit of control over light and a ton of sweet homely vibes. There's nothing that can keep the moisture-friendly kitchen a more self-sanitized space than exposure to natural light and heat. Curtains have to be as light and sleek as possible to allow the sun to do its magic. Therefore, two of the most common and recommended window dressings for kitchens are cafe curtains and valances, used either as a pair or as a standalone.
Cafe curtains cover half of the window's height and are, therefore, preferred for their ability to let in as much light as privacy. Being sill-length, they stay as far out as possible from splashes and splatters at the hob and the sink.
Valances cover the top fourth of the window, providing protection from the glare of the harsh noon sun. They are designed to be permanently left as installed and are a nice way to bring in some color and softness to your kitchen.
Often, the two are paired for more coverage and aesthetic value. West-facing kitchen windows in extremely sunny locales should ideally go for the combination to protect the kitchenware from premature weathering.
READ MORE: CAFE CURTAINS: SHORT, SWEET, AND IDYLLIC
Sync Kitchen Curtains with Decor Style
It is important to make sure that the overall decor style of the home is clearly visible in the kitchen decor. Where the kitchen is a clearly separate room, the freedom to take an altogether unique track is high. Whereas, in open plan homes where kitchens are visible from the living area, it's important to make sure that the curtains adhere to the overall decor style of the entire room with great commitment.
So, if you follow a modern glam style overall and go for rustic patterned kitchen curtains, they will seem out of place. The color palette must also be informed by the overall theme of the home. Even if the kitchen curtains are different in palette and style from the rest of the window treatments in the open area, enable them to complement each other in some way or to have a common denominator, such as the valances or the trims.
Modern Kitchen Curtain Ideas
Modern kitchens are sleek, refined, and feature crisp, clean lines. The right window treatment can make all the difference for your space. For inspiration and design tips, explore these top modern kitchen curtain ideas and styling tips from Spiffy Spools.
Choose A Modern Heading Style
The heading style of your curtains can be a key factor in defining the style of your window treatments. While pinch pleat drapery is works well with a traditional kitchen, the following are our two most popular heading styles for modern kitchens:
Grommet tops. Grommet tops allow your curtains to hang in soft, loose folds with minimal visual distortion to patterns. When open, they stack neatly in a uniform fashion. The neat, uniform look is perfect for modern interiors.
Flat panel tops. Flat panel tops offer an easy, streamlined look when it comes to headings. Drapes can be hung on a curtain rod or track with your choice of drapery pins, drapery rings, curtain clips, or curtain hooks. How close you decide to place your pins or rings will determine the looseness of your curtain pleats.
These chic, minimalistic options are the perfect match for your modern kitchen. If you'd like to learn more about curtain heading styles, explore our Headings Style Guide!
Modern Valances
Valances are making a big comeback, especially in kitchens above 'splatter zone' windows, i.e. above kitchen sinks. If you believe a valance would fit nicely in your modern kitchen, keep the following tips in mind to help ensure you maintain a contemporary look:
Board mounted valance. Just as the name suggests, board mounted valances hang from a flat lumber board rather than a curtain rod. As opposed to pole-mounted valances (hung with a rod), board mounted valances allow the fabric to fall more smoothly and evenly. Curtain rods can bunch up the fabric and make for a less uniform look, but board mounted valances provide you with sleeker, more defined lines, which modern designs call for.
Minimal pleating. Pleated valances tend to provide a more traditional looking and can even appear out of place in contemporary spaces. We recommend opting for a valance style with minimal pleating to maintain a crisp, polished look in your modern kitchen.
Dress Down Your Drapes
When it comes to modern design, less is more. As you select your drapery, avoid embellishments such as ornate curtain trims and tassels. These may create clutter and break the clean lines in your otherwise refined kitchen. Instead, keep your curtains dressed down as much as possible to nail the orderly, minimalistic look. If you do want to add trim to your curtains, consider a simple ribbon trim in a solid color for a more modern style.
Pick Modern Hardware
While rustic kitchens call for accents featuring natural materials like exposed wood, modern spaces are best complemented with metallics. When it comes to metallic accents, your options are seemingly endless, with popular choices including gold, rose gold, brass, bronze, copper, iron, and chrome. However, choose your metallic hardware carefully to ensure it syncs with other hardware in your kitchen.
Select the Right Fabric & Pattern
Fabrics and patterns such as burlap, gingham, and plaid work great with rustic décor, but they will look severely out of place in a modern kitchen. For modern designs, consider color block drapes, geometric prints, textured neutrals, and solid cottons. These choices allow you to go as vibrant or as toned-down as your kitchen calls for to best elevate the space.
We hope the modern kitchen curtain ideas provide you with some inspiration! If you're ready to dress your windows in a new, contemporary look, Spiffy Spools makes it easy to create custom curtains to your exact specifications. Explore our site to find the perfect options for your space in any length, fabric, or pattern—and don't hesitate to contact us with any questions!
Need more inspiration? Explore the top picks for modern kitchen curtains available at Spiffy Spools:
Featured Looks
For a modern twist on a classic black and white color palette, consider our Affiable Fanfare curtains. The flatweave fabric features an eye-catching, geometrical print of linear, fan-like shapes. The minimalistic aesthetic paired with a unique pattern makes these curtains a versatile option, blending nicely with both vibrant colors and neutral tones.
Just the fabric to add a touch of chic to your cooking space. Its basic black and white color palette gets a warm, quirky edge with a combination of kitchen item graphics and food ingredient names written in free flow form. From rolling pins to salt shakers, kitchen mitts to ladles, it has them all. Kitchen love, pure and simple.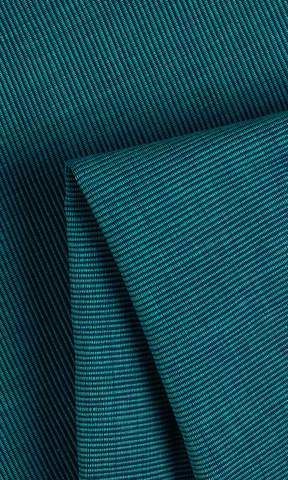 Our Yamini Nakuru curtains sport a two-tone, narrow weave in turquoise and navy, which work together to produce a stunning teal hue. The medium-weight fabric falls beautifully to create a flowy effect that works wonderfully with the rich, vibrant, yet simplistic color.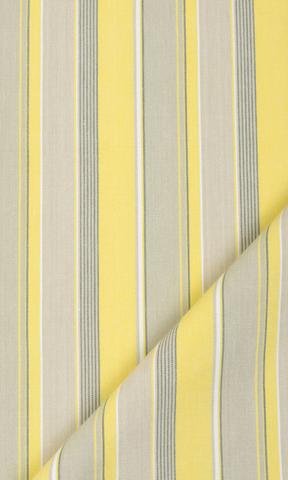 Amarela striped curtains keep it simple with a traditional vertical stripe pattern in lemon yellow, ash gray, and pale gray. However, the stripes vary in width to add a modern twist on this classic look. This subtle print is a very sophisticated yet relaxed option for any modern kitchen.
Order Custom Curtains from Spiffy Spools
Never lose sight of the fact that with kitchen windows, no matter what personal style you follow, 'less is always more.' So, the lighter, the better. Explore our collections and pick out from the tons of choices available to pamper your beautiful kitchen with the best custom curtains. And Spiffy Spools will be as proud as you with your well-dressed kitchen window.
READ MORE: COUNTRY KITCHEN CURTAINS: IDEAS & TIPS