Spiffy Speak
Best Roman Shades for Bathroom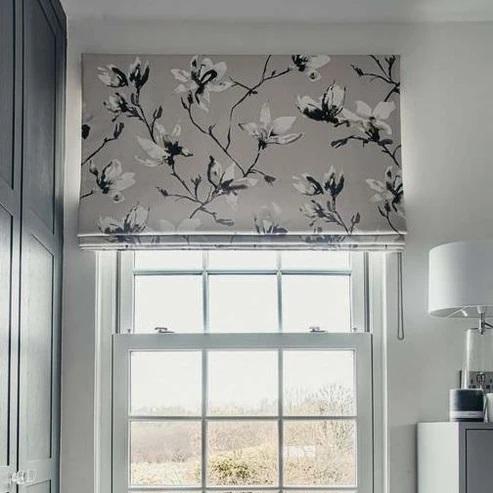 While it's nice to let natural light into your bathroom, bare windows can pose a privacy issue for you and your guests. A simple and stylish way to combat this problem is to hang roman shades in your bathroom. Explore the best roman shades for your bathroom below!
Order custom roman shades from Spiffy Spools online in any size. We have over 1,000 fabrics and patterns to choose from, so you can match them perfectly to your home.
Why are Roman Shades Perfect for Bathrooms?
Your first thought to dress up your bathroom windows may be to purchase a pair of curtains. While this might do, roman shades can be a much better option. Here's why roman shades are the perfect window treatment for your bathroom:
Fit the space. Because bathroom windows tend to be on the smaller side, long drapery can look cluttered and overwhelm the surrounding space. Roman shades, on the other hand, are designed to match the exact size of your window, providing a sleek, minimalistic solution.
Protected from wet zones. Billowy curtains are more vulnerable to splashes from your sink, shower, or bathtub. Roman shades, however, stop at the bottom of the window frame when closed and stack neatly at the top of the window pane when open, making them less susceptible to splash.
Privacy. Roman shades will provide you with plenty of privacy. When closed, they cover the entire window with one, smooth piece of fabric. Your window will be completely covered with no slits or cracks.
Style. In addition to all of the benefits above, roman shades come in a wide variety of colors, fabrics, and patterns, allowing you to match them perfectly to your décor.
Top Roman Shades for Bathrooms
Now that you know the benefits of roman shades for bathrooms, here's some design inspiration for your space! Explore some of the best roman shades for bathrooms from Spiffy Spools: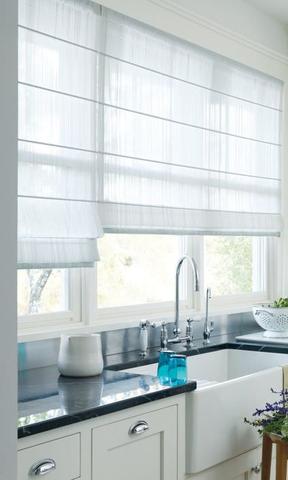 Relaxed Roman Shades in Semi-Sheer
To maintain a light and airy feel in your bathroom, we recommend a
relaxed roman shade
in a
semi-sheer fabric
. Relaxed roman shades, also known as European roman shades, are tailored to fall into a gentle curve at the bottom, offering an elegant look. Pair this style with a semi-sheer fabric that beautifully filters natural sunlight while offering some privacy, and your bathroom will feel like a peaceful oasis. Keep in mind that sheers also come in a variety of patterns and colors—not just white—so you can add a subtle flair to your space.
Coastal Themes
Coastal patterns are a great way to make your bathroom feel like a luxurious escape. Coastal themed shades can serve as a focal point for your bathroom, and they provide plenty of opportunities for you to play with soothing colors and interesting patterns. Take a look at our favorite coastal options from Spiffy Spools:
FEATURED LOOKS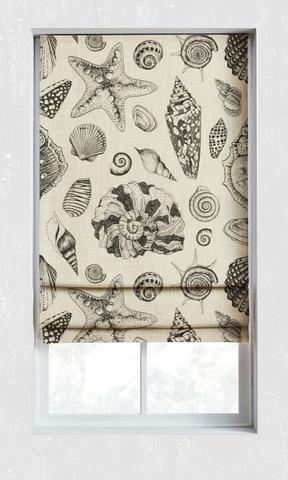 Our Seashore Tidings fabric is a wonderful option for transforming your bathroom into a beachy oasis. The flatweave material is strewn with a gorgeous pattern of starfish and seashells in neutral shades of black and cream. This versatile fabric will pair well with any existing color palette, while the overall design will provide a chic, graceful feel to your space.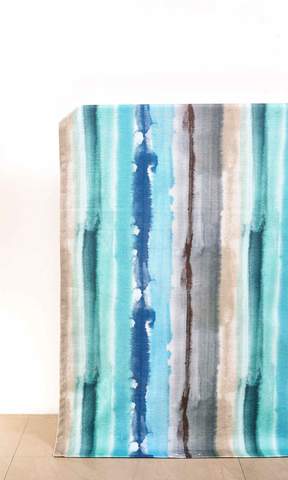 For a more subtle coastal look, consider our For The Love of Blue fabric for your roman shades. The gorgeous azure, ultramarine, pale blues, light browns, and hints of gray beautifully mimic the colors of the sea. These lovely hues in a washed watercolor effect further add to the oceanic feel of this inspired fabric.
Pop Art
Your bathroom is a space where you can really experiment with fun prints and patterns. Whereas pop art prints may not necessarily work in your formal dining room, you can let your personality and creativity shine in a less lived-in area such as your bathroom. Consider these stunning pop art prints for your bathroom roman shades: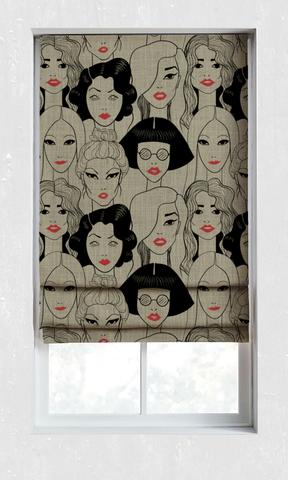 Our Fluter fabric is all about fashion. The flatweave material is a light cream color, and it's adorned with black outlines of vogue faces. Each figure sports perfectly styled locks and bright red lipstick, which pops strikingly against the otherwise neutral colors. Express yourself as a true fashionista with this bold and chic print that will make a lasting impression!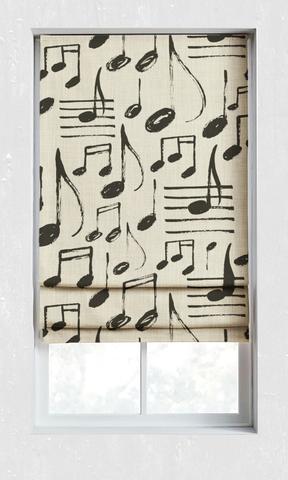 If you're a true music fanatic, you're sure to fall in love with our Zorion fabric that's covered in playful musical notes! The milky white backdrop serves as a perfect canvas for each of the playful notes. Even though the pattern is quite eye-catching, the neutrals tones are subtle enough to pair with virtually any décor in your bathroom.
Order Custom Roman Shades from Spiffy Spools
We hope you've found the best roman shades for your bathroom! If you're ready to shop, order your custom shades from Spiffy Spools today. We make it easy to create custom roman shades that fit your exact specifications and design style. Explore our site to find the perfect options for your bathroom, and don't hesitate to contact us with any questions!