Spiffy Speak
Roman Shades for Bathroom: Best Ideas & Tips
Bathrooms are perhaps the only place in the house that are designed purely for individual use and with a strong utilitarian orientation. But that should not reduce them to a  mere architectural necessity and a dead end for design. It's that place where you can fearlessly be yourself, care for your body and mind, and guiltlessly splurge your precious time on some mindful introspection. So, like all the other spaces in a home, the bathroom too deserves a personalized design. If that's the reason you're out shopping for bathroom roman shades, let's assure you that you'll find the right ones today at Spiffy Spools.
If you love the idea but have been hesitant to introduce fabric treatments to this splashy zone, we're confident that this blog will get you off the fence for good. Because there's nothing that can counter-balance the austerity of stone and porcelain as a soft fabric – perhaps the one thing that your bathroom needs right now to feel more like a cozy space.
Besides, if your creative juices are running, you can't ignore the infinite potential bathroom roman shades offer to introduce color, pattern and texture. The only other window treatment that can offer this level of design prospect is drapery. But for all your love of drapes, short curtains might not meet your taste, and the tightly constricted space might not favor floor-length drapes.
Roman shades dress the window up to the sill and stack up, well protected from the wet floors, making them worthy suitors for small bathrooms. While all kinds of blinds can do the functional part, none can beat roman shades in the aesthetic. That gives you more reason than one to bring roman shades to your most intimate room. So, if you're ready for a trip, let's take you through our stylists' recommendations that can help you square down on your own personal style for your bathroom roman shades.
Order custom roman shades from Spiffy Spools online in any size. Pick from over 3,000 fabrics and patterns!
Why are Roman Shades Perfect for Bathrooms?
While bathroom curtains look luxurious in bigger spaces, they are not the ideal choice if your bathroom does not have enough room for them. If you have narrow windows which are close to areas that receive splashes of water, especially with kids who love to play with water while showering, roman shades would be the perfect fit for you. Here's why roman shades are the perfect window treatment for your bathroom:
Fit the space. As bathroom windows tend to be on the smaller side, long drapery can look cluttered and overwhelm the surrounding space. Roman shades, on the other hand, are designed to match the exact size of your window, providing a sleek, minimalistic solution.
Protected from wet zones. Billowy curtains are more prone to splashes from your sink, shower, or bathtub. Roman shades, however, stop at the bottom of the window frame when closed and stack neatly at the top of the window pane when open, making them less susceptible to splash.
Privacy. Roman shades will provide you with plenty of privacy. When closed, they cover the entire window with one, smooth piece of fabric. Your window will be completely covered with no slits or cracks.
Style. In addition to all of the benefits above, roman shades come in a wide variety of colors, fabrics, and patterns, allowing you to match them perfectly to your décor.
Consider Material
One thing that matters at the end of the day regarding bathroom décor is that it should not only look pleasing but also be practically easy to maintain. For a space where moisture and mildew rule the roost, the material composition of the roman shade fabric needs great forethought.
In a spacious bathroom where the wet area is sufficiently far from the window, the shade is safer, but moisture content is high in the air nevertheless. We recommend, therefore, using the least porous fabrics with low water retention capacity as they absorb less moisture and dry faster should they get wet. Also, ensure the use of sturdy materials that can withstand the frequent wash-dry cycles and come out better each time.
While linen has never relinquished the top fave position in bathrooms and for good reason, blends and synthetic textiles are also viable options, especially if the wet area is very close to the window. Dainty materials like silks, and thick ones like velvets should be avoided. Besides being high maintenance, silk retains water stains and thick velvets build up mildew and dust very quickly.
Also, consider the type of weave, which will determine the level of light you'll receive when the shade is closed. If you want to bring in more natural light, order sheer roman shades and doubly ensure that they can afford you the intended level of privacy. Tight-woven fabrics guarantee the privacy factor and with light hues, they will manage to let in some amount of light as well.
Consider Style
Closely following the material composition is another design decision – the style of the roman shade. Depending on the size of the window and its positioning in relation to the wet area, you can choose between scalloped-bottomed relaxed/European roman shades and flat-bottomed shades. The wavy bottoms of European/relaxed style roman shades are more exposed to the swashy business happening in the tub, but if they're high enough to stay away or if you love the look of it, go for it without second thoughts.
The flat bottom shades that employ slats in the construction have a more tailored look and are easier to operate than the scalloped relaxed shades. The front-slatted style is suitable for plain shades that borrow the striped pattern of the slats for an element of visual interest.
Flat panel roman shades with back slats offer clean, uninterrupted frontage, and become the right choice for patterned shades that need a continuous surface for a neat display.
If your bathroom location makes privacy less of a  concern, and you don't want the function of the roman shade so much as the look of it, faux roman shades that perform as stationary valances are ideal. They cover almost a fourth of the window and look like fully-functional shades that have been drawn up.
SHOP NOW: CUSTOM FAKE/FAUX ROMAN SHADE VALANCE
Consider Palette
No matter what's on trend or not, don't be afraid to be original – not at least in the bathroom. Remember, it's your kingdom and it's only fair to stamp this space with your personality rather than have it conform to any decor style or an insta post. So, go wild or soft with the palette as you wish and infuse the place with your signature style.
If color vibrancy gives you the serotonin hike, but neutral tones dominate your bathroom, your roman shade can be the escape. If you want a very soothing space, go for cool colors that remind you of the sea, the sky, and the viridescent woods. It also helps a small enclosed area to feel a lot larger. But if you want the space to feel more intimate and high-spirited, go for warm colors that remind you of the sunshine and the cozy noons. Colors never fail to lift the space to a cheery realm, and there's nothing like overdone work as long as you're happy with it.
Employing varied colors enables you to bring an element of contrast and can immensely help to add depth and dynamism to the space. By dressing your window in a contrasting hue, you make the eye gravitate towards it, making it the focal point of the bathroom. Whereas, if your shade features the same color as the wall, it will seem like a part of the architecture and make the bathroom feel roomier.
Consider Pattern
Patterns can give an instant facelift to the blandest of spaces when done with proper scaling and coloring. But bathrooms hardly ever have the ability to feature patterns except through the tiled layout or the veins of the marbles. Introducing some curvy, organic, and controlled motifs to counterbalance the straight lines, undirected details, and sharp edges is quite a way to complete the space.
Floral and botanical printed roman shades can help to bring a refreshing, garden vibe to the place. Combine with some soothing layered warm lights and a hot tub and you'll have created your very own spa resort at home. While patterns never fail to woo the eye, when used with subtle contrasts and small scales, they make an impact without ever going overboard.
Another way to approach the pattern decision is to let the roman shade echo the pattern which already exists in the bathroom elements. Say, if you have wallpaper or a mirror frame that features a geometric pattern, you can find a fabric that features a similar pattern on a different scale. It will help immensely to bring a cohesive look but also to ground the bathroom décor on a clearly defined theme.
SHOP NOW: CUSTOM GEOMETRIC ROMAN SHADES FROM SPIFFY SPOOLS
INSPIRATION CORNER FOR BATHROOM ROMAN SHADES
Now that you know the why and how to dress roman shades for bathrooms, here's some design inspiration for your space! Explore some of the best roman shades for bathrooms from Spiffy Spools.
Relaxed Roman Shades in Semi-Sheer
To maintain a light and airy feel in your bathroom, we recommend a relaxed roman shade in a semi-sheer fabric. Relaxed roman shades, also known as European roman shades, are tailored to fall into a gentle curve at the bottom, offering an elegant look. Pair this style with a semi-sheer fabric that beautifully filters natural sunlight while offering some privacy, and your bathroom will feel like a peaceful oasis. Keep in mind that sheers also come in a variety of patterns and colors—not just white—so you can add a subtle flair to your space.
Coastal Themes
Coastal patterns are a great way to make your bathroom feel like a luxurious escape. Coastal-themed shades can serve as a focal point for your bathroom, and they provide plenty of opportunities for you to play with soothing colors and interesting patterns. Take a look at our favorite coastal options from Spiffy Spools: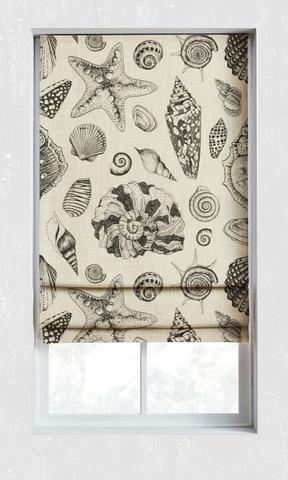 Our Seashore Tidings fabric is a wonderful option for transforming your bathroom into a beachy oasis. The flatweave material is strewn with a gorgeous pattern of starfish and seashells in neutral shades of black and cream. This versatile fabric will pair well with any existing color palette, while the overall design will provide a chic, graceful feel to your space.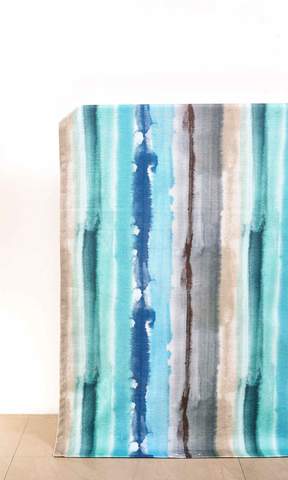 For a more subtle coastal look, consider our For The Love of Blue fabric for your roman shades. The gorgeous azure, ultramarine, pale blues, light browns, and hints of gray beautifully mimic the colors of the sea. These lovely hues in a washed watercolor effect further add to the oceanic feel of this inspired fabric.
Pop Art
Your bathroom is a space where you can really experiment with fun prints and patterns. Whereas pop art prints may not necessarily work in your formal dining room, you can let your personality and creativity shine in a less lived-in area such as your bathroom. Consider these stunning pop art prints for your bathroom roman shades:
Spotlight On:

Fluter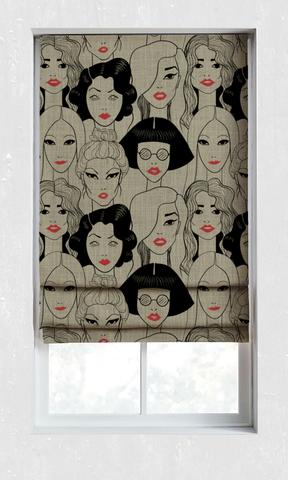 Our Fluter fabric is all about fashion. The flatweave material is a light cream color, and it's adorned with black outlines of vogue faces. Each figure sports perfectly styled locks and bright red lipstick, which pops strikingly against the otherwise neutral colors. Express yourself as a true fashionista with this bold and chic print that will make a lasting impression!
Spotlight On: Zorion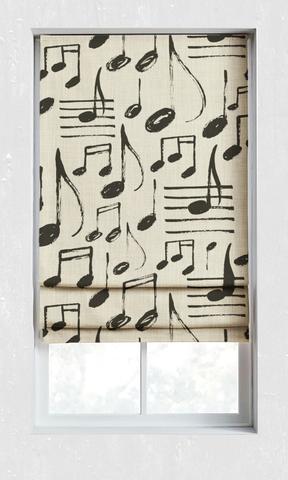 If you're a true music fanatic, you're sure to fall in love with our Zorion fabric that's covered in playful musical notes! The milky white backdrop serves as a perfect canvas for each of the playful notes. Even though the pattern is quite eye-catching, the neutral tones are subtle enough to pair with virtually any décor in your bathroom.
In Closing
Bathroom roman shades are not just fulfilling an assigned job of providing privacy and light control, but also going beyond to make the space feel more cozy, uplifting, and chic. They are such a fun way to bring a punch of color and your own personality to the most intimate zone of the house.  We hope you're now off the fence and ready to take off to create your very own style of bathroom décor with a carefully curated roman shade. So, get on to the browsing business and shop your favorite bathroom roman shades at Spiffy Spools and let us also be part of your proud decor project.
Order Custom Roman Shades for Bathroom from Spiffy Spools
If you're ready to shop, order your custom shades from Spiffy Spools today. We make it easy to create custom roman shades that fit your exact specifications and design style. Explore our site to find the perfect options for your bathroom window treatments, and don't hesitate to contact us with any questions!
READ MORE: BATHROOM WINDOW VALANCES: TOP IDEAS & TIPS