Spiffy Speak
Bathroom Window Curtain Ideas
Adding curtains to your bathroom window is a smart choice. In addition to helping you maintain privacy, they also provide excellent light control and offer a touch of style. If you're ready to design the perfect window treatment, explore these bathroom window curtain ideas for inspiration!
Order custom curtains from Spiffy Spools online in any size. We have over 1,000 fabrics and patterns to choose from, so you can match them perfectly to your home.
Bathroom Curtain Tips
When shopping for bathroom curtains, keep the following ideas in mind to ensure they best fit your space:
Select fabrics for privacy. Refrain from using sheers and linens to ensure maximum privacy in your bathroom. If you do want to include a sheer or linen option, be sure to layer your curtains with a thicker, opaque fabric.
Plan around wet zones. To prevent sink, shower, and bathtub splashes from harming your bathroom curtains, select a style that doesn't reach the floor. Shorter curtains that frame the window will best avoid wet zones.
Don't overwhelm the space. Short curtains also offer a better aesthetic appeal in bathrooms. Long drapery can clutter small, enclosed spaces. If you stick with curtains that match the size of the window, you can trust that they won't overwhelm your restroom.
Top Curtains for Bathrooms
With the above tips in mind, explore some of the best bathroom curtain options from Spiffy Spools!
Printed Curtains
If you love bold prints, patterns, and colors, your bathroom window curtains provide the perfect canvas to experiment! This is your opportunity to express your unique taste and style—keep it simple if you'd like, or select a statement print that's edgy and daring.
FEATURED LOOKS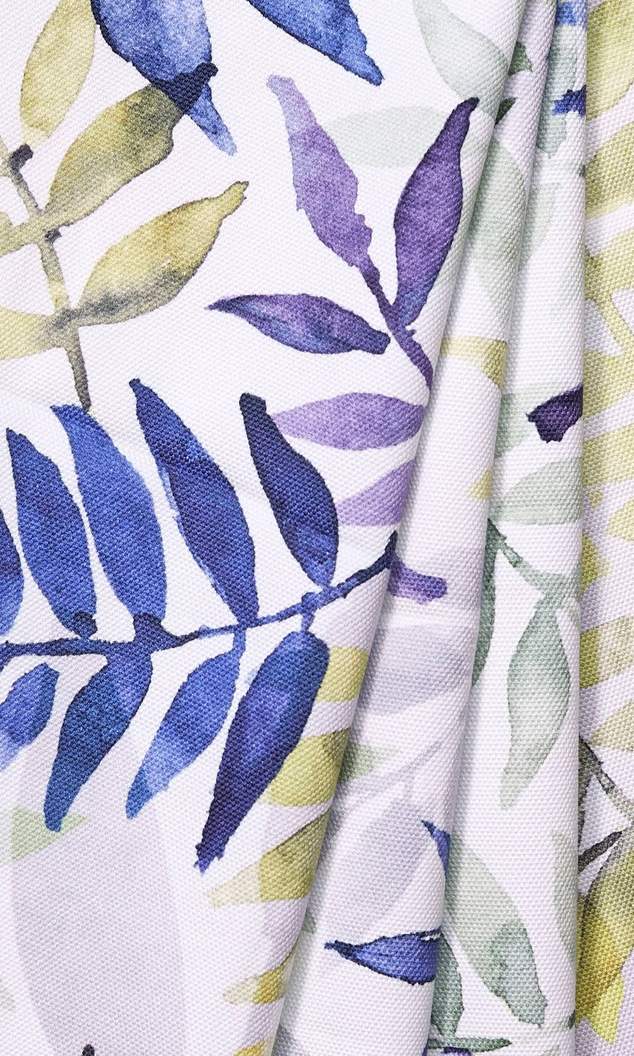 Our flamboyant Summer Ferns curtains will make a tropical statement in your restroom. They feature a motif of fern fronds in fabulous colors like periwinkle purple, sapphire blue, pale gray, mint green, and olive green. Plus, the layered watercolor print adds another unique and interesting element to these beautiful floral curtains.

Give your bathroom a fresh new look with our Cosenza printed curtains. They're adorned in a classic Fleur de Lis print, but given a modern twist with a color palette of brilliant blues and soothing greens. These French-inspired curtains are sure to liven up your restroom!
Roman shades are another great option for your bathroom. Roman shades perfectly cover the window pane with one smooth piece of fabric. The simple, minimalistic design will keep the room uncluttered, avoid splash zones, and offer you plenty of privacy.
FEATURED LOOKS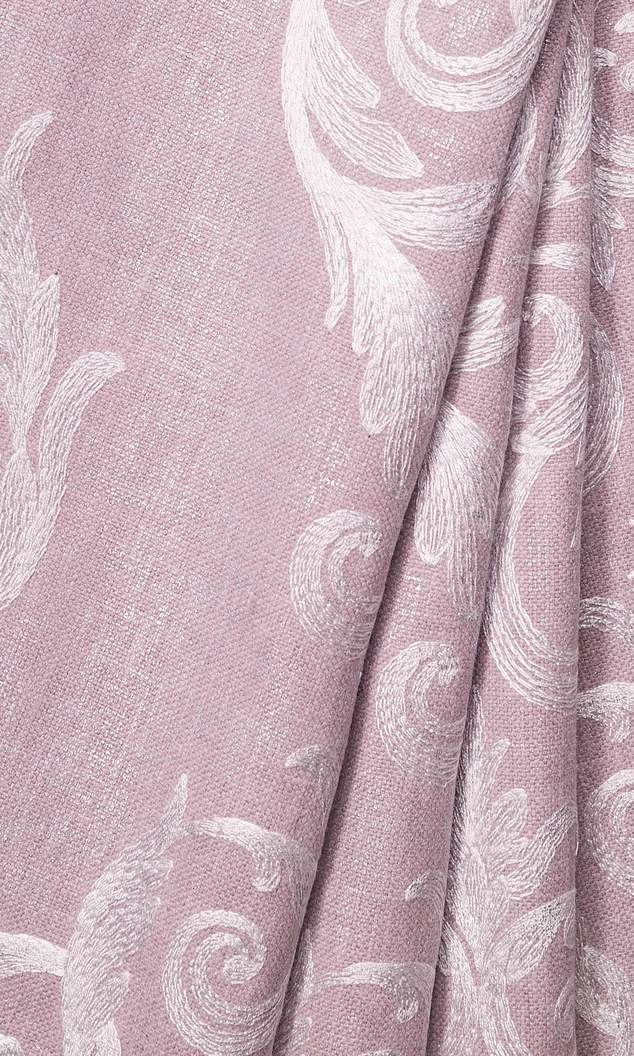 Evoke an elegant feel in your restroom with the addition of Hush Hush Mauve roman shades. This regal fabric is embroidered in white thread on a lilac mauve backdrop. The alternative print combined with a delicate color palette come together to create an alluring look.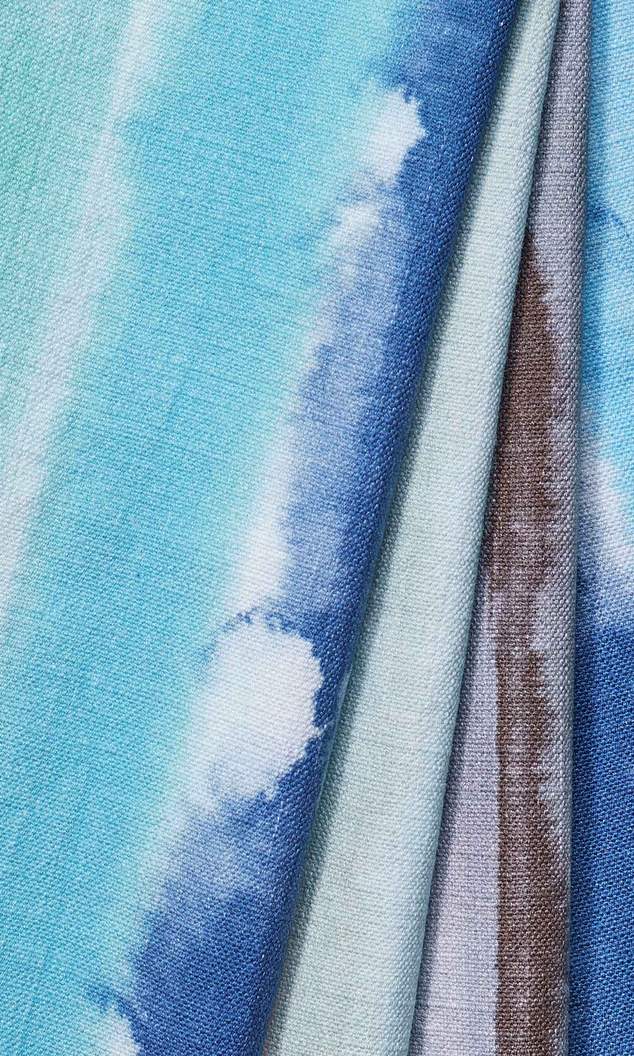 For a subtle coastal look, consider our For The Love of Blue fabric for your bathroom roman shades. The gorgeous azure, ultramarine, pale blues, light browns, and hints of gray beautifully mimic the colors of the sea. These lovely hues in a washed watercolor effect further add to the oceanic feel of this inspired fabric.
Café Curtains
Café curtains are about half the length of a window and are traditionally hung across the center of the pane. With their short length, café curtains are perfect for maintaining privacy and steering clear of splash zones while still allowing for plenty of natural light.
There are two ways to style café curtains. You can choose to use a single panel to cover the pane, or double panels can rest on each side of the window when open. For maximum light control, we suggest going with double panels, since they're easier to open and close. Or, if your top concern is showcasing the fabric of your choice, a single panel design will offer less pattern distortion for a more uniform look.
FEATURED LOOKS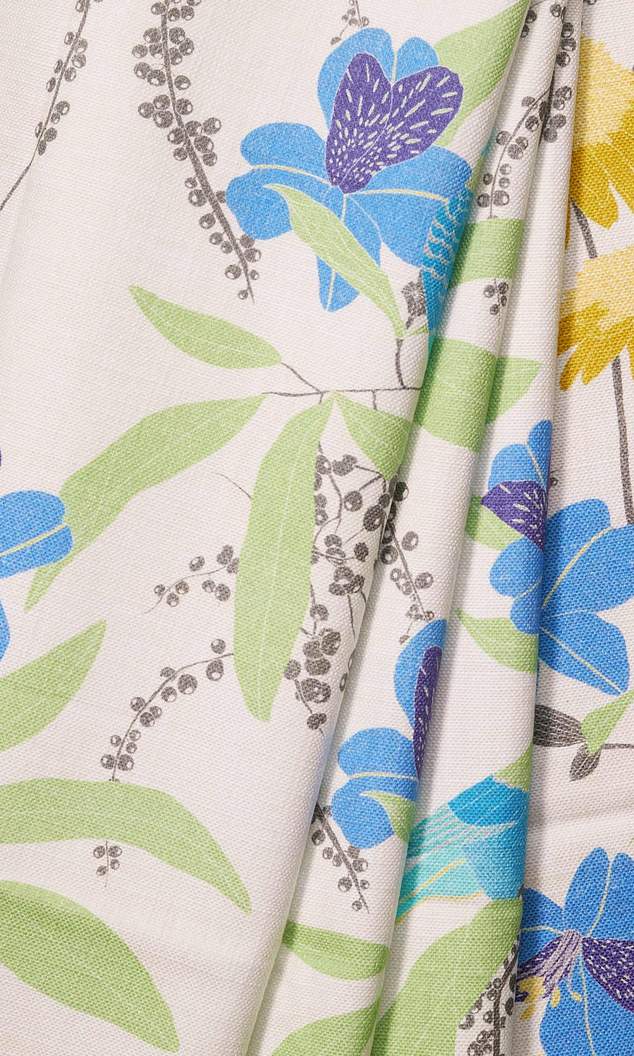 Our Alcamo curtains will bring the cheery feeling of spring to your bathroom. The gorgeous print of blooming wildflowers and chirping birds is both playful and relaxed. The pattern paired with vibrant turquoise, indigo, fern green, and corn yellow on the white backdrop looks absolutely stunning!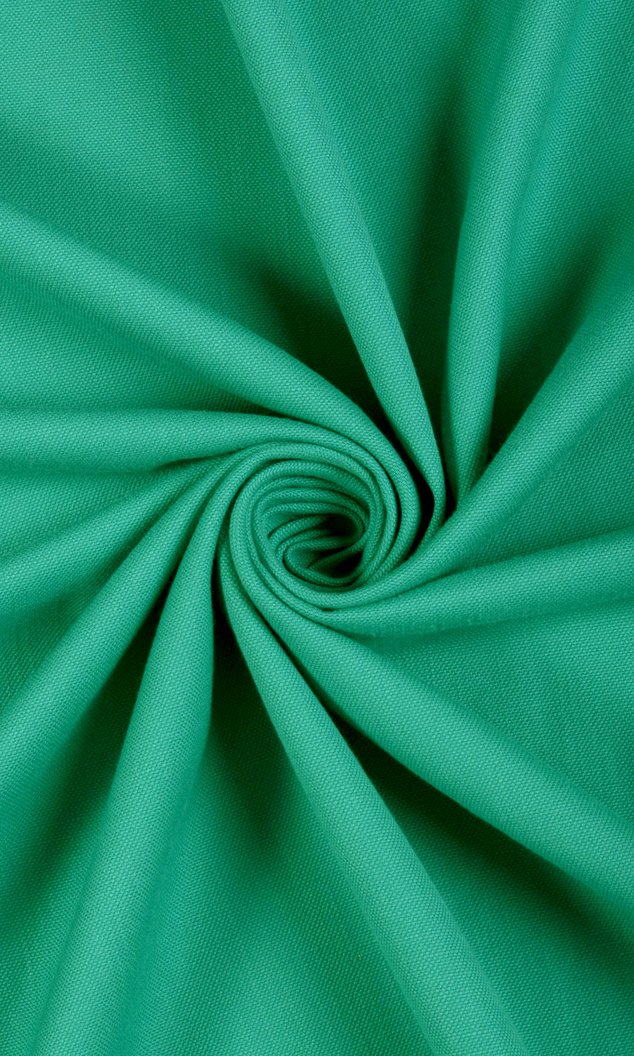 Maintain a simple, casual look in your restroom with Cool Sabz curtains. This straightforward, no-nonsense fabric is a lovely cotton-linen blend that's both sleek and stylish. The unique, cool green color adds an extra design element that sets these cotton curtains apart from traditional solids.
Valances
If you'd like to add a nice decorative element to your bathroom window, consider selecting a valance. There are two types of valances for you to choose from—board mounted and pole mounted.
Board mounted valances hang from a flat lumber board rather than a curtain rod, which allows the fabric to fall smoothly and evenly for a more modern look. Pole mounted valances are stitched with a rod pocket across the header—you simply have to slide them onto a curtain rod for easy setup. This style works best for casual, informal designs.
FEATURED LOOK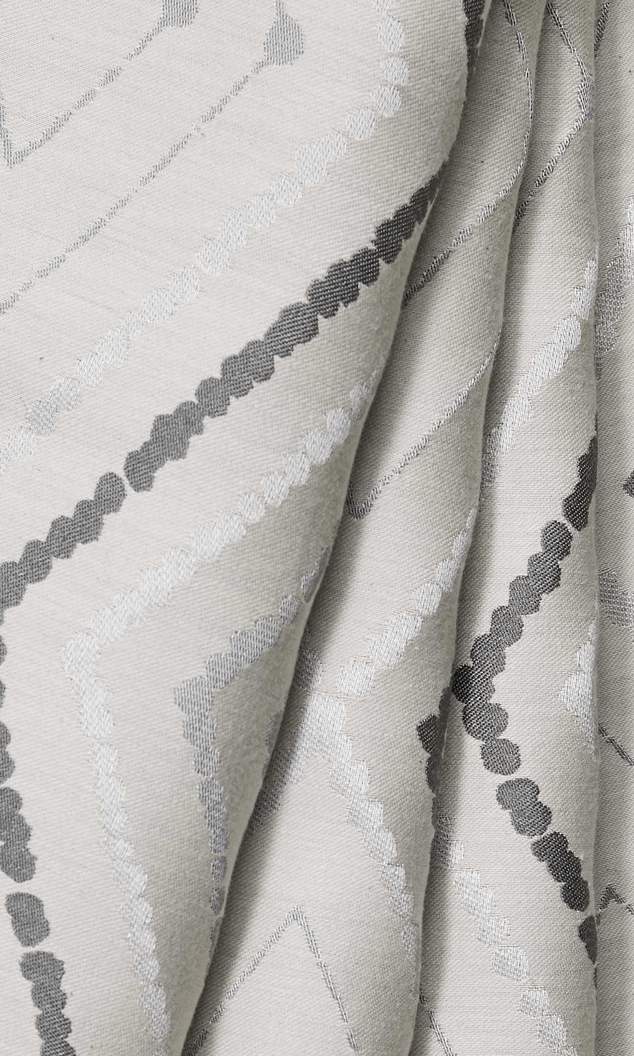 Murano
Our Murano curtains feature grey, thinly styled diamonds and a chevron pattern. The white backdrop makes the print pop, but the design itself is minimalistic. For a modern and sophisticated look, this is the perfect fabric for your valance.
Mix & Match
Don't be afraid to mix and match different window treatments! For instance, perhaps you love the privacy provided from roman shades, but you also enjoy the look of a valance. You can combine the two to reach the exact look you're aiming for!
Note that roman shades and valances are very versatile and will pair well with most any curtain style. Or, you might consider layering multiple sets of curtains for a more dynamic look. Whatever you choose, it's easy to create a gorgeous window treatment that also meets all of the functional needs of your bathroom.
Order Custom Curtains from Spiffy Spools
We hope you enjoyed these bathroom window curtain ideas! If you're ready to shop, order your custom curtains from Spiffy Spools today. We make it easy to create custom window treatments that fit your exact specifications and design style. Explore our site to find the perfect options for your bathroom, and don't hesitate to contact us with any questions!