Spiffy Speak
Top Screen Porch Curtain Ideas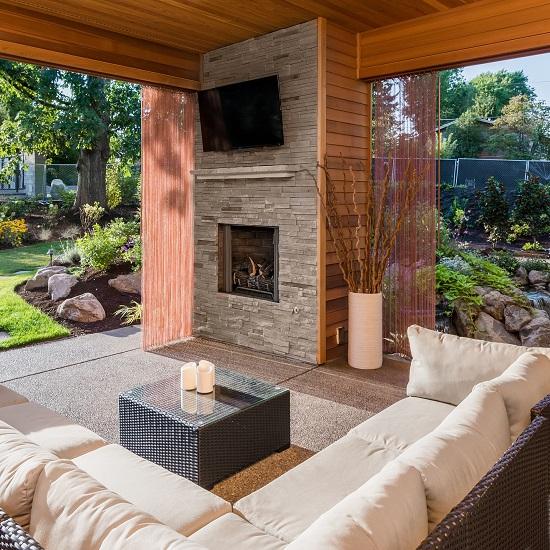 Porches are wonderful outdoor living spaces that deserve to be decorated just as nicely as your home's interior. However, when you decorate and put together a stylish outdoor space to entertain in summer, you want your décor to blend seamlessly with the cheery, airy feel of the surrounding nature. Use these top screen porch curtain ideas to help spruce up your outdoor living area!
Order custom curtains from Spiffy Spools online in any size. We have over 1,000 fabrics and patterns to pick from, so you can match them to your home perfectly.
Use a Curtain Rod
A curtain rod is the best way to hang your porch curtains. With a curtain rod securely drilled into the porch frame, you can trust that it will remain in place for many years to come.
While a tension rod can also work, there is a higher risk that your curtains will fall if you plan to use them frequently. Plus, a plastic tension rod will begin to deteriorate when exposed to the elements, meaning you'll have to repeatedly replace it.
We don't recommend using a curtain track on your porch, because it will likely rust quickly after being exposed to moisture. When rust builds up, it will be impossible to glide your curtains across the track.
Select Sheers or Linens to Filter Sunlight
One of the best ways to enhance the gorgeous natural sunlight on your porch is to hang sheer or linen curtains. These two options beautifully filter light to create a warm glow. Plus, these lightweight fabrics will delicately billow with the wind for a soft, relaxing, and breezy effect.
Featured Looks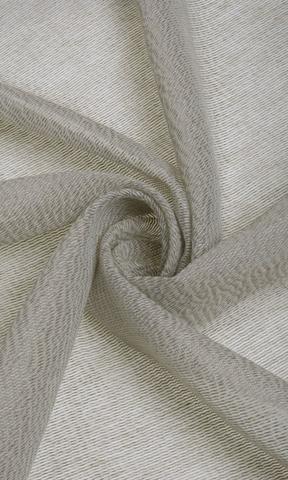 Cobblestone
Our sheer Cobblestone curtains feature a grey-beige fabric woven in a rough, wavy stripe pattern. The textured fabric effortlessly diffuses light, supports airflow, and creates an overall serene atmosphere.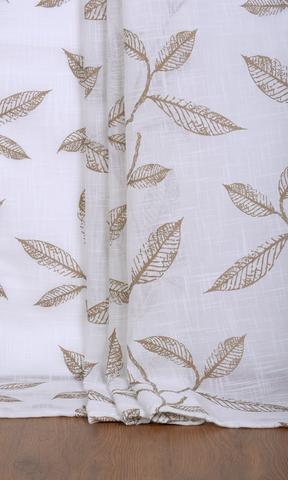 Thai Basil
These
Thai Basil
linen curtains
are designed in a pure white fabric that's finely woven with a checked overlay. Delicate golden leaves are scattered across the backdrop for a naturalistic element that is sure to liven up your outdoor space.
Consider Earthy Colors
To ensure your screen porch matches flawlessly with the surrounding landscape, consider designing your curtains in solid, earthy tones. This will help blur the line as to where your porch ends and nature begins. Also be sure to select a mid-weight fabric, such as cotton, to add body to your curtains while maintaining a casual look. Some earthy colors include:
Greens
Browns
Blues
Soft yellows
Beiges
Mauve
Featured Looks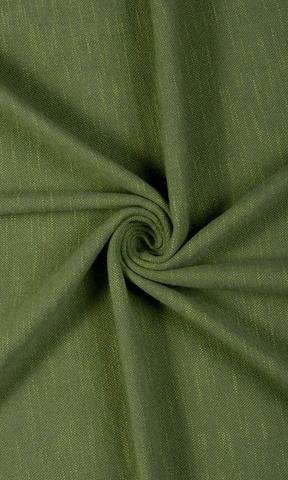 Orman
Our Orman curtains feature a vibrant, evergreen backdrop that's lightly woven with moss green hues. These colors work together to make you feel as if you're surrounded by thriving, exuberant foliage.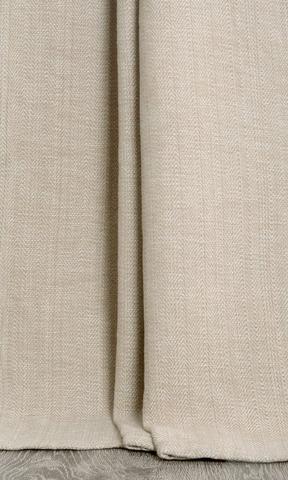 Yamini Sava
Yamini Sava curtains are the perfect selection for creating a simple, classy look. The toned-down beige/brown hues and texture of the herringbone pattern come together for a gorgeous, minimalistic display.
Play with Vibrant Colors & Patterns
Alternatively, you can bring brightness to your porch through the use of bold, vibrant colors and patterns. These will pop against the toned-town hues of the landscape. Again, we recommend sticking with cotton fabric that holds colors beautifully and creates a laid-back feel.
Featured Looks

Summer Ferns
Our flamboyant
Summer Ferns
curtains will make a tropical statement on your porch! They feature a motif of fern fronds in fabulous colors like periwinkle purple, sapphire blue, pale gray, mint green, and olive green. Plus, the layered watercolor print adds another unique and interesting element to these beautiful
printed curtains
.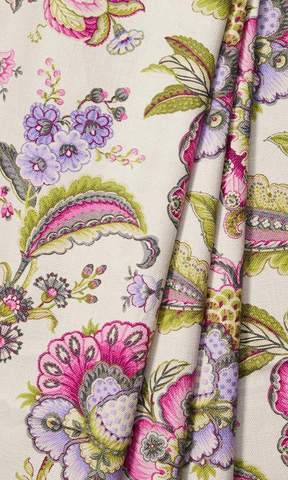 Catania
If you love pinks and purples, these
Catania
curtains may be the perfect selection to add to your porch. The all-over floral print of large, colorful blooms is sure to make a lasting statement. Hang these vibrant
floral curtains
to create an eternal feeling of
spring
!
Get the Styling Right
As you design your window treatment, consider the following styling tips:
Your curtains should fall just above the floor. Elongated curtains will make your screen porch appear larger and airier. However, avoid curtains that actually touch the floor, as they will likely become dirty from outdoor dirt and debris.
If you're hanging single panel or double panel curtains, we strongly recommend purchasing curtain tie backs. These will stylishly hold your curtain panels away from the screen so you can enjoy the view from your porch. It's quite common to keep porch curtains held back this way permanently in gorgeous bundles that create a lovely visual appeal.
Hang multiple curtain panels across the screen. An alternative look is to hang evenly-spaced curtain panels across each screened section of the porch. Then, loosely bundle each panel at its center using a decorative tassel, a matching strip of fabric, rustic rope, or any other material of your choice. These bundles will create a stunning, eye-catching look!
Wash Your Curtains Annually
One final tip to remember is that you have to wash your screen porch curtains at least annually. While you should certainly spot-treat them throughout the year, when you close up your porch for the winter, we recommend taking them down and washing them thoroughly. After being exposed to the elements for such a long period of time, it's necessary to wash them of any debris if you want to avoid purchasing new curtains year after year.
Order Custom Curtains from Spiffy Spools
These top screen porch curtain ideas are sure to enhance your outdoor living space. At Spiffy Spools, we make it easy to create custom curtains that fit your unique style and measurements, with over 2500 fabrics and patterns. Explore our site to find options that will work perfectly on your porch. And whether you have queries on pricing or measuring, or simply want some curtain draping tips & ideas, don't hesitate to contact us with any questions you have along the way!
ALSO READ: 5 PATIO DOOR CURTAIN IDEAS