Spiffy Speak
Modern Kitchen Curtain Ideas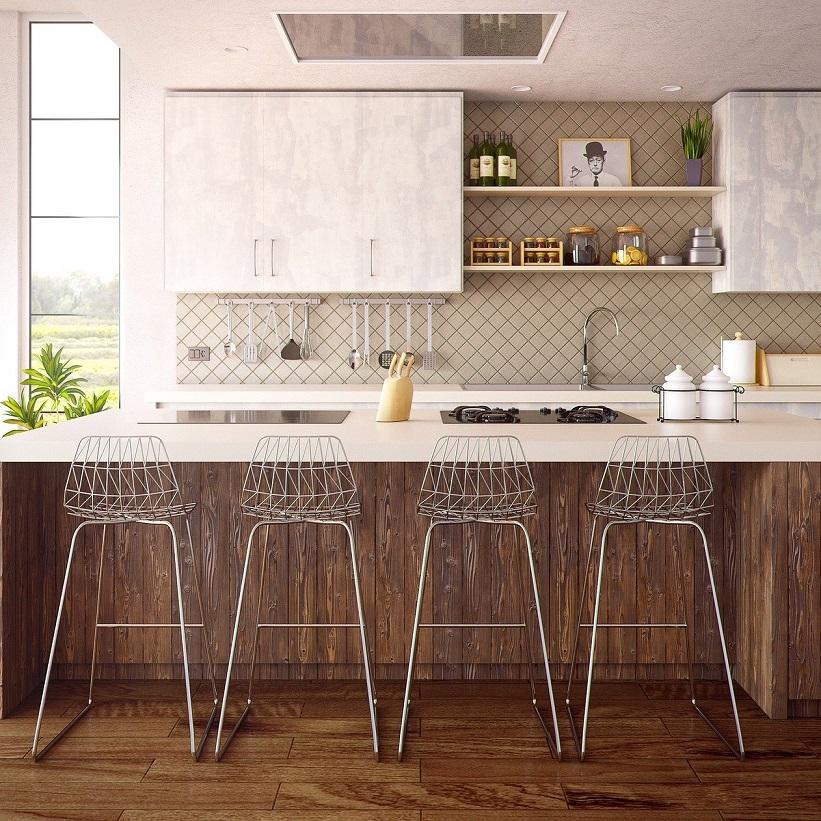 Modern kitchens are sleek, refined, and feature crisp, clean lines. The right window treatment can make all the difference for your space. For inspiration and design tips, explore these top modern kitchen curtain ideas and styling tips from Spiffy Spools.
Order your custom curtains from Spiffy Spools online in any size. We have over 1,000 fabrics and patterns to pick from, so you can match them to your kitchen perfectly.
Choose A Modern Heading Style
The heading style of your curtains can be a key factor in defining the style of your window treatments. While pinch pleat drapery is works well with a traditional kitchen, the following are our two most popular heading styles for modern kitchens:
Grommet tops. Grommet tops allow your curtains to hang in soft, loose folds with minimal visual distortion to patterns. When open, they stack neatly in a uniform fashion. The neat, uniform look is perfect for modern interiors.
Flat panel tops. Flat panel tops offer an easy, streamlined look when it comes to headings. Drapes can be hung on a curtain rod or track with your choice of drapery pins, drapery rings, curtain clips, or curtain hooks. How close you decide to place your pins or rings will determine the looseness of your curtain pleats.
These chic, minimalistic options are the perfect match for your modern kitchen. If you'd like to learn more about curtain heading styles, explore our Headings Style Guide!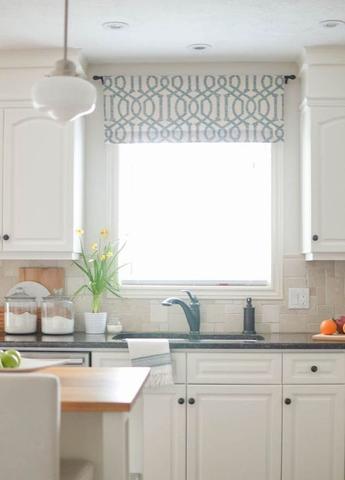 Modern Valances
Valances are making a big comeback, especially in kitchens above 'splatter zone' windows, i.e. above kitchen sinks. If you believe a valance would fit nicely in your modern kitchen, keep the following tips in mind to help ensure you maintain a contemporary look:
Board mounted valance. Just as the name suggests, board mounted valances hang from a flat lumber board rather than a curtain rod. As opposed to pole-mounted valances (hung with a rod), board mounted valances allow the fabric to fall more smoothly and evenly. Curtain rods can bunch up the fabric and make for a less uniform look, but board mounted valances provide you with sleeker, more defined lines, which modern designs call for.
Minimal pleating. Pleated valances tend to provide a more traditional looking and can even appear out of place in contemporary spaces. We recommend opting for a valance style with minimal pleating to maintain a crisp, polished look in your modern kitchen.
FURTHER READING: BEST ROMAN SHADES FOR YOUR KITCHEN
Dress Down Your Drapes
When it comes to modern design, less is more. As you select your drapery, avoid embellishments such as ornate curtain trims and tassels. These may create clutter and break the clean lines in your otherwise refined kitchen. Instead, keep your curtains dressed down as much as possible to nail the orderly, minimalistic look. If you do want to add trim to your curtains, consider a simple ribbon trim in a solid color for a more modern style.
Pick Modern Hardware
While rustic kitchens call for accents featuring natural materials like exposed wood, modern spaces are best complemented with metallics. When it comes to metallic accents, your options are seemingly endless, with popular choices including gold, rose gold, brass, bronze, copper, iron, and chrome. However, choose your metallic hardware carefully to ensure it syncs with other hardware in your kitchen.
Select the Right Fabric & Pattern
Fabrics and patterns such as burlap, gingham, and plaid work great with rustic décor, but they will look severely out of place in a modern kitchen. For modern designs, consider color block drapes, geometric prints, textured neutrals, and solid cottons. These choices allow you to go as vibrant or as toned-down as your kitchen calls for to best elevate the space.
Need inspiration? Explore the top picks for modern kitchen curtains available at Spiffy Spools:
FEATURED LOOKS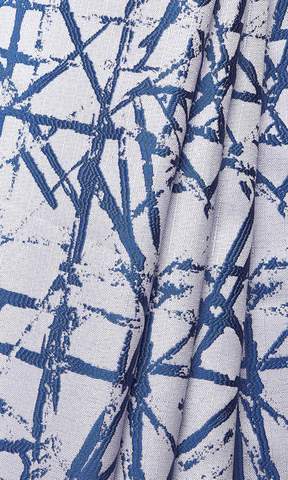 Messy Navy
Our Messy Navy curtains offer a playful print with a mature feel. The navy blue, abstract pattern against the white backdrop makes for a bold statement that will provide drama to your modern kitchen.
Affiable Fanfare
For a modern twist on a classic
black and white
color palette, consider our Affiable Fanfare curtains. The flatweave fabric features an eye-catching, geometrical print of linear, fan-like shapes. The minimalistic aesthetic paired with a unique pattern makes these curtains a versatile option, blending nicely with both vibrant colors and neutral tones.
Luna
Graceful and innovative, our Luna curtains are sure to add a dynamic element to your kitchen. The elegant, flatweave fabric is strewn with large, silhouetted butterflies in black and milky white. If you'd like to create a signature look that features a stylish and striking design, Luna curtains are the perfect choice.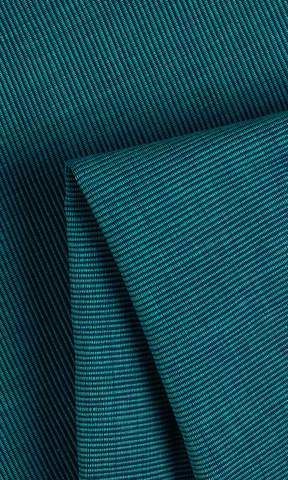 Our Yamini Nakuru curtains sport a two-tone, narrow weave in turquoise and navy, which work together to produce a stunning teal hue. The medium-weight fabric falls beautifully to create a flowy effect that works wonderfully with the rich, vibrant, yet simplistic color.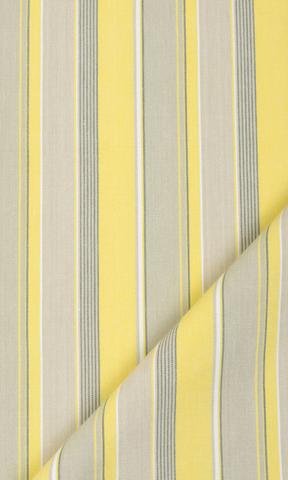 Amarela
striped curtains
keep it simple with a traditional vertical stripe pattern in
lemon yellow
, ash gray, and pale gray. However, the stripes vary in width to add a modern twist on this classic look. This subtle print is a very sophisticated yet relaxed option for any modern kitchen.
Order Custom Curtains from Spiffy Spools
We hope these modern kitchen curtain ideas provide you with some inspiration! If you're ready to dress your windows in a new, contemporary look, Spiffy Spools makes it easy to create custom curtains to your exact specifications. Explore our site to find the perfect options for your space in any length, fabric, or pattern—and don't hesitate to contact us with any questions!