Spiffy Speak
Basement Window Curtain Ideas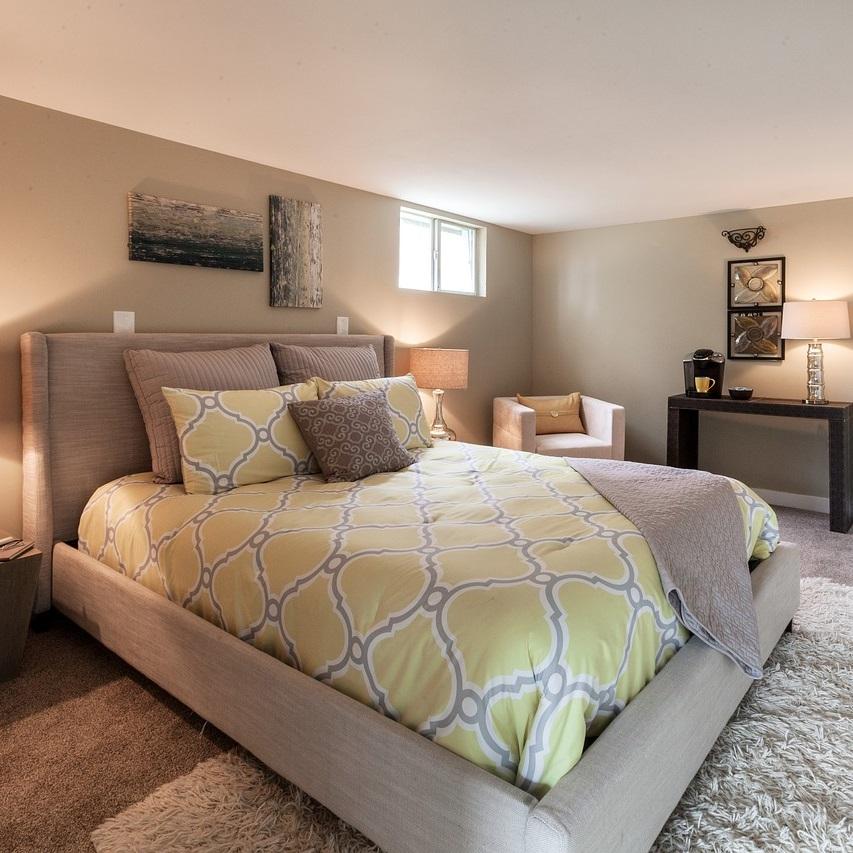 Gone are the days of drab, unfinished basements and attics. With the right décor, your basement can be a stylish and functional room in your home! But, to pull your design together, you'll need to consider how you want to dress your windows. Explore these basement window curtain ideas for inspiration!
Order custom curtains from Spiffy Spools online in any size. We have over 1,000 fabrics and patterns to pick from, so you can design them exactly to your liking!
What Are Your Basement Window Goals?
The type of window treatment you select should depend on your goals for your basement windows. Consider the following suggestions for designing the perfect curtains:
Making Your Windows Appear Larger
If you have small basement windows and you'd like to make them appear larger, we recommend hanging floor-length or floor-to-ceiling curtain panels. These will instantly give the appearance of additional height.
To make your windows look wider, extend your curtain rod at least ten inches on either side of the window frame. Of course, when you increase the width of your rod, you'll also have to increase the width of your curtains!
Drawing Attention to Your Windows
If you'd like to make your windows a focal point in your basement, start by assessing the primary color palette of the room. From there, you should select a curtain color that's one of the main hues featured in your color palette. You could also select a complementary color to make even more of a statement by creating a striking contrast.
Solid single or double panel curtains in a bold color can make a statement themselves, but if you'd like, you can also play with fun prints and patterns. To avoid clashing, however, only incorporate prints in your curtain selection if there are no other statement patterns featured in your basement décor.
Blending In Your Windows
If you prefer not to draw much attention to your windows, but you'd still like to add a stylish window treatment, we recommend hanging roman shades. Roman shades are mounted with a headrail that attaches to two brackets on each side of the window. They feature a continuous piece of fabric that covers the hardware and matches the exact size of the window, making them the perfect option for a minimalistic, blended look.
As you design your roman shades, select neutral tones to keep your window treatment low-key. Or, consider designing them in the same color as your wall for a monochromatic look.
Increasing Sunlight
There are a few ways to design your window treatment to bring more sunlight into your basement. One option is to select sheer curtains. Sheers are a lightweight fabric that beautifully filters sunlight, which is great for providing your basement with a bright, airy feel. They also come in a variety of light colors, not just white, which can provide an additional pop of color and brightness to the space.
Another way to allow more light into your basement is to hang café curtains. Café curtains are exactly half the length of the window and are typically hung across the center of the pane. This allows total sunlight to enter from the top portion of the pane while still providing you with a stylish window treatment. You can design your café curtains in any color or pattern that you'd like—but for additional brightness, you might consider dressing them in a sheer selection.
Decreasing Sunlight
If you plan to use your basement as an office, man cave, media room, or even a bedroom, your goal may be to block out as much light as possible. The best way to do this is to hang blackout curtains in your basement. In addition to blocking out total sunlight, blackout curtains also offer a variety of benefits, including:
Regulate room temperature
Reduce external noise
Eliminate screen glare
Blackout curtains also come in a variety of colors, fabrics, and patterns, so you can enjoy their design just as much as their light-blocking capabilities. To ensure maximum darkness, consider the following tips for hanging your blackout curtains:
Select a heading style that doesn't feature holes, such as pinch pleats and pencil pleats. This will prevent light from entering through your curtains.
Hang your curtain rod 8 to 12 inches above the window frame. Doing so will prevent the sunlight from peeking over the top of your curtains.
Extend the width of your pole by 10 inches on either side of the window frame to prevent light from passing through the sides when closed.
View our blog on Blackout Curtain Styling Tips to discover more best practices for hanging blackout curtains.
Order Custom Curtains from Spiffy Spools
We hope these basement window curtain ideas have helped you find the perfect window treatment! If you're ready to shop, order your custom curtains from Spiffy Spools today. We make it easy to create custom window treatments that fit your exact specifications and style. Explore our site to find the perfect options for your basement, and don't hesitate to contact us with any questions!