Spiffy Speak
How to Store Drapes & Curtains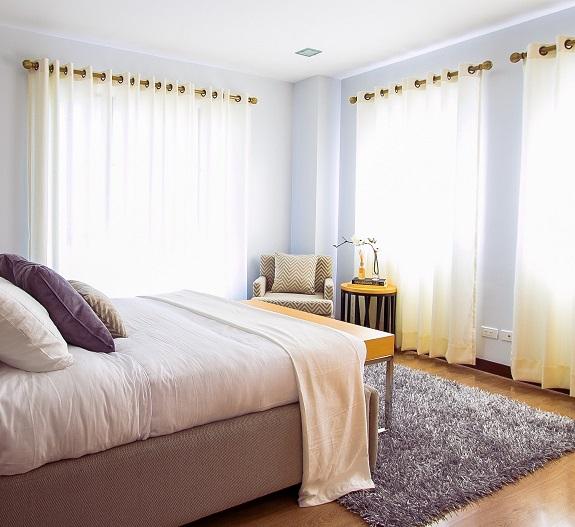 Whether you're switching out your drapes for the season, taking them down to move homes, or tucking them away for safekeeping, it's important to stow them properly to preserve their condition. Explore this guide on how to store drapes and curtains. A few simple steps will go a long way towards keeping your curtains pristine!
Order custom curtains from Spiffy Spools online in any size. We have over 1,000 fabrics and patterns to pick from, so you can design them exactly to your liking!
Start with a Cleaning
You should always clean your curtains before packing them away. If stored with debris, stains, and wrinkles, they may become difficult—or even impossible—to remove later on. Do a thorough assessment of your curtains from top to bottom, dusting and checking them for stains and wrinkles. Then, use the following guidelines for cleaning:
For new stains and mild debris, you may be able to clean your pillows & curtains at home using a laundry stain remover and a duster.
For new wrinkles, a hand steamer should help smooth them out.
For deeper stains and more severe wrinkles, we recommend getting your drapery dry cleaned. A professional will remove any and all imperfections so your curtains will be in great shape for long- or short-term storage.
Where to Store Curtains and Drapes
Where you decide to store your curtains can affect their condition. Here's what to look for in a proper storage location for drapery:
Dark or dimly lit. It's important to protect your curtains from UV rays that could damage the color and strength of the fabric. Completely dark or dimly lit spaces will keep them away from these harmful rays.
Low moisture. It's preferable to store drapery in a climate-controlled space with little moisture. This will prevent any potential for mold or mildew.
Easily accessible. You'll need to check up on your curtains from time to time to ensure they're still in good shape. That's why it's a smart idea to select a storage space that's easy for you to access at any time.
Wrap with Acid-Free Tissue Paper
We highly suggest wrapping your curtains with tissue paper to protect them from dust, fading, and excess handling. However, not just any tissue will do. Depending on your curtain fabric, you'll need to select acid-free tissue paper that possesses the right pH levels to avoid harming the material:
For cotton, linen, and sheer curtains, you need to use buffered acid-free tissue paper. It has a pH of 7-9.5, which removes potential contaminants that lead to deterioration.
For silk, velvet, or wool curtains, you must use unbuffered acid-free tissue paper, which has a pH of 6-7. Buffered acid-free paper can have a negative reaction with silk and wool that will harm the fabric.
Fold or Hang With Care
Next, you'll need to decide the method you'd like to use for storing your drapery:
How to Hang Curtains & Drapes for Storage
The best way to store your curtains is to hang them, because it ensures they'll remain wrinkle-free! Take the following steps when hanging your curtains and drapes:
Select a heavy-duty, closed-loop hanger that is strong enough to support a curtain panel. Fabric hangers can also decrease wear and tear on your drapery.
Hang one curtain panel per hanger to prevent overcrowding and wrinkling.
Fold the panel to the width of the hanger and allow it to hang from the center of the fabric.
Layer acid-free paper over your drapery.
Although this is the best route to take for storing your drapery, it may not always be possible. Curtains can take up a lot of space in your closet, and it might even be difficult to find a sturdy enough hanger for heavyweight fabrics like velvets and silks. If this is the case, you'll have to consider folding your drapes instead of hanging them.
How to Fold Curtains & Drapes for Storage
There are two techniques for folding your curtains and drapes for storage:
Fold in containers. To do this properly, continue to crisply fold your curtain panel in half until your desired size is achieved. If you aim for as few folds as possible and refrain from pressing down after each fold, you'll significantly reduce creasing. Then, wrap in acid-free paper and place in an air-tight container that will block out any potential moisture. For added protection against damage, containers lined in fabric will work well. Never try to force your drapery into something too small, or else wrinkles will form. Do feel free to neatly stack each of your folded curtain panels, but don't overcrowd the space.
Roll into tubes. This option only works with lightweight fabrics, because heavyweight fabrics often create too large of rolls. First, shop for moisture-blocking, air-tight tubes that will accommodate the length and size of your curtains. You may consider test-rolling your curtains before you shop to ensure a proper fit. Then, lay out your drapery or curtain panel on a large, flat, and clean surface. Continue to fold it in half until your desired size is achieved, roll the fabric into a cylinder, and wrap in acid-free paper. Simply place your drapery into the tube, and tuck away in a safe space for storage.
Label with Name & Date
It's always a smart idea to label and date your stored curtains. This is because you'll need to check them about once a year to ensure they're still in good condition. Be sure to dust and refold your drapery as you see fit. In addition, it's important to note that if you use tissue that is not acid-free, you'll have to replace it yearly.
Order Custom Curtains from Spiffy Spools
Now that you know how to store drapes and curtains, upgrade your window treatment with a gorgeous new look from Spiffy Spools! We make it easy to create custom curtains that fit your exact specifications. And whether you're looking for tips to measure curtains for your sidelight windows, or simply want to learn how to hem your curtains, our extensive Spiffy Speak blog will serve up all the ideas and inspiration you need! So, go on and explore our site to find a lovely new window treatment, and enjoy designing it in any length, fabric, and pattern!