Spiffy Speak
The Best Window Treatments & Curtains for Sliding Glass Doors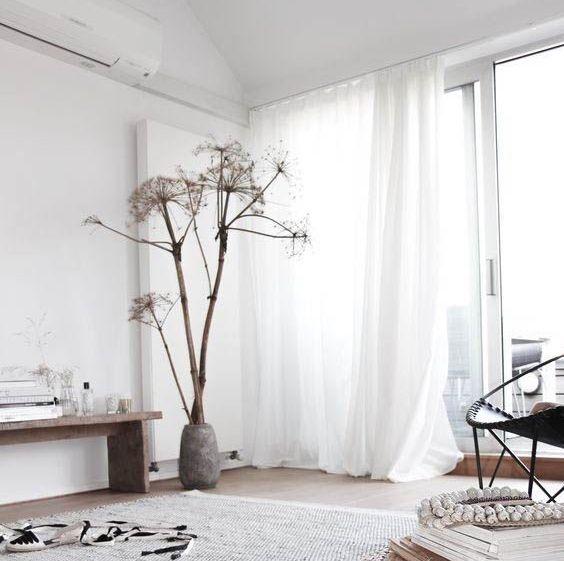 The key to successfully dressing up sliding glass doors lies in borrowing from the best window treatments and making accommodations for the door's functional purpose. To assist you in this unique design challenge, we'll walk you through the best window treatments for sliding glass doors so you can find the perfect solution for your space.
Dressing a sliding glass door is easy with Spiffy Spools. Order custom curtains and drapes online in any size, with over 1,000 fabrics and patterns!
The Challenge with Sliding Doors
Sliding doors are one of the most challenging elements to dress up. You want them to look like a well-dressed window, but without compromising their functional purpose and ease of use.
Vertical blinds tend to be the most popular window treatments for sliding patio doors and other such doors. While they do offer some nice functional benefits, vertical blinds are often lacking in the style department. They tend to look cold and mechanical, and simply not versatile enough to work with all types of décor. If you're aiming to create a warm, upscale, modern space, you'll need to find another solution for window treatments for sliding patio doors that better matches your vision. That's where curtains and drapery come in.
Dress Sliding Doors Up with Drapery
If put up thoughtfully and with care, drapery can help you attain the luxurious look you desire. Here are some important tips and details to consider when dressing your sliding patio doors with curtains:
One-Way vs Two-Way Sliding Doors
The type of sliding door you have can help determine the best way to hang your drapery. If you have a two-way sliding door, a pair of sliding door curtains is an ideal choice to frame both sides and attain a symmetrically balanced look. If you have a one-way sliding door, consider installing one-way draw single-panel drapery instead of a pair of sliding glass door curtains. This way, the side that the door opens to will be completely clear when the curtain is pulled back. For a finished look, mount an elegant holdback on one side and let your curtain fall in a luxurious swag when pulled back.
Extend the Pole
When installing your drapery, we recommend extending the pole it will hang on 12-24 inches on both sides of the doorway. With this extra length, you'll be able to stack back your drapery on the wall, clearing the doors completely when opened, making for easier use and improved visual appeal.
Use Tiebacks & Holdbacks
Curtain tiebacks serve as both a functional and decorative piece to hold back your drapery. Once mounted on the wall, tiebacks allow you to bunch up the curtain material safely away from the door in a clean, crisp fashion.
For doors dressed with a pair of curtains, place a tieback on both sides of the door to hold each individual piece of drapery. For doors that are dressed with a single curtain, you will only need to install one tieback, which should be placed on the side that the door does not open to.
When tied back, your curtains will leave the doorway open so you can come and go as you please. You may even like the presentation of your drapery more when held back, as it beautifully frames your sliding glass door. However, if you prefer, you can simply remove the curtains from the tieback when the door is no longer in use for more privacy.
Choosing the Right Heading Style
If door is in regular and frequent use, our stylists recommend avoiding a few heading styles as they are more difficult to glide. These include:
Rod pockets
Tab tops / Back tab tops
Tie tops
Instead, opt for heading styles that you can move with ease, such as:
Grommet tops
Flat panel tops
Ripplefold style
Pinch pleat drapes
How Often Do You Use the Door?
When determining the best window treatments for your sliding glass door, you should also consider how often you will be using the doors and drapery.
For doors that are only used occasionally, we recommend that you order drapery with 2x factor of fullness. 2x fullness width will give your beautiful, full pleats. See our full drapery measurement guide Another option to consider for doors that are less frequently used is to install roman shades. These combine the aesthetics of drapery with the usability of blinds, coming together for a clean, classic look that functions flawlessly.
If your sliding door and drapery will be frequently drawn open and shut, we recommend reducing the panel width so you have less fabric yardage to deal with, with every use of door. Narrower drapery will also need less stacking room on the side.
Consider Stationary Panels
If you're not concerned with privacy and don't anticipate ever closing your drapes, stationary panels may be right for your needs. Order two panels and hang one on each side of the door to frame it beautifully. This provides a stylish look and will be more affordable, too!
Order Custom Curtains from Spiffy Spools
Have you decided on the best window for your sliding glass door treatments? Spiffy Spools makes it easy to create custom curtains to your exact specifications. Explore our site to find the perfect options for your space, and don't hesitate to contact us with any questions!
ALSO READ: 5 PATIO DOOR CURTAIN IDEAS