Spiffy Speak
Living Room Curtain Ideas & Tips: From Modern to Traditional
Decorating a living room is both exciting and nerve-racking because it has to be sophisticated enough to host guests on weekends and comfortable enough to chill out at the end of a weekday. 
As a vignette that previews the aesthetic of your home, the living room must have a bit of je ne sais quoi, and window treatments are an important part of that process. So, if you're looking for the best curtains for your living room, we assure you that at Spiffy Spools, you may consider the job done. 
Order living room curtains and drapes from Spiffy Spools online in any size. Pick from over 3,000 fabrics and patterns! Shop Now
Design Tips for Curtains for Living Room
Whether you're decorating a formal living room that hosts the family's annual Christmas party or a casual lounge where you watch your favorite movies with your friends, curtains have a big role to play in airing the mood since they occupy substantial optical real estate. Coming ahead in this blog are handy tips to dress up your living room windows with drapes like a seasoned interior designer.
READ MORE: LIVING ROOM ROMAN SHADES: TOP TIPS & TRICKS
Pick the Palette
When squaring down on the palette for your curtains, know that drapery has the power to impress the mind deeply because of the large optical space it occupies. 
Dress the curtains in the same color as the walls if you want them to disappear into the architecture, or make them contrast the walls to produce visual interest.
You can use your curtains to relay the palette of the entire room or have them as neutral backgrounds to let the other elements stand out. For example, if you want a statement sofa or a bold wallpaper to be the focal point, plain neutral curtains might be a wise choice. But if you want the windows to be the focal point, curtains in an accent color and/or pattern can be paired with neutral-colored furniture in the front.
Neutral or non-neutral, light-colored curtains help to highlight dark-toned elements while dark curtains beautifully accentuate lighter palettes and lustrous metallic tones. 
So, if you have other elements like furniture and lighting already in place, choose your curtains' palette so it works in sync with your room's overall palette and other elements in the room. 
Have Fun with Patterns
The interior decor of any room is incomplete without patterns because patterns take away the blandness that is sometimes characteristic of a space dominated by solid-colored surfaces. Used in the right doses, patterns and prints help to make the space feel less austere and more comfortable. So neither let the power of patterns nor their timelessness be lost on you. 
Though do make sure that you're balancing the patterns and plains in your living room so they work in tandem, complementing each other. 
If your living room features a good amount of patterns already, plain curtains might be a good shout. But if you've decided on patterned drapery, ensure that it plays nice with the patterns that are already present in the living room. For example, plaid curtains like Gardenia give off the country vibe and can perfectly pair with florals and herringbone.
Also, make them work in tandem with your overall decor style. While traditional maximalists can find their taste in florals, paisleys and damasks, modernists may revel in stripes, minimalist abstracts and geometric patterned curtains. Similarly, ethnic prints – as seen in Jaguar Totemic – may complement the eclectic statement pieces that testify to Boho leanings. 
Consider Sheer Curtains for Living Room 
Unlike other rooms of the home, most living rooms look for visual chic and elegance from curtains, more than privacy and light control. Sheer curtains help to embrace natural light with all its beauty and put on a whimsical touch to the panoramic views that the windows frame.
They accord privacy during the day, making it easier to manage neighbors who have more curiosity than you can handle. They also filter in fresh air making kitchen smells and pet odors less bothersome. The way they soften the harsh glare of the sunlight makes the space seem more cheerful and positive. 
From white slubby linen curtains like Leh Almost White to embroidered floral cotton blends like Shiny Penny, self-patterned sheer drapes like Whipped Snow, and gold-veined abstract sheer curtains like Puro, you have an abundance to choose from.
Layer your Window Dressings
Although sheer curtains do a splendid job of providing privacy and surreal charm, they may get better with layering on some occasions; if your telly unit sits right opposite the window for example. For a better media experience, layering sheers with blackout or dimout curtains that bar light effectively is recommended. But that doesn't mean you have to settle for gloomy drab curtains; take a look at 'Rhythm' and 'Birchgrove Hall' to know how charming blackouts can be.
Sheer roman shades with curtains on the front provide more leverage over the light control aspect. One operates horizontally, the other vertically; one lets in air and light, and the other closes it off considerably – the versatility that living room window treatments may need sometimes.
Besides this purely functional motive, you can also dress them up doubly to make a style statement. It opens up the possibility of mixing colors, textures and patterns – exactly what you're looking for to bring the room alive. 
Alternatively, you can frame sheer curtains with stationary decorative panels. If you want to introduce a bold color to the room and accord less optical space to keep it from overpowering, this narrow static curtain can provide the chance. Besides, you can get your coveted silks and velvets on a budget since they employ lesser yardage.
Make Your Living Room Curtains Look Lavish
Bespoke decor accessories and furnishings make the living room feel 'expensive'. So, if you go for custom curtains that fail to feature a custom look, it's a lost opportunity. Besides providing curtains and drapes as per specified measurements, Spiffy Spools gives clients the option to garnish them with trims, or color block them with another fabric, to create a look that's truly bespoke and full of character.
Drapery trimmings play a huge role despite their insignificant proportions. They soften the edges and provide an excellent opportunity to bring pattern, color, and an element of tactility to the drapery. That little detail can make a world of difference, especially to plain curtains that don't feature any other element for visual interest. Pompom and fringe trim voice out the casual nature of the living room while tassels and ribbons serve a formal touch.
Color blocking is another technique that lets you incorporate two drapery fabrics in a curtain panel in four prescribed positions. It is an opportunity to blend different materials, colors, and textures – a beneficial aid when you fail to find a drapery fabric that features all the desired colors. Or, if you've fallen for two beautiful fabrics that complement each other very well, you can spare yourself the tension of having to give up one at the cost of the other. 
Give the Heading Style a Thought
An important decision to be taken regarding drapery is its heading style which consists of pleating at the top of the panel. 
Choose the pleating style according to the mood of the room. Classically styled, formal living rooms should ideally go for styles like French pleats, goblet pleats and box pleats, which are formal in their visual appeal because of their architectural construct. Whereas rod pockets, tab tops, tie tops, and pencil pleats with their frilly or looped headers and simple silhouettes look perfect in casual living rooms. Grommet tops, back tab tops, and euro pleats draperies are intermediary types that look perfect in semi-formal and casual spaces.
Also, consider how often you might need to open and shut your living room curtains because the functional aspect must not be overlooked. Styles that employ rings/pins enable easy gliding on the drapery rod, even for ceiling-to-floor drapes. Whereas if you want to keep them stationary more often than not, as is often the case with sheer drapes, styles like back tabs and rod pockets are great to keep them intact in their position even as they billow with the winds.
INSPIRATION CORNER FOR LIVING ROOM CURTAINS
Ripplefold Drapes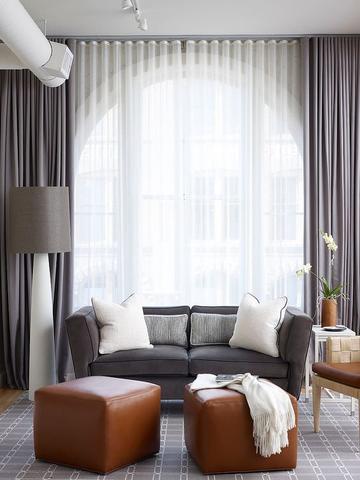 Ripplefold drapes are the ideal window treatment for a modern living room. Where pinch pleats may be to traditional or a grommet top too casual, ripplefold drapery offers a perfect fit for a well-dressed, modern living room.  The uniform, evenly-spaced pleats found in ripplefold drapes provide a tailored look with clean, simple lines – in perfect sync with a contemporary setting.
Even better, ripplefold drapes hold prints perfectly. The symmetry of the folds minimizes pattern distortion, allowing the print to remain consistent even when gathered. Further adding to the modern look, these curtains take up minimal space and stack neatly when fully opened. This allows maximum light to enter the room while maintaining a sleek, uncluttered look.
Textured Neutrals
Neutral color palettes such as grays, whites, and beiges never go out of style in a contemporary setting. To add some flair to these toned-down colors, consider playing with the texture of your curtains. Textured neutrals provide a subtle, refined way to give your curtains—and your living room—more character.
Spotlight On: Tabiiy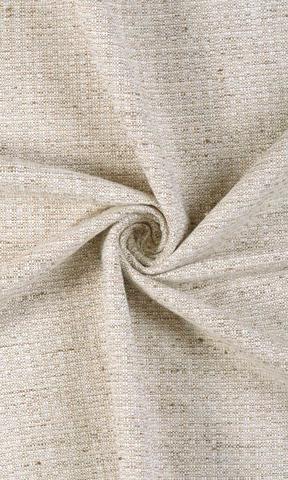 Tabiiy
is a harmonious blend of thickly woven beige and cream. The fabric is relaxed and natural yet chic, effortlessly meshing with modern décor. To achieve luxurious simplicity, Tabiiy is the perfect selection for your drapery, especially for a transitional living room.
Spotlight On: 

Sade
Cause one just can't get enough of neutrals, Sade sheer curtains offer an ivory on ivory look with opaque threads weaved in random wavy pattern. It is perfect for adding a touch of bohemian fancy to your living room.
Geometric Prints
Another modern living room curtains trend is to feature geometric prints. Just choose your patterns carefully, keeping the principles of modern design in mind.
Polished patterns in neutrals, such as Spiffy Spool's Amaranthus modern geometric patterned curtains, work best for modern designs. These curtains feature blush pink and white chevron pattern ripples which instantly brighten up a room. The combination of  small chevron and herringbone patterns make it easy for you to mix and match with stripes which are excellent for modern décor style.
Modern Florals
Not your grandma's curtains anymore, floral prints and patterns have made a huge comeback in recent years – especially for large scale, modern residential properties. Floral patterns are often associated with traditional designs, but with the right scale, density and design aesthetic, floral prints work beautifully in a modern home. Our stylists recommend medium scale patterns (not too bold, not too small), stylized look (not natural and feminine) with loose density, leaving more of the background visible.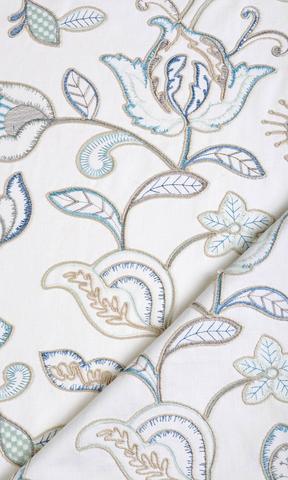 Gedrukt
boasts an elegant floral pattern. Intricate hazelwood beige and indigo blue vines, tendrils, flowers, and leaves gently work their way across the dreamy white backdrop. The design is delicate and understated enough to naturally blend in with any modern setting.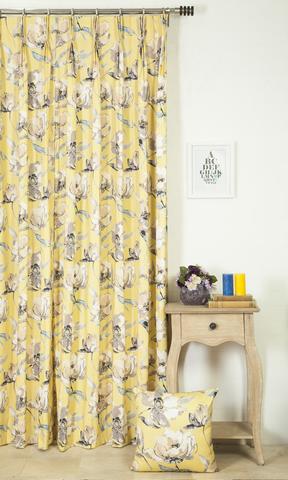 The soft yellow background of these
cotton curtains
contrasts with the sweeping, steely gray flowers, offering a modern take on a traditional floral pattern. Even though the print is on the bolder side, the overall gentleness of allows for such a unique print to work in a variety of home styles.
Solid Linens
Linen curtains are another versatile option that can add plenty of modern flair to your living space through both color and texture. The overall feel of your interior is what should guide you in choosing the color that will best match your living room. Below are two of our favorite linen curtains for modern living rooms:
Spotlight On: Marble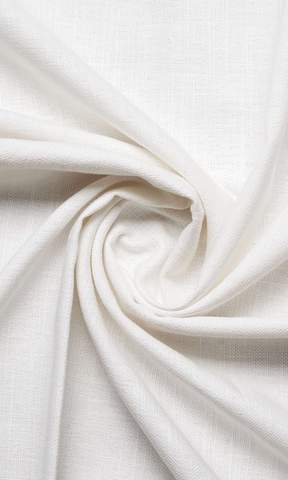 For interiors with a light and airy feel, Marble Linen Curtains are the perfect option. The classic white fabric featured here will gracefully frame your windows and help to brighten your living space. This is the epitome of minimalistic décor.
Spotlight On: Bello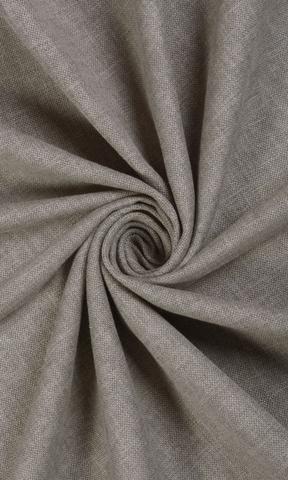 For interiors that emphasize dark tones and a moody feel, deeper hues will work flawlessly. The warm gray fabric of our Bello curtains matches with just about any neutral color palette, offering a masculine, dramatic effect.
One Last Word
With the right amount of natural light, fresh air, and a well-considered design that makes the first two possible, any living room is going to explode with cheer and energy. Following simple design techniques for your curtains enumerated in this blog, you're sure to achieve a brilliant window dressing that you'll be proud of forever.
Order Custom Curtains from Spiffy Spools
We hope these living room curtain ideas have helped you find the perfect inspiration for your home. Now with this confidence and excitement, browse through our collection and have fun shopping for your living room custom curtains from Spiffy Spools. We make it easy to order custom curtains that fit your exact specifications and design style. Explore our site to find the perfect options for your space, and don't hesitate to contact us with any questions!
READ MORE: THE BEST CURTAINS FOR YOUR LIVING ROOM