Spiffy Speak
Essential Nursery Curtain Ideas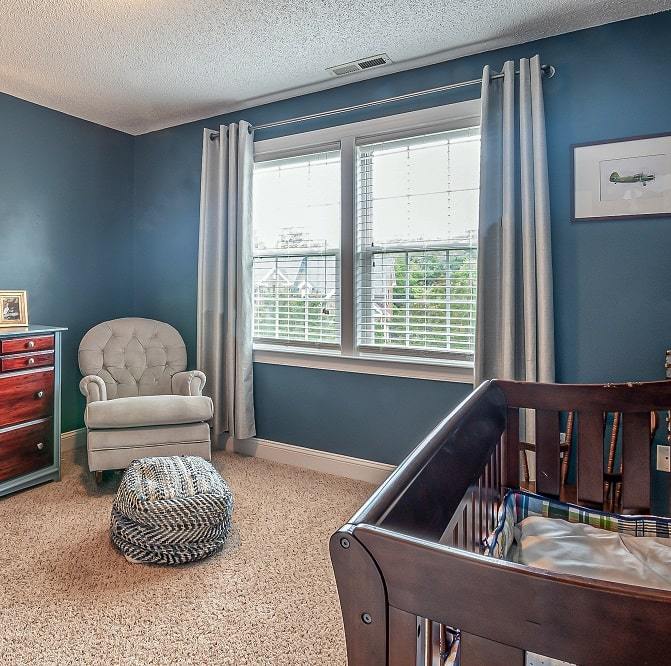 Few things are more exciting than decorating your future newborn's nursery. Since this will be your baby's first room, you're likely searching for ways to make it perfect. Use these essential nursery curtain ideas to help turn your vision into a reality!
Order custom curtains from Spiffy Spools online in any size. We have over 1,000 fabrics and patterns to pick from, so you can match them to your child's room perfectly.
Girls Nursery
If you're expecting a newborn girl, explore these curtain ideas for a baby girl's nursery:
Yellow is In!
While pink is a classic color for a girl's room, yellow is a more modern feminine color. Yellow curtains will instantly bring a cheery, happy feel to your daughter's nursery. Hanging a gorgeous yellow window treatment is the perfect way to add a unique and fun pop of color to the space!
FEATURED LOOK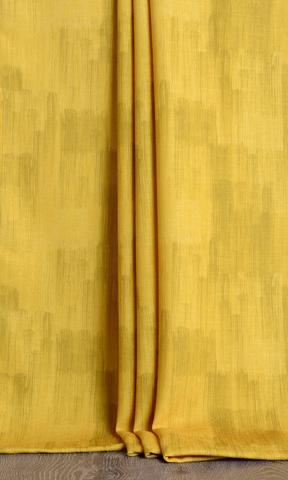 These watercolor-effect yellow curtains are an absolutely stunning option for a girl's nursery. The abstract brushstroke pattern is whimsical, and the fabric features just enough shine to catch your eye. Our Aramis curtains are sure to impress!
Stunning Florals
Florals are another great curtain selection for your daughter's nursery. Beautiful, winding tendrils never go out of style and provide a soft, dainty feel. For a look that's timeless and effortless, choose floral curtains for your newborn's room.
FEATURED LOOK

The lovely rose blossom print on our Flic Flac curtains will make your nursery feel like a peaceful garden. Each rosy sprig is carefully wrought with purple blooms and green foliage that beautifully contrast with the cream backdrop. Chic and serene, these curtains are sure to make a lasting statement.
Dressy Fabrics
Feminine fabrics such as silk and velvet are bold, but they offer a sophisticated look. Your daughter's nursery will feel graceful and dreamy with the addition of curtains in either of these high-quality fabrics!
FEATURED LOOKS

These plush curtains are the epitome of elegance. Their heavyweight design allows them to fall in gorgeous bundles, and the color is deep and rich. Packed with opulence, your nursery will look flawless with a Gypsy Plum window treatment.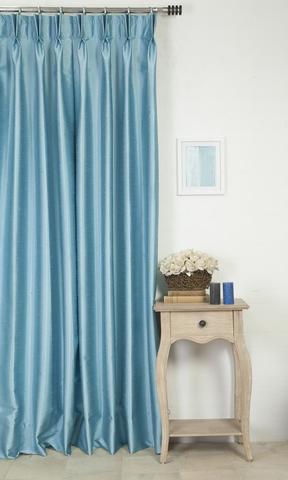 The pale blue color of these
Weston Tahiti Blue
curtains is delicate and soft. Their shimmer and shine exudes a sweetness that will radiate throughout your daughter's nursery.
Boys Nursery
If you're expecting a newborn boy, explore these curtain ideas for a baby boy's nursery:
Classic Stripes
Looking for a classic curtain style? If so, you can't go wrong with stripes! This traditional, boyish pattern will work seamlessly in a boy's nursery.
FEATURED LOOK

Dril curtains are the perfect option for modernizing the classic stripe pattern. The design features sleek, vertical, multi-sized lines in various shades of blue and beige, offering a unique spin on a contemporary look.
Deep Blues
Rather than opting for a usual light blue color palette for a boy's room, consider hanging curtains in deeper blue tones. Soothing and serene, curtains in these hues offer an unquestionably relaxed feel, which is perfect for helping your son drift to sleep!
FEATURED LOOK

These
Mirror Mirror
curtains are truly one-of-a-kind. Their splatter-paint pattern offers the playfulness a nursery calls for, while the unique blue color will make a striking statement. These
printed curtains
are the perfect balance of style and character.
Steely Grays
For a more modern look, steely gray curtains are the perfect choice. Don't be afraid to make a selection that features a hint of shine, even though it's a boy's nursery. This will only add to their contemporary aesthetic!
FEATURED LOOK

The intricate, semi-shiny pattern paired with a cool grey hue makes for a modern, masculine design. Hang these curtains in your son's nursery to make the space feel sleek and refreshed!
Gender-Neutral Nursery
If you're waiting to learn your newborn's gender, explore these gender-neutral ideas for a nursery:
Geometric Prints
To create a cute pair of curtains that are slightly abstract, consider a geometric print. You can choose a pattern that's as funky or mild as you'd like, and the color possibilities are endless. Geometric print curtains can provide the character your nursery needs!
FEATURED LOOK

The contrasting black and white colors of our Dizayn curtains make for a striking window treatment for your kid's nursery. The embroidered, point-to-point, diamond-in-diamond motif spans the fabric and demands the attention of anyone who walks into the room.
Themed Prints
Curtains with themed prints can be adorable, making them perfect for your child's nursery! Whether you'd like to feature cute animals, nautical elements, or something else, curtains can really pull your nursery theme together.
FEATURED LOOK

Our All Aboard curtains exude a joyful vibe with their playful airplane pattern in green and yellow. Small loops trail each colored plane in a light blue, which are further illuminated by the semi-sheer fabric. Hang these in your nursery to enjoy the playful, bright, and cheery look!
Blackout Curtains for Any Nursery
Whether you know the gender of your baby or not, blackout curtains are ideal for any nursery. They offer several exceptional benefits, including the following:
Regulate room temperature. Since blackout fabric blocks the sun's rays, it also blocks the sun's heat. This will help keep your nursery extra cool and fresh in the summer.
Reduce external noise. Blackout fabric muffles external noise, ensuring no loud traffic or other disturbances wake your kiddos while they rest.
Provide additional privacy. Blackout material is completely opaque, which allows for maximum privacy.
Improve sleep quality. The darkness, reduction of noise, temperature control, and privacy that blacFkout curtains provide contribute to a higher quality of sleep, which is important as your child develops.
You won't regret hanging blackout curtains in your nursery!
Order Custom Curtains from Spiffy Spools
We hope you try some of these essential nursery curtain ideas! If you're ready to start shopping, order custom curtains from Spiffy Spools today. With over 1,000 fabrics, we make it easy to design curtains that fit your exact specifications and style. Explore our site to find the perfect options for your child's bedroom, and don't hesitate to contact us with any questions.
ALSO READ: BEST BLACKOUT CURTAINS FOR NURSERY