Spiffy Speak
The Ultimate Curtain Size Guide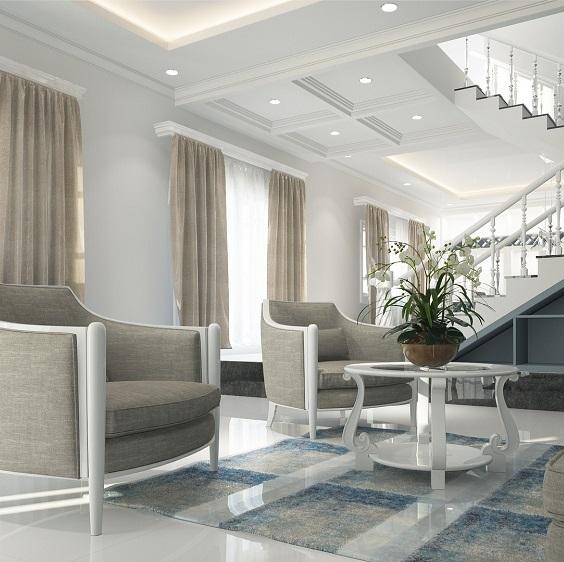 Need help designing your custom curtains? Use this curtain size guide to ensure they fit flawlessly in your space. We'll cover everything you need to know to create the perfect window treatment.
Order custom curtains from Spiffy Spools online in any size. We have over 1,000 fabrics and patterns to pick from, so you can match them to your home perfectly. Shop Now
How High to Hang Curtains
As a general rule of thumb, we recommend placing your curtain rod approximately three inches above the window frame. The added height will help prevent more sunlight from entering in from the top. This trick can also make your space appear larger. When ordering your curtains, you should increase the length of your curtains by at least three inches to accommodate the additional height.
How Long Should Curtains Be?
Exactly how long your curtains should be depends primarily on the type of curtains you're hanging. Consider these length guidelines for the following styles:
Café length curtains. Traditional café curtains should be exactly half the length of your window and are typically hung across the center of the pane.
Curtains to the sill. Just as the name sounds, curtains of this length brush the top of the windowsill. Measure from where you will hang your curtains to the windowsill.
Floor-length curtains. Traditional floor-length curtains gently reach the ground.
Puddled curtains. Puddling refers to the amount of extra drapery length that is spilled or pooled onto the floor. There are a few different puddling styles. Depending on which you choose, your curtains should be increased by 1 to 18 inches beyond floor length. View our Puddled Curtains Styling Ideas for more in-depth design tips.
Where Should Curtains Fall?
If you're not sure where your curtains should fall, consider the following tips to help you select which curtain style will look best in your space:
For kitchens and bathrooms, we suggest hanging café length curtains or curtains to the sill. These shortened lengths will better avoid splashes from your sinks, tub, and shower. For kitchens, these lengths will also eliminate any potential fire hazards. For bathrooms, shortened curtains will ensure the space doesn't feel too cramped or crowded.
For casual spaces, curtains to the sill are the perfect option. They provide a more relaxed and laid-back feel.
For semi-formal spaces, consider floor-length curtains. They add a touch of elegance and refinement without being overly-formal.
For formal spaces, puddled curtains provide total opulence and plenty of drama.
How Wide Should Curtains Be?
How wide your curtains should be also depends on a variety of factors, such as what the curtains will be covering and the fabric type. When selecting your width, consider the following tips:
For rectangular and square windows, extend your curtain rod by at least three inches on each side of the window. Then, increase your curtain width by the additional curtain rod width.
For sliding glass doors, extend the pole by 12-24 inches on both sides of the doorway. With this extra length, you'll be able to stack back your drapery on the wall. This allows you to clear the sliding doors completely when opened, making for easier use. Of course, you'll need to increase your curtain width by the additional curtain rod width as well.
For bay windows, match your curtain width to the width of your windows. This will better highlight the unique look of your bay windows.
For blackout curtains, extend your curtain rod by 10-inches on both sides of the window frame. Then, increase your curtain width by the additional curtain rod width. This extra width will help to prevent light gaps on the sides of your windows, ensuring a darker space.
Never skimp out on the fabric! When it comes to curtains, more width is always better. Increasing the fullness factor of your curtains will allow you to create gorgeous bundles and make the pleats look more distinct.
To learn the best way to take measurements for your specific style of curtains, check out our in-depth Measurement Guide.
How Many Curtain Panels Do I Need?
The number of curtain panels you should have is mostly a matter of personal preference. Single-panel curtains cover the window with one, sweeping piece of fabric. Double-panel curtains consist of two separate pieces of fabric that rest on either side of the window. Both are equally easy to open and close. However, double-panel curtains will provide you with a symmetrically balanced look, while single-panel curtains offer a more minimalistic design.
How to Measure for Curtain Rods
When measuring for your curtain rod, take the following steps:
First, measure the total width of the window. Always measure from frame to frame.
Next, add double the extra width you'd like to the total measurement. For instance, if you'd like to extend the rod by three inches on either side of the window, add six inches to your measurement. This will provide you with the total length your curtain rod will need to be.
Using a pencil and a tape measure, mark your desired rod height and width on the wall. Remember to always start your measurement from the window frame—if you'd like to add three inches on either side of the window, measure from one side of the frame outward by three inches. You may also want to use a level to ensure the marks are even.
Finally, hang your curtain rod according to the packaging directions.
Get Custom Size Curtains Today
We hope this curtain size guide helps you as your order your custom curtains. At Spiffy Spools, we make it easy to create custom curtains that fit your exact specifications, with over 1,000 fabrics and patterns. Explore our site to find the perfect options for your space, and don't hesitate to contact us with any questions!