Spiffy Speak
Top Tips to Choose Fab Fabric for your Curtains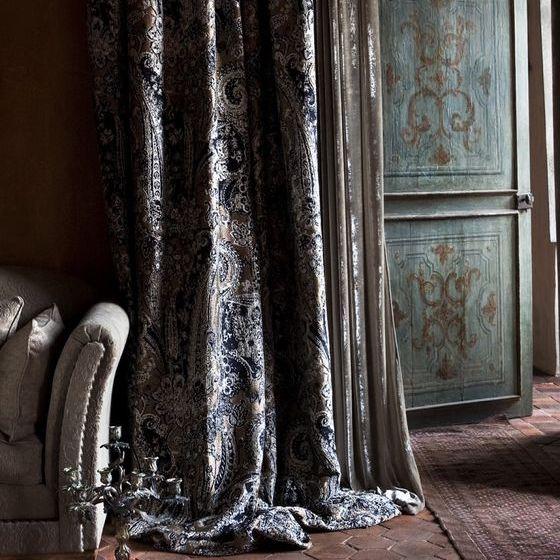 When it comes to fabric for curtains, there are simply too many choices, too many options to choose from. To get you going in the right direction, especially if you're considering buying your own fabric for custom drapes, we are giving you a lowdown on various drapery fabric options. Read on and decide what works best for you.
VELVET: Soft, Plush & Full of Old-World Charm
A beautiful fusion of radiance and elegance, velvet drapes beautifully and perfect complements formal and/or traditional décors. Super soft to touch, it also does a great job at insulating against noise, light and heat. Velvet curtains need frequent brushing/vacuuming though.
Stylist tip:Use velvet for extra wide curtains on walls with enough stacking room on sides to gather this thick, plush fabric. Avoid on narrow windows. Also not recommended if you want light and airy feel for your space.
COTTON: Classic, Earthy & Chic
Cotton curtains add chic class to your space! Cotton looks smart, gives clean and crisp vibes. Best of all; it comes in umpteen weaves and textures to match your décor. Colors can fade a bit under strong sun so lining is a must to preserve the fiber and life of cotton drapery. And cotton needs heavy ironing for flawless finish.
Stylist tip: Cotton curtains work beautifully for an earthy and fresh feel but do ensure that they are lined with a high-quality lining, to avoid fading from direct sunlight.
SILK:  Sumptuous, Luxurious & Pricey
Silk curtains look superb, fall like a dream and spell sheer luxury. Silk comes with a price tag, of course (count in dry cleaning too). But then, the best things in life are worth it!
Stylist tip: Silk is luxury wrapped in indulgence. Sure, it costs more but it does wonders for your room! Gets a nod every time in formal rooms with traditional decors.
FAUX SILK: Glamorous, Shimmery & Budget Friendly
We are fans of faux silk because it shimmers and gives instant glam to room. This man-made fabric drapes nicely, doesn't cost a bomb, and is low maintenance. It works even on windows that get strong, direct sunlight.
Stylist tip: Faux silk works well if you want the chic of real silk but have a modest budget (think champagne on beer budget!)
LINEN: Classy, Lightweight & Stylish
Gotta love linen! This all natural fabric has a long list of plus factors. Aside from the simple yet obvious elegance that linen offers, it also is durable, airy, insulation friendly, and gives any room a natural feel. Like cotton, it is available in many options. However, do note that linen creases easily, and costs more than cotton or polyester. For this reason, we advise careful consideration when thinking about using in kids' rooms and heavy use areas.
Stylist tip: Linen curtains are definitely worth the slight premium cost-wise. Plus, these are perfect for complementing minimalist/Scandinavian /contemporary décor styles. Go for it if budget allows!
POLYESTER: Reliable, Sturdy & Pocket Friendly
Polyester is a practical fabric for curtains that works at many levels. It is lightweight and durable, fits into tight budgets and is easy to maintain. It also gives good insulation against cold, and won't fade easily even when exposed to strong sunlight. However, pleats do take a bit longer to settle in straight lines in some polyesters.
Stylist tip: Nothing beats polyester if your budget is not too high and/or if you need low maintenance curtains in heavy use rooms. Best avoid these in kitchens though as polyester tends to absorb odors.
ALSO READ: DISCOVER THE BEST FABRICS FOR CURTAINS & ROMAN SHADES