Spiffy Speak
How to Layer Curtains for Perfection: Styles & Factors to Consider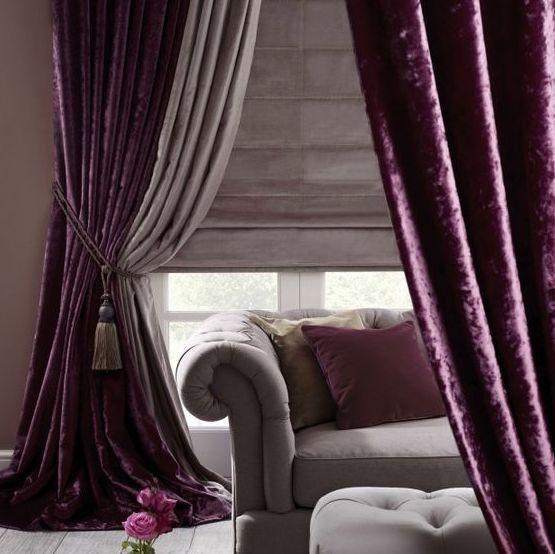 Clients often ask us for tips and pointers on how to layer window treatments. Layered drapery not only looks aesthetically rich but also offers higher privacy, versatility and insulation. That said, since dressing windows in multiple layers typically requires greater investment–both in terms of time and money–clients sometimes worry about making wrong decisions on their way.
Below is a quick guide on how to layer curtains and window treatments, including top tips from our stylists to help you along!
Looking for new curtains? Spiffy Spools offers custom curtains with over 1,000 unique fabrics! Shop Now
Options Galore
The first thing to know about layering curtains and other window treatments is that the options are nearly unlimited. From drapes and roman shades, to valances, blinds, and more—all in virtually endless colors and patterns—there's plenty to mix and match. In other words, there's no one right way to approach this project.
We'll cover the top three styles of layering below, but feel free to let your creativity flow until you settle on a plan that you love!
1. Layering Curtains with Sheers
For a traditional layered look, you can simply go with one set of curtains over another. Typically, the back layer will be a light filtering, lightweight sheer, bringing natural light into the space when the front set of curtains is pulled back. For many spaces, two sets of curtains will be a great look. With that said, stacking two curtains is far from your only layering option.
Another compelling idea is to layer curtains on top of roman shades or blinds. When the curtains are closed, you'll have a traditional curtain look without any sign of the shades at all. By drawing back those curtains, however, you will expose the shade, and you can decide how far down you would like them to hang. On a bright, sunny day, you might pull your shade down enough to block the position of the sun while still enjoying some natural light. There is flexibility provided by the up-and-down movement of shades that just isn't available with curtains alone. By layering these window treatments, you can enjoy the best of both worlds.
3. Layering Curtains with Valances
Valances are short single-panel drapes designed to cover the top section of a window. Adding a valance as the top layer treatment can create a more formal feel for a room, and they can also be useful for hiding curtain hardware. With their short length, valances are more for style than for function—they won't be useful in blocking out any light. Layering them atop your curtains allows you to enjoy both the style benefits from the valance and the function of curtains.
Factors to Consider
Before deciding whether to layer curtains, blinds, or anything else, it's important to first think about what you want to accomplish with this project. Here are some good starting factors to consider:
Light Control and Privacy
Layering curtains provides you with a greater opportunity to control inflow of light and privacy of a room. If you were to opt for just a single set of curtains, for instance, you would only have two real options: open or closed—and that's it. But, if you added a set of sheer drapes behind those curtains for an additional layer, you'd suddenly have more control over flow of light into the room. A combination of back sheers and heavy front drapes is especially popular because sheers filter in soft light and heavy drapery can be drawn for complete privacy and light blocking when desired.
Layering Textures
Yet another advantage to layering curtains is the opportunity to mix textures to bring depth and dimension to your space. Mixture textures cleverly can make your window treatments more versatile and adaptable to the room's mood. For instance, if you want to establish a formal, cozy setting, a front layer of velvet drapery when drawn closed would do the job. Pairing this velvet with a casual sheer layer behind would allow you to pull back the velvet and expose sheers for a casual setting when desired.
Colorblock Layers
Consider using colorblock front drapes with solid roman shades behind, or flanking sheer drapery with colorblock curtains on the sides. These two are highly popular layering arrangements that will allow you to pick your exact palette while offering a chic and highly personalized look to your window.
Consider Thermal Implications
While aesthetics may often drive your drapery layering choices, don't forget about the impact layered window treatments can have on the temperature of a room. Layering two thick fabrics, for instance, can provide substantial insulation against light, sound and temperature. This can be used to your advantage if you are trying to keep a room warmer in the winter or cooler in the summer. Or if you're keen to dampen noise and light inflow in a bedroom or a media room for example.
Choose Compatible Hardware
When planning layered arrangements, do consider its hardware implications. If you plan to stack two layers of drapes, stacking two separate rods can use up a lot of depth, make installation tricky, and can look cluttered. Instead, consider double curtain poles—or if you prefer your hardware to be completely hidden, consider double traverse tracks.
Shop Custom Curtains at Spiffy Spools
Now that you have a plan in mind for layering your curtains, there's only one thing left to do—order your curtains! At Spiffy Spools, we make it easy to create custom curtains to your exact specifications, with a wide selection of fabrics, patterns, and colors.
ALSO READ: HOW TO LAYER SHEER & BLACKOUT CURTAINS