Spiffy Speak
4 FRENCH DOOR CURTAINS IDEAS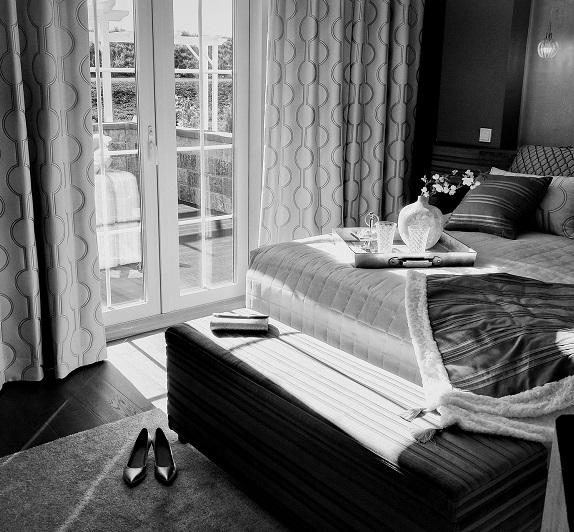 French doors are a stunning home feature. Designed primarily with solid glass panes, they allow plenty of natural light into your home and are great for indoor-outdoor living. If you're hoping to further enhance your French doors, a stunning window treatment can accentuate their look and provide you with additional privacy. Explore these four French door curtain ideas to help you flawlessly design your new window treatment.
Order custom curtains from Spiffy Spools online in any size. We have over 1,000 fabrics and patterns to pick from, so you can design them exactly to your liking!
Keep Privacy in Mind
While the top-to-bottom glass panes featured on French doors are wonderful for lightening up your space, they can also diminish your privacy. To ensure maximum privacy when your curtains are closed, keep the following design tips in mind:
Install full-length curtains. Curtains that graze the floor will ensure that every inch of the windowpane is covered. Keep in mind, however, that they should only touch the floor rather than pool on the floor. Puddled curtains will be more difficult to open and close and will become dirty with constant use.
Increase curtain width. It's always a smart idea to increase the width of your curtains. In addition to proving you with maximum privacy, increasing the fullness factor will help you to create loose, dramatic and neat folds.
Consider blackout curtains. For ultimate privacy, consider hanging blackout curtains. Not even a shadow can be seen through this material. Plus, they'll totally block sunlight and keep your room cool on especially hot summer days.
Featured Look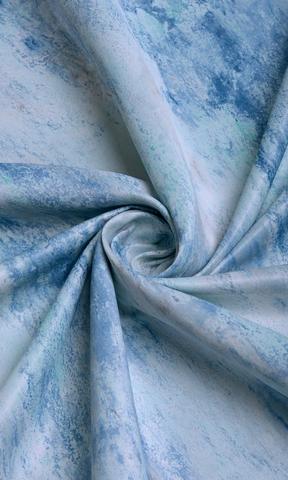 Morocco
Blackout curtains aren't drab! Take, for instance, these
Morocco
curtains. They feature a marbled pattern in various shades of blue for a relaxed yet sophisticated look.
Morocco
curtains are sure to bring a tranquil feel to your space!
Choose a Curtain Rod or Track
To hang your French door curtains, we recommend using either a curtain rod or curtain track:
Curtain Rod Considerations
If you'd like to hang your curtains on a curtain rod, consider the following tips:
You can't use a tension rod, because French doors do not have the correct frame to place it.
You may need an extra-long curtain rod to cover the total span of the two doors. Or, opt for two, smaller rods to place above each door.
A double curtain rod is a great choice if you plan to layer your window treatments.
It's important to note that only certain curtain headings work with curtain rods. These include:
Grommet tops
Back tab tops
Rod pockets
Tab tops
Tie tops
Curtain Track Considerations
If you'd like to hang your curtains on a curtain track, consider the following tips:
For a sleek and modern look, curtain tracks are the best option.
Curtain tracks provide increased ease of use. They allow your curtains to glide open and close with minimal effort.
Use one, extra-long curtain track rather than two small tracks over each door. Including two tracks may look cluttered and take away from their sleek design.
Only certain curtain headings work with curtain tracks. These include:
Pinch pleats
Flat-panel tops
Inverted box pleats
Pencil pleats
Extend the Curtain Rod or Track
Whether you decide to go with a curtain rod or track, it's imperative to extend it at least ten inches beyond both sides of your French doors. Doing so will allow you to completely move your curtains out of the way of your French doors when in use.
Layer Window Treatments
Layering curtains is a fantastic way to increase light control and create a dynamic look. We recommend selecting one of the following methods for layering your French door curtains:
Roman Shades & Curtains
For ultimate light control, consider layering curtains over roman shades. Roman shades provide all of the functionality of blinds but offer a more visually appealing design. The cut perfectly matches the shape of the glass pane and can be styled in any color, fabric, or pattern you'd like. This allows you to match roman shades to your curtains and other décor perfectly.
By pairing these two window treatments, you can close the roman shades to block light while keeping your curtains drawn back to create a gorgeous look. Then, when you're ready to allow sunlight in, roman shades open and stack neatly at the top of the doorframe, providing you with unobstructed natural light.
Featured Looks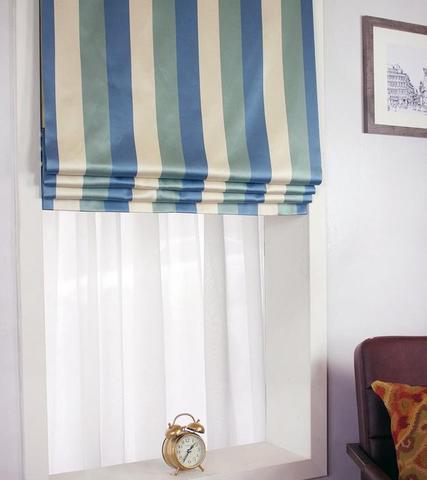 If you're going for a minimalistic look, flat fold roman shades with back slats are the perfect selection. Since the horizontal slats are stitched into the back lining, no seams are visible in the fabric when the shades are closed. They also stack neatly from the bottom and rest at the top of the doorframe when open. This style is a great choice for your frequently-used French doors!

When these shades are closed, they evenly break up the fabric in horizontal panels. When open, they stack from the bottom in neat folds to provide a crisp, clean look. This option also works wonderfully for frequently-used doors!
Solid Curtains & Sheer Curtains
To capitalize on all of the natural sunlight your French doors provide, we recommend layering your solid curtains over sheer curtains. Sheer curtains are an ideal choice, because they beautifully filter light to create a serene, airy glow. When placed beneath a solid option, you'll be able to enjoy the sheer's wonderful effects while still maintaining the privacy provided by the solid when closed.
Featured Look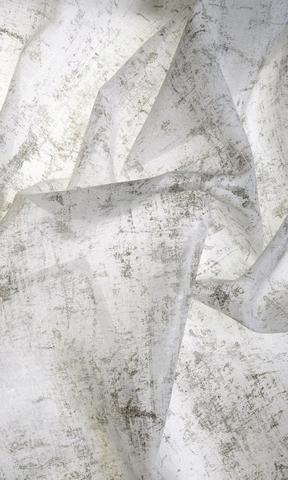 Our sheer Aklamak curtains are the epitome of elegance. Their white backdrop is dashed with a shimmery silver metallic to further add to the sophistication of the fabric. If you're aiming for a striking and refined look, these curtains are the perfect choice.
Use Curtain Tie Backs
Curtain tie backs are a huge help when it comes to your French door curtains. These add-ons beautifully hold your curtains away from the panes to provide you with easy access to your doors whenever you need to use them. Plus, at Spiffy Spools, you can design them in the same fabric as your curtains for a clean, cohesive look.
Featured Looks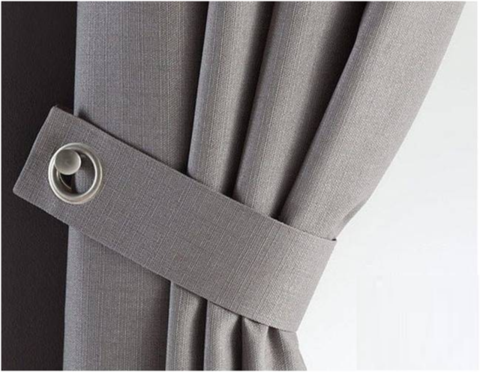 Snazz
Our Snazz tie backs feature a silver, cylinder hook and a large silver eyelet. The eyelet is attached to a minimalistic, rectangular piece of fabric of your choosing, offering a sleek design. If you're going for a modern look, Snazz tie backs are the perfect choice.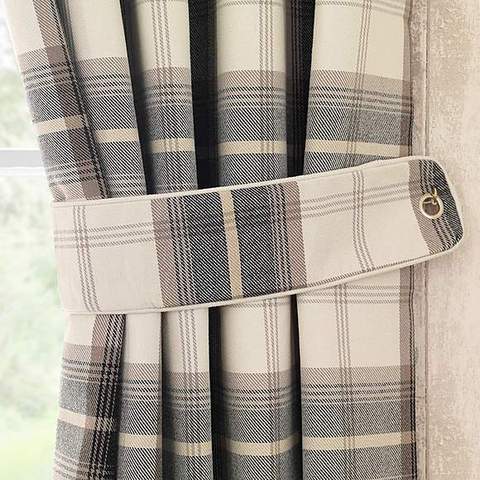 Pizzazz
For a more casual option, select our Pizzazz style tie backs. A small eyelet attaches to a thin, metal hook, and the fabric features a rectangular cut with rounded edges for a relaxed feel.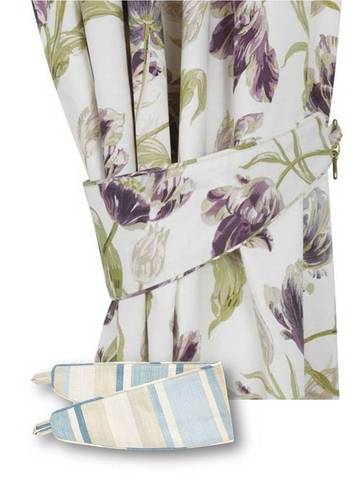 Razzmatazz
With this option, a sweeping piece of fabric with a thinly woven loop connects to a small cleat attached to the wall. Razzmatazz tie back hardware blends in seamlessly with your drapery for a refined look.
Order Custom Curtains from Spiffy Spools
We hope these four French door curtain ideas have helped you find the perfect inspiration for your home. If you're ready to shop for a gorgeous new window treatment, order custom curtains from Spiffy Spools today. We make it easy to create custom curtains that fit your exact specifications and design style. Explore our site to find stunning options, and don't hesitate to contact us with any questions!
ALSO READ: FRENCH PLEAT DRAPES: BESPOKE ART FOR WINDOWS